Is It Ever Okay to Spank a Child?
Research shows that corporal punishment can harm a child's emotional and intellectual development, but in dire straits some parents see no other option for providing discipline.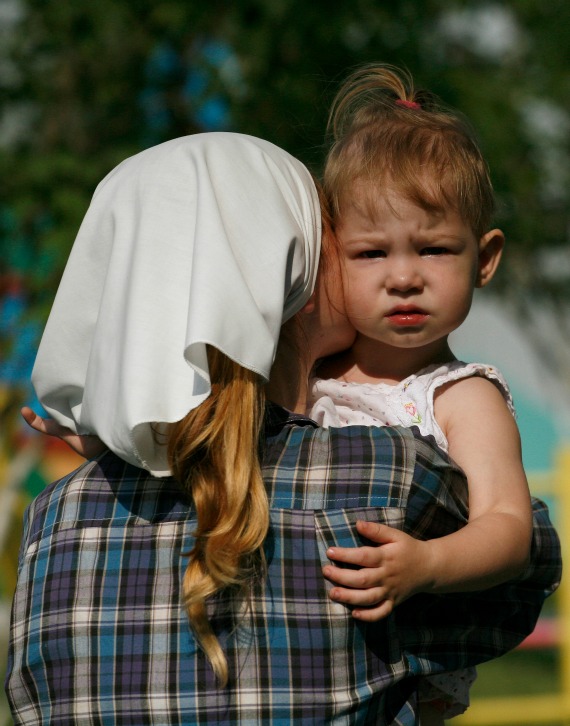 As a psychotherapist and parenting educator, I often get into discussions about spanking. There are still a great number of parents who think it is okay to spank their children, despite all the evidence otherwise. Considering all the research saying spanking creates more bad behavior and negatively affects brain development, is there ever an appropriate time for spanking?
I recently met a woman while in the audience waiting area for three Oprah's Lifeclass tapings in Chicago who caused me to really consider this question. The members of this audience were selected based on a close relationship with fatherless sons -- two episodes focused on the men raised without a dad, and one episode shed light on the struggles single mothers raising sons face. I was there as a therapist, with the majority of the seats filled by those raised without a dad.
The woman I spoke with raised her sons alone. She looked at me with tired eyes and said, "I am terrified that I should have spanked my child -- maybe he would have turned out better." As the conversation progressed, it was clear she had good intentions for not spanking, but unfortunately didn't seek out alternatives that might have aided her in raising cooperative children. Choosing not to spank is a great choice, but it is important to decide what to do instead.
During the tapings, I listened to many women talk about the incredible stress they were under and how their goals for their sons were to keep them in one piece. I started to wonder if perhaps this was the one case where spanking might be tolerable; when someone is at the end of their rope, and a life is in danger.
This case was built further when I had the opportunity to chat with former NBA all-star Michael Ray Richardson during a private dinner. He looked directly at me and asked "If you're a parenting expert, then what do you think about spanking?"
We ended up having a great conversation about how his single mother who was raising seven children in an urban American city, "whooped him so badly, it kept him off the streets." He talked about respecting and fearing his mother, which probably kept him alive. He mentioned the times he was hit so hard that he still has disturbing flashbacks all these years later.
I can concede that if spanking is the only way to keep someone away from the jaws of gangs or away from a criminal life, it may be the lesser of the evils. I suppose it is better to be more afraid of your parent, than the gang members knocking at your door; however, this scenario speaks to a small percentage of the population.
There is the comment I often hear in my workshops where spanking gets defended: "I got spanked as a child and I turned out okay." I guess that depends on your definition of "okay." Many of my clients have explained how much they hated parents who spanked them. There are undoubtedly a great many adults who were spanked as a child, and may outwardly seem "okay," but they certainly aren't as good as they could be.
Unhappiness is one negative side-effect of being raised with spanking. Having been spanked as a child is also a risk factor for mental illness, addictions and even sexual problems.
Spanking might scare children into stopping a behavior, but it does not get them to think rationally or want to cooperate. It also doesn't teach people how to manage big emotions or develop conflict skills.
The worldwide view of scholars and the United Nations regarding spanking, or corporal punishment as it is usually referred, is pretty clear. There is the "Convention on the Rights of the Child" which was established by the United Nations in 1989. In it, Article 19 requires States to protect children from "all forms of physical or mental violence" while in the care of parents or others. The organization UNICEF has publicly stated their interpretation of this Convention is that corporal punishment should be removed from all homes and educational institutions.
To this date, 29 countries around the world have banned spanking in homes and schools. Canada and the U.S. are not one of those countries. Many states have abolished corporal punishment in schools, but quite a few in the southern U.S. have not yet.
Considering all the interviews I have had with stressed, exhausted parents, and all the "defiant" children I have met, in my opinion there is never an appropriate time to spank a child. Every child has the right to reach their highest potential and to not be harmed at the hand of their parent -- the rest of the world can have the job of giving kids a thick skin. As for those conversations with that single mother and with Michael Ray Richardson? Sadly, in this country today, sometimes parents are placed in an impossible situation. But over the course of my career I've come to believe that if a parent has the support, time, and resources to learn alternatives, spanking could be avoided even in the most dire of circumstances. Surely policymakers in all states should be focusing on educating parents about alternatives, rather than sanctioning a practice that, through its connections to mental illness and addiction, can further stack the deck against children who are already at a socioeconomic disadvantage.