How The Guardian Broke the Snowden Story
... and what it says about the British media company's emerging threat to The New York Times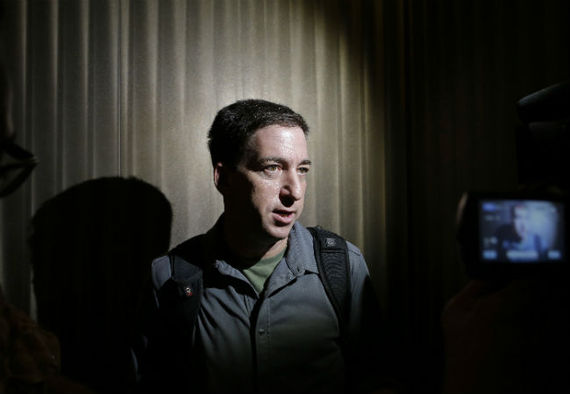 Of the three English-language newspaper websites with the highest readerships, two are British.
The number one spot has been occupied since last January by the Mail Online, an industrial-sized feedbag of celebrity titillation and gossip, with a ComScore rating of 50.2 million monthly unique visitors worldwide for May. Currently in at number two is The New York Times, with 46.2 million. Then comes The Guardian, which had 40.9 million last month.
That was before Edward Snowden arrived on the scene. According to internal analytics The Guardian provided to me -- June 10, the day after Snowden revealed his identity on The Guardian's website, was the biggest traffic day in their history, with an astonishing 6.97 million unique browsers. Within a week of publishing the NSA files, The Guardian website has seen a 41-percent increase in U.S. desktop unique visitors (IP addresses loading the desktop site) and a 66-percent rise in mobile traffic. On June 10, for the first time in the paper's history, their U.S. traffic was higher than their UK traffic.
The publication of the NSA documents represented the first time since the publication of the Pentagon Papers in 1971 that "top secret" classified documents were made public - nothing in the files leaked by Bradley Manning to WikiLeaks in 2010 rated higher than "secret." They were leaked by former CIA employee Edward Snowden to The Guardian's Glenn Greenwald, and a veteran team of reporters led by Editor-in-Chief of Guardian US Janine Gibson was convened to shape the raw data into the story. I met Gibson for an interview in The Guardian's airy SoHo loft office on Wednesday. It is furnished identically to the paper's London headquarters in Kings Cross, where I worked during 2009-11; white walls, shiny new iMacs and orthopaedic chairs. The staff is comparatively small -- Guardian US employs just 57 people, 29 of them journalists.
Gibson offers me a cup of Yorkshire Gold tea brought over from England. "Glenn got [the story] first, and called me up," she tells me. "But a lot of this is difficult to talk about over open communications. You're like, 'hang on a minute. ... I'm not sure that Skype is a very very good idea.' So we talked in broad terms, and then very quickly got to the next stage where a certain amount of bona fides were being established, and then to: 'Right. I think you just -- get on a plane. Get on a plane.' So he came up here and we talked, and he showed me a very small amount of establishing material, and [we] got very very excited very fast."
Gibson sent Greenwald, along with Ewan McAskill, The Guardian's former diplomatic editor and D.C. bureau chief and a reporter of some 30 years standing, on a plane to Hong Kong to meet Snowden the following morning, at the same time bringing some investigative reporters out to New York from the London office to help process the story. By June 5 they were ready to publish the first story: the FISA order requisitioning Verizon phone data. From Wednesday to Saturday The Guardian published a new scoop each day, and on Sunday June 10 Snowden revealed himself as the whistleblower, explaining his rationale for the leak in a video interview with Greenwald hosted on the Guardian US site.
Greenwald had been working for The Guardian for less than a year, coming from Salon.com in August 2012, but he was already a well-known figure; a trained lawyer, a strident campaigner against the Patriot Act, and an award-winning journalist and author with three books in The New York Times bestseller list. The pedigree, however, does not appear to have impressed The New York Times, which in its coverage of the leak uncharitably referred to The Guardian as a "British news-site" and Greenwald as a "blogger."
In their own way, these labels are fair enough; The Guardian doesn't put out a U.S. print edition, and Greenwald first made his name on his independent blog Unclaimed Territory.But the subtext there was the struggle of the New York Times to encapsulate the hybrid beast that the Guardian has created - which almost certainly helped it scoop the New York Times and other papers -- including The Washington Post -- on the PRISM leak.
During my time in America, I've become convinced that The Guardian is currently unique in the U.S. market. American broadsheet papers write news very differently from their counterparts in the UK; aloof, lengthy, sometimes even a little archaic, The New York Times -- and to a lesser extent The Washington Post and their cohort -- aim to be papers of record, even as they've begun to add daily and weekly blogs to their rosters. The Guardian's style is quite different, with more of an onus on live-blogging, reader engagement, and lighter-hearted content; it can be seen as sitting half-way between The New York Times and online-only outlets like BuzzFeed, despite the fact that its founding actually pre-dates that of The New York Times by thirty years.
Gibson says this is positioning is by design. "We want to build a different kind of newsroom [for the American operation]," she says. "That means being really great at live, real-time stuff, which was where we started, because it's a great place to grow quickly." In some ways, The Guardian's U.S. operation got very lucky in that its launch coincided with the birth of the Occupy movement; for a left-leaning newspaper with a talent for live, rolling coverage, Occupy was a match made in heaven. "We are really really good at live real-time stuff," Gibson says. "[The Guardian is] about telling great stories that are important and have significance in the world, and that generally means investigative, and then also be relevant, and be in people's lives and tell them stuff they need to know, which is live and real-time. And sometimes, either end of that stuff can be really quite funny, or at least humorous. It's not all kind of dense, and -- " she searches for the right term " -- kale salad."
Kale salad. Back home, The Guardian, which is headquartered in London's fashionable and liberal N1 postcode, has a reputation for catering to a hip, urban, liberal crowd -- and is often mocked for being left-wing, stiffly politically-correct and, on occasion, for having an obsession with health foods. A Buzzfeed UK article this year claims to have spotted the "most Guardian opening sentence of all time", which read:
At 10 to five one Saturday afternoon last year, I was walking up the Hornsey Road in London with a tin of rhubarb from Tesco, checking the football results on my iPhone after a lovely day at Kew Gardens. The phone replaced the BlackBerry I'd destroyed a month earlier by running into the sea to save my daughter from drowning.
But The Guardian also has a reputation for solid investigative journalism. The NSA story isn't their first rodeo. They were one of three publications to work closely with WikiLeaks to process the mountains of data leaed by Bradley Manning in 2010. When Rupert Murdoch's vast tabloid the News of the World was finally caught phone-hacking, it was The Guardian that brought it down, doggedly fighting for the story for two years against a storm of legal threats and denials from News International. Before that, the paper was known for having faced down a storm of litigation to prove that the former MP Jonathan Aitken had lied before a court, giving them probably their best-known front page, featuring the headline "He Lied and Lied and Lied".
I ask Gibson what's coming up for Guardian US, when the Snowden dust finally settles. "We will add commentators, we will add reporting, we will add verticals, we will continue to grow, and we'll work with commercial partners and do tech and business and all the things that we want to be," she says. The publication is doubling down on its investigative presence in the States as well: Investigative journalist Paul Lewis is joining the paper's Washington bureau from the London office this month, and Nick Davies, the reporter whose two years of digging brought about the phone-hacking scandal, is joining the New York team later in the year.
For nearly any other publication, there would be a big question looming over such expansion: cost. How can The Guardian afford this kind of aggressive investment when other papers are being forced to scale back? Here The Guardian admittedly has some help: The paper enjoys the financial cushion of a large trust, which was set up in 1936 to carefully invest the fortune of the paper's most famous editor CP Scott. In its current form, the Scott Trust Limited is now the sole stakeholder in Guardian Media Group, so the paper has no shareholders nor a Rupert Murdoch-like proprietor; instead, any profits from the assets held by the group are used to maintain -- and propagate -- the newspaper operation. In essence, it is a journalistic perpetual-motion machine, one with exceptionally fortunate investment properties which managed to lose relatively little of their value during the financial crisis.
This is the financial grounding which enables the publication's experimentation. They have a very successful dating site in the UK -- Guardian Soulmates. They were ahead of the website curve, and have experimented very successfully with tablet and mobile apps.
Some of the experiments have yielded surprising conclusions about the new media landscape.
"All the things you believed to be true, are not really true," Gibson says. "'You shouldn't really launch a story on a Sunday afternoon, that's a dead zone!' - no it's not. Sunday afternoon's actually a brilliant time to launch a story. And actually, Friday night: perfectly good time to launch a story as well. Shouldn't be - a Friday night drop suggests it goes into a lull of the weekend -- but it's the internet, and people have smartphones, and people are going out to meet each other and tell each other things, and say 'did you see this'. The whole world has changed."
She grins happily. "Everything you think you know, you don't know any more."