Historical Desserts for the 4th of July
Some recipes from Thomas Jefferson, the Coolidge White House, 19th-century political rallies, and a Supreme Court justice's husband--with a dose of history
To pass the time as the nation waited for the DOMA decision last week, the Court-watcher superhub SCOTUSblog, staffed by seasoned court reporters and lawyers, took questions from readers. Do the clerks stay to hear the decisions? Can Ruth Bader Ginsburg really do twenty pushups? Is a decision really coming today?
"Has anyone perused the SCOTUS cookbook?" asked one reader. "Is it worth the $25?"
"The stories about Marty Ginsburg, Justice Ginsburg, are worth way more than $25," answered SCOTUSblog editor Amy Howe. But the book received other endorsements as well.
"I had the opportunity to interview Justice Ginsburg serveral times in 2004-2005," wrote in another reader who'd been watching the liveblog, "and each time Prof. Marty Ginsburg would bake us his lemon poppy-seed pound cake to eat during the interview. The man could really bake."
I don't need to be told twice to acquire a niche cookbook. Once The Atlantic's legal analysts had filed their takes on the cases of the day, and the crush was over, off I was to the Supreme Court gift shop.
For those who followed the last two weeks of the Court's term closely, the spiral-bound collection is bound to fascinate for at least one reason. It's not just that the book--a selection of Ruth Bader Ginsburg's husband's recipes, which he apparently often made for the Supreme Court spouses at their lunches--contains stories about a remarkable man and an exceptional marriage. It's not just that it provides an unusual angle from which to consider the individuals who make such tremendous decisions, and the families that support them. Nor still is it that the recipes are genuinely good, as I quickly discovered testing them. No, what Court-watchers of the past weeks will notice is that the book was put together by Martha-Ann Alito, the wife of Justice Alito, who was recently criticized for apparent rudeness to Justice Ginsburg as she read her Voting Rights Act dissent. The Supreme Court may have its moments of discord, but these recipes and stories were collected by Justice Alito's wife in memory of Justice Ginsburg's husband, "on behalf of the Supreme Court spouses."
In this regard, Chef Supreme: Martin Ginsburg is only a more recent example in the rich tradition of recipe collections in our nation's capitol: Food, and particularly specific recipes, have long been a vehicle for the expression of broader American identity in Washington, D.C., and the collection of them has long transcended the divides republican government definitionally produces. For July 4th, it's a relatively simple task to resurface some of those old recipes and their collectors. Let's begin with a recipe from the man who drafted the document July 4th celebrates.
"Jefferson's recipes," the late food writer Richard Sax noted in his Classic Home Desserts, "some recorded by his chef Julien, and many gathered by his daughter, Martha Jefferson Randolph, are so carefully written that you can cook from them with complete success." And people have: Sax points out that President George Bush's luncheon for Queen Elizabeth in 1991 featured macaroons made from the Jefferson household's original recipe. History does not record whether the British monarchy found Jefferson more to its taste in 1991 than in 1776.
Other founding fathers may also be remembered in re-created desserts. The staff at Mount Vernon, George Washington's well-preserved home, have issued a modernization of Martha Washington's "great cake" recipe, originally requiring 40 eggs and 4 pounds of butter.
To commune with the common man, today's bakers can easily re-create "Election Cake," a generic name for a panettone-like yolk- and butter-enriched bread with dried fruit. Sax suggests the cakes were "served at Militia Day fairs after the American Revolution," and Greg Patent in Baking in America writes the cake "was so good that it was supposedly used to bribe voters." It was showing up in magazines in the mid-19th century. If turn-of-the-century cooking is more your style, try a re-creation of a Washington Pie from the 1904 White House Cook Book. A few years back, P.J. Hamel tested and updated the recipe instructions, posting the results on the excellent blog run by King Arthur Flour, the United States' oldest flour company. Anyone now can produce the layered, creamy cake, which resembles a Boston Cream Pie without the chocolate frosting.
Moving forward a decade or so to peruse The Congressional Club Cook Book of 1927, one may find an amusingly sparse recipe for Indian Pudding from Teddy Roosevelt's widow, who credits it to her grandmother:
3 pints of scalded milk.

7 tablespoons of Indian meal. Stirred well together while hot.

When it is cold add 5 eggs, ½ pound raisins, 4 ounces butter. Spice and sugar to your taste.
Cooking time and temperature? You're on your own. The other Indian Pudding recipes around it, from the wives of New England Republicans Representative Frothingham, Senator Gillett (fun fact: Gillett proposed an anti-polygamy amendment to the Constitution in 1914), Senator McLean, and Senator Metcalf, are all much more detailed, and include specific instructions for spices and for molasses, without which Indian Pudding these days is barely recognizable as Indian Pudding.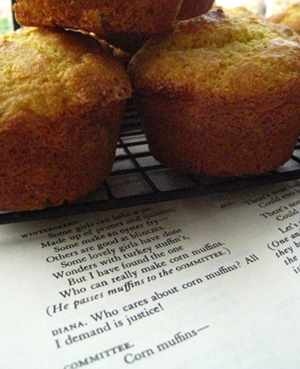 The book also contains Grace Coolidge's recipe for corn muffins, notable for two reasons: first, because Mrs. Coolidge says it will make 14 muffins, which will give modern bakers a chuckle (but don't believe her: with modern tins, it's a scant 12); second, because in 1932 the Pulitzer Prize would be awarded to the goofy Gershwin musical Of Thee I Sing, in which a crucial plot point consists of the president falling in love with and marrying a woman for her corn muffins. "Who cares about corn muffins?" pouts the Southern belle his committee has selected for him to wed instead. "All I demand is justice!" The Gershwin experts I asked about the coincidence knew of no evidence that Grace Coolidge was the inspiration here, though one, Philip Furia , encouraged further digging. "Please do pursue this," he wrote, "because it would illuminate what for me is still a very odd moment in the libretto."
As fun as it can be to burrow down in historical recipe collections, as a hobby, it has its dangers: Mindlessly recreating recipes of the dead and famous can look a lot like fetishizing the eating habits of old, white men. Desserts, a critic might point out, are one of the safer and sanitized ways of interacting with human history.
But any history can be sanitized, and in fact a careful perusal of historical recipe collections can be as responsible a way as any of engaging with the past.
To an alert reader, far from whitewashing the nation's record, these collections are a window into these social prejudices and inequalities. One can read much of the social history of the United States--immigration, slavery, industrialization, Civil Rights--in its food. Jefferson's macaroons and Martha Washington's "great cake" were undoubtedly fashioned, most of the time, not by presidents' or presidents' wives' hands, or even their servants' hands, but by slave hands. Take a close look at Jefferson's recipe below: Though written partly in French (probably indicating the involvement of Honoré Julien, who also trained several of the Monticello slaves to make his recipes) the recipe requires blanching, peeling, and pounding almonds into a homemade paste, and then whipping egg whites into them with a wooden spoon until stiff. Seasoned home bakers will immediately realize what a task that is--modern recipes use finer, premade paste (courtesy of today's factories) and whip the egg whites separately with a whisk (still very labor-intensive) or a machine. When I gave up on authenticity and turned to an egg beater, I heard the engine whine in protest trying to shift the almonds with the whites.
Neither will readers of The Congressional Club Cook Book of 1927 find recipes from the families of black representatives and senators: There were none. After a historic first round of black legislators during Reconstruction, the Capitol was returned to its former whiteness for over two decades, the House only gaining one black representative finally in 1929. Though senator Blanche Bruce, the second African American in the Senate (1875-81), and the only American senator ever to be born a slave, was according to his biographer a renowned entertainer and gourmand, I could find no recipes connected to his household in any available collections.
In fact, the first reference I could find to any racially diverse political cookbook was in 1972, when a Miami News columnist wrote of "Mrs. Edward Brooke's Torte Pasqualina" being included in "The Republicans' Gourmet Recipes for Happy Dining."
The very name "Mrs. Edward Brooke" points to another feature of these recipes: Many reflect the traditional household division of labor, where food was the concern of women--women whose recipes were made famous because of the public lives their husbands led (and which were foreclosed to them). In fact, though almost every recipe in 1927 Congressional Club Cook Book was submitted by women (The King of Spain, who took a personal interest and submitted a "Tortilla a la Espanola," was among a small minority), not a single married woman has her own given name printed. Instead, they are credited, as was customary at the time, but their formal, social names: Mrs. Calvin C. Coolidge, Mrs. John C. Allen, etc.
By 2010, when Linda Bauer published Capitol Hill Cooks, recipes were mostly simply listed under the names of the politician, whether or not the politicians themselves were making the dishes--with notes from family members where appropriate. The exception? First ladies get top billing on presidential recipes.
Knowledge of the past can shape perception of the present. The discussion of Marty Ginsburg: Chef Supreme on SCOTUSblog last week was filler as the country waited for the justices' historic decisions on gay marriage. But the Supreme Court cookbook is a part of the nation's social history as well. What I saw, as I paged through the crimson album on the Metro back from the Supreme Court, wasn't just a cookbook with unexpectedly interesting recipes--a foodie need only glance at the "Frozen Lime Soufflé" to appreciate the concept, and the food chemistry, worked into that home-chef-friendly offering. I saw the recipes of one of only two men ever to be a Supreme Court spouse--a man, though a renowned tax law scholar in his own right, famously supportive and proud of his wife's career. Notes from other Supreme Court spouses, interspersed among the recipes in the book, point his commitment to this role. "Aware that one aspect of a spouse's job is to bind in an institution defined by differences, he seemed eager to do his part," former Supreme Court spouse Cathleen Douglas Stone writes. Maureen Scalia recalls that Marty Ginsburg was incapable of allowing the travesty of store-bought bread at the spouses' luncheons, preferring to bake it himself.
Thus continued, then, a tradition whose modernization may be reflected in Marty Ginsburg, but whose roots stretch far earlier. Baking and binding have long accompanied Washington's debates and divides. In case you're short some dishes for your Fourth of July picnic, here are but a few of many recipes you may use to show it.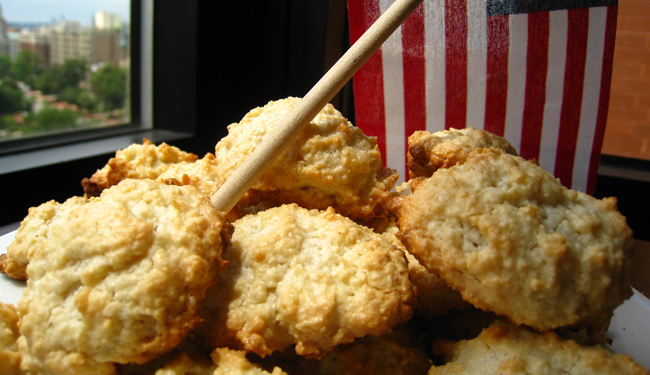 ---
---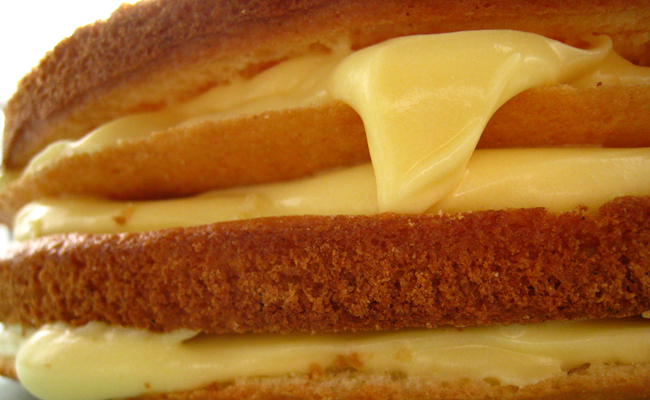 ---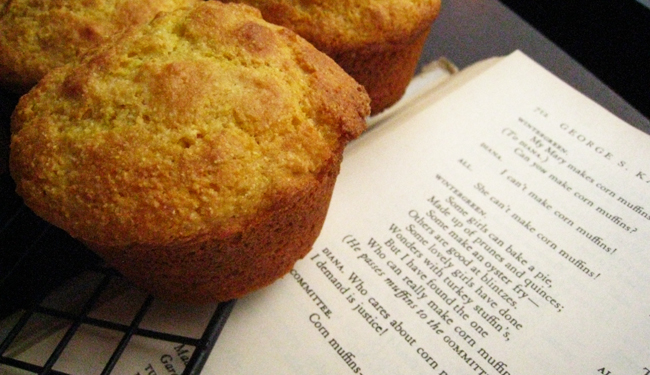 Grace Coolidge's corn muffins next to a copy of Of Thee I Sing, the 1932 Pulitzer Prize-winning play in which the President of the United States marries a woman for her corn muffins. Mrs. Coolidge's recipe in the 1927 Congressional Club Cook Book reads "2 cups cornmeal. 1 cup flour. 1 cup sweet milk. 2 eggs, well beaten. 1/2 cup sugar. 2 tablespoonsful baking powder. This quantity will make 14 muffins." 
Using modern tins, it will make 12, with the cups roughly 2/3 full. Note that this recipe does not contain any oil or butter, which are usually present in today's muffin recipes. For this reason, the muffins will be excellent coming out of the oven but will be quite stiff and hard upon cooling--eat them hot. Also, try to use milk that has some fat in it--skim milk won't quite cut it here, given the rest of the ingredients.
I'd suggest setting the oven to 375F, and checking after 15 minutes for doneness (to be ascertained through a combination of color and the insertion of a toothpick, which should emerge clean or with a few crumbs), adding a few more minutes if necessary. (Heather Horn/The Atlantic)
---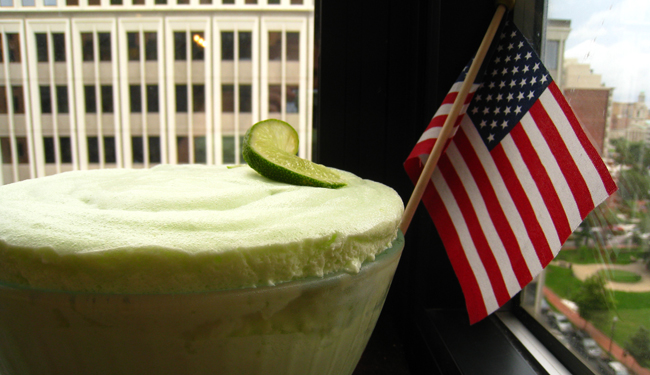 ---