Have You Ever Tried to Eat a Feral Pig?
Chefs are serving up invasive species like knotweed and snakehead fish -- and diners are enjoying them. How a growing food movement could also be good for the environment.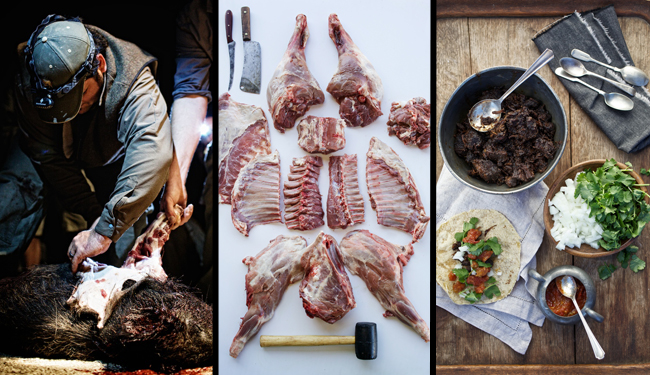 Austin Murphy likes to hunt snakehead fish on the tidal waters of the Potomac River. The fish, native to China, have earned local renown for their horror flick-like ability to breathe air and survive for short periods on land, their sharp teeth, and their thick, mucus-secreting skin. They're voracious carnivores with no known predators except humans and are all too at home in their adopted waters. Hunting them in the shallow, aquatic-plant-choked mouths of creeks and tributaries is tricky work, most easily done at night with a light and archery gear, though some fishermen prefer the more challenging method of daytime fly fishing. If the conditions are right, a skilled hunter can bag 200 pounds of snakehead in a summer season outing, says Murphy.
An avid fisherman and hunter, he's out for pleasure, but also to promote recreational snakehead hunting as a means to both help the environment and procure dinner. Snakehead, he says, "is excellent table fare." He filets them, seasons them with Old Bay, salt and pepper, then grills them right on the boat. Or, he says, "If I'm making sandwiches, I'll make starches and vegetables ahead. The fish is the star."
Although the impact of snakeheads on the environment is still being studied, they are one part of the larger problem of "invasives" muscling in on native species, hogging resources and decimating land, seas and crops to the tune of over $120 billion a year. Invasives can touch down on American land and waters by various means, ranging from stowing away in ship ballast water to being released into the wild by humans who have cultivated them as ornamental plants or kept them as pets. While non-native species have existed as long as humans have roamed the earth and probably even longer, globalization has accelerated both their spread and the damage they cause.
Like Murphy, many environmental organizations have embraced the idea of promoting the consumption of these invaders--from rogue seaweed to bristly, 200-pound feral hogs--as a way to raise public consciousness and get people involved in combatting a severe threat to biodiversity. "Conservation can get so serious and dire, we want to put a little fun back in," says Laura Huffman, state director of the Texas Nature Conservancy.
Most invasives won't be eradicted through human consumption alone, but Huffman and other environmentalists are okay with that. "What's important," she says, "is that we re-popularize and infuse some joy into the conversation over protection of resources."
But that begs the question: Do invasives taste good enough to earn a permanent spot on home and restaurant menus?
More and more people are trying hard to prove they do. The Corvallis, Oregon-based Institute for Applied Ecology's (IAE) Eradication by Mastication program includes an annual invasive species cook-off and a published cookbook called The Joy of Cooking Invasives: A Culinary Guide to Biocontrol (kudzu quiche! nutria eggrolls!). The program will hold a workshop this summer on how to dig, process, and cook up the highly invasive purple varnish clam. Tom Kaye, executive director of IAE, made one of three prize-winning entries at last year's cook-off: battered, deep-fried Cajun bullfrog legs. Second place went to popcorn English house sparrow drumsticks. Despite their poor labor-to-meat ratio, Kaye says, "they were tasty." Third prize went to nutria prepared three ways, including pulled-pork style and made into sausages.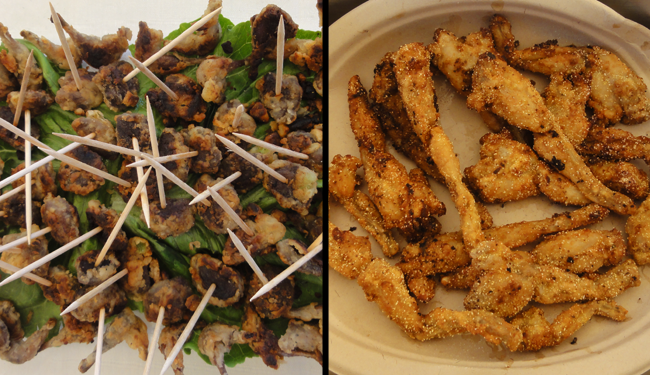 ---
To celebrate Earth Day this year, the Texas Nature Conservancy held a "Malicious but Delicious," dinner, where Austin chefs Ned and Jodi Elliott classed up a bunch of invasives for a four-course menu of popovers with a salpicon of tiger prawns, bastard cabbage orecchiette, porchetta of feral hog, and lime and Himalayan blackberry tart. Huffman says there are now 1.5 million feral hogs rototilling the arid Texas soil and eating everything in sight. Producing at least three litters a year for a total of 12 to 13 hoglets, she says, "they're prolific, they're smart, and hard to eradicate because they catch on to our tricks." Diners' response was enthusiastic, reports Elliott, who discovered that bastard cabbage, a federally designated "noxious weed" commonly seen along roadsides in Texas, has a delicious "earthy, almost parsley-like flavor."
Conservation biologist Joe Roman runs a website called Eat the Invaders, stocked with informative descriptions of a wide range of invasive species and recipes for preparing them. Roman's personal favorites are green crabs in their soft shell stage sautéed and served with French bread, periwinkle fritters and garlic mustard, which he says "makes an excellent pesto." Lionfish sushi, he adds, is "first-rate."
Roman notes that in England, cooks have targeted the highly invasive gray squirrel, which has become such a popular protein that "they're having a hard time keeping them on the menu." The Daily Mail reports that the invading grays have a sparked a revival in the Victorian delicacy squirrel pie.
There are signs that Americans, too, are warming to the idea of eating invasives, even outside of specially planned activist events. In the past few years, invasives have been showing up on the menus of restaurants whose primary focus is taste, not environmentalism. Scott Drewno, chef at the top-rated The Source, a Washington DC, Asian-inflected Wolfgang Puck restaurant, cures snakehead with kaffir lime leaves, lemon grass, cane sugar, ginger and garlic for about nine hours, and then smokes it using sencha green tea and serves it with a sauce of garlic chili, soy sauce, rice vinegar and microgreens. Meaty, smoky and exotically spiced, the dish is gaining a following. Although it is not on the lunch menu, "people are coming in and asking for it," Drewno reports.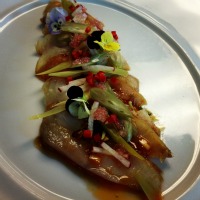 Chad Wells, chef at Rockfish in Annapolis, says of snakehead, "I've done it all: raw, sautéed, grilled, fried, cured, smoked." Two of his menu staples are Asian barbecue-style grilled snakehead tacos and for more adventurous eaters, the snakehead ceviche prepared with orange, mango, peppers and cucumber. Even though snakehead is much pricier than another invasive, blue catfish, Steve Vilnit, director of fisheries marketing for the Maryland Department of Natural Resources, says, "It's almost like a 'Fear Factor' thing, people just want to try it. It looks scary and they want to try this evil fish that can breathe air and 'walk' on land."
Often, Rockfish restaurant will get the truly determined "invasivore" who starts with the ceviche then moves on to the tacos, the wild boar sliders and then the blackened Potomac River blue catfish with remoulade, cheddar and grits.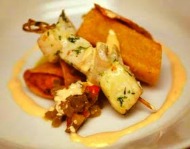 The blue catfish, it turns out, is a far more dangerous invader than the sexier snakehead. "They get so damn big [other fish] can't compete with them," says Wells. They snack on native rockfish, and adult snakeheads have been found in their stomachs. The world record blue catfish: 143 pounds, caught in Virginia waters.
In Ingram, South Texas, Chris Hughes, second-generation owner of Broken Arrow Ranch, has carved out a niche harvesting non-native Nilgai antelope, Axis deer, and feral hogs. The Nilgai, native to India and released in Texas in the 1930s, alone number upwards of 60,000 in Texas, the largest population anywhere in the world. Hughes helps keep populations in check by harvesting them on 30 to 40 Texas ranches a year, taking a mobile processing unit into the field with a U.S. meat inspector in attendance. Customers for the meat include high-end restaurants The French Laundry, Vetri in Philadelphia and celebrity chef John Besh's restaurants in San Antonio.
At Vetri, chef Adam Lionti sears Hughes's antelope rib loin and serves it with an amarone sauce, made with the full-bodied Veneto-region wine of partially dried grapes. "It has a great flavor that goes well with the rich meat; we serve it rare with slices of delicata squash," says chef-owner Marc Vetri. He uses feral hog to enrich a ragu served with chestnut fettuccine. Vetri represents that breed of chef for whom quality and taste trumps any crusading sense of eco-activism. "I'm not using these animals for shock value, or looking at them as 'invasive species'; I don't even know what that means," he says. "Certain meats have interesting tastes and you can pair them up with things that make sense.
For others, like Austin butcher Jesse Griffiths, a connection to the land and concern for the environment play a larger role. He serves three different sausages made with either feral hog or invasive venison at his farmer's market butcher shop Dai Due. Among his most popular offerings are Broken Arrow antelope burgers and venison hot dogs, but he also sells plenty of feral hog cochinita pibil-style, wrapped in banana leaves and marinated in orange and lime juice. He also does a carne guisada stew of venison, tomatoes, onion, garlic and cumin, as well as a gumbo. Griffiths, who authored the book Afield, A Chef's Guide to Preparing and Cooking Wild Game and Fish, has completely replaced domestic pork with feral hog on his menu. "People would be unhappy if we went back," he says. The meat is richer and better tasting than the usual varieties, according to many chefs. He also thinks "Texans are especially attuned to the magnitude of the feral hog situation."
At Grapejuice wine bar, located two hours due west of Austin in the town of Kerrville, owner Patrick Wilt uses affordable ground Nilgai antelope for his hugely popular antelope sliders with three different toppings: grilled jalapenos and chipotle-lime aioli; fresh chimichurri sauce and goat cheese; and bacon jam, blue cheese and red onion. Another top-seller is his antelope nachos with beer cheese and chipotle sour cream. Hunting, he says, "is what I do for fun. All we eat at the house is 'invasive species,' as you put it, but I look at everything as lunch or dinner." His approach to selling wild game, he explains, is "make it tasty, fun but still adventurous." Not too adventurous, though. "We used to do a Nilgai carpaccio, which was awesome, but it really scared people," recalls Wilt.
Griffiths, who also offers popular butchering classes that instruct students on every stage of handling feral pigs from shooting to sausage making, agrees: "The key with all these dishes is you have to keep it in context for people. If you tried to sell them wild boar in fermented fig leaves with lingonberry sauce they're going to be like, 'Oh, no.' If you say, 'I made chili,' they understand what it's supposed to taste like."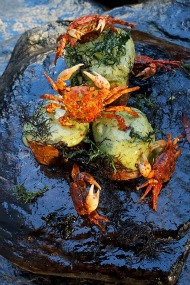 Bun Lai, chef-owner at the New Haven, Connecticut restaurant Miya Sushi, adopts the opposite approach, doing little to cater to mainstream tastes and expectations."You can't get nine out of ten of the conventional sushi restaurant dishes here," says Lai, "no shrimp, no farmed salmon, no tuna."
Instead, he offers deep-fried invasive Asian shore crab, each the size of a quarter, served with a sauce made of another invasive, Japanese knotweed; miso soup flavored with a rogue seaweed called dead man's fingers; applewood cold-smoked Asian carp, and spear-caught lionfish sashimi with "a dozen profoundly mouth-numbing spices."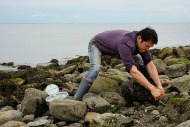 The carp are riddled with pinbones and possess a bone structure that chef Kerry Heffernan says "make an inner-city map of London look uncomplicated." "This stuff isn't meant to be fast food," Lai declares. Miya's challenging fare is not for everyone. "Every single day," he says, "we have people who walk out on us."
In Hawaii, chef and sustainable-food activist Mark Noguchi uses a softer "sell" to interest diners in invasive gorilla seaweed, which smothers coral reefs and chokes native marine life. He blanches then shocks and pickles it, and uses it as a condiment for poke (cubed raw tuna in soy dressing). "Old-timers who are familiar with it but have never seen in on a plate before chuckle and think it's kind of cute," he says. It's easy "preaching to the choir" of Whole Foods shoppers, says Noguchi; he wants to reach "the country people who you want to put down the Spam and pick up a salad." So he'll cook up a little batch of something challenging, "slide it out and try to start a dialogue."
When it comes to invasive species, palatability is one thing but access and distribution are other, sometime insurmountable barriers to mass consumption. French-born New Orleans chef Philippe Parola, for example, planned to mass-market nutria, the semi-aquatic rodent that is munching its way through coastal Louisiana. It seemed like a winning proposition. Fans say nutria tastes a lot like the rabbit served in European restaurants, and it's such a menace that the state's Nutria Control Program has placed a $4-per-tail bounty on the rodent.
At the height of his nutria promotion campaign, Parola had 20 chefs throughout the state on board, serving the animals as sausages, in gumbo, or slow-cooked in a stew of white wine and vegetables. But a combination of FDA regulations--demanding that the animals be brought to the slaughterhouse alive--and lack of funds sank his plan. Now, Parola is involved in another quest that could hinge on the availability of funds: building a processing plant that turns highly invasive Asian carp into fish cakes and other easy-to-consume products.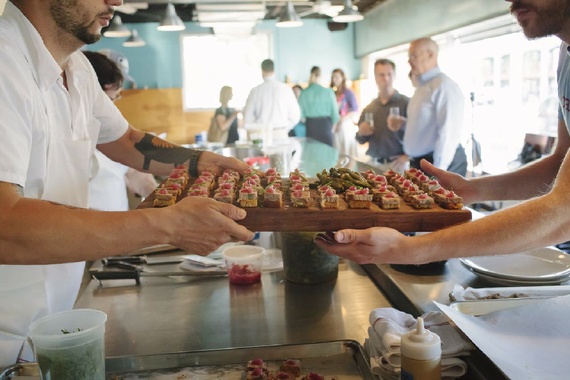 ---
In Maryland and Washington D.C., the reason chefs Wells and Drewno are able to put invasive snakehead on their menus is simple: their supplier, a seafood company called ProFish. Two years ago, the company's director of sustainable initiatives, John Rorapaugh, put a bounty on snakehead as incentive for fishermen who were loath to do the work of catching them. The company began offering five dollars a pound for snakehead, far more than the fifty cents a pound they were paid for catfish. Profish sells mostly to "white-tablecloth restaurants getting a pretty penny for their plates," Rorapaugh notes, but they too must sacrifice some profit to promote a fish like snakehead.
Through their efforts, Vilnit of the Maryland Department of Natural Resources and Rorapaugh have helped replace farmed catfish with the cheaper and much better-tasting invasive blue catfish, marketing them to school cafeterias, caterers, and hospitals. Last year over 427,000 pounds of the fish was sold by local wholesalers, according to Vilnit.
For his part, Jackson Landers, author of the book Eating Aliens, predicts that in a year we'll be seeing a lot more lionfish on menus. He calls it a fish that "has it all": great-tasting flesh, and a readymade hunting and distribution system. That's because the lionfish share one of their habitats, the coastal waters of the Bahamas, with the spiny lobster, which Landers says "supplies the vast majority of the crustaceans sold at the Red Lobster restaurant chain." A reef fish, lionfish must be caught by hand, either by net or spear. Since lobster traps are illegal, fishermen "are already down there under the water," spearing spiny lobster and "seeing the lionfish," Landers says. Give them a decent price per pound, he suggests, and fishermen could "deny habitat to lionfish over a substantial part of the Caribbean."
Avid fisherman and chef Kerry Heffernan, who is writing a cookbook based on his year in Sag Harbor, believes that the best chance of creating an invasive fish commercial harvest is to first create the demand. He sees potential in the blue tilapia, the largest non-native fish species in Florida, and far superior to farmed tilapia because "it's not fed stuff to grow it in six months to harvest." He likes to roast them whole or lightly flour, pan sauté, and finish them with brown butter and thyme.
Some are looking to people like Heffernan to impart the culinary cachet that invasives need to become popular. "It's a chicken and egg situation," says Wenonah Hauter, executive director of Food and Water Watch. "Getting more product available will make it easier for chefs to be able to cook with it. That could be a win-win situation for the environment and people who like eating interesting things." But she adds, "I really think a well-known chef needs to take it up."
Austin Murphy is no famous chef, and doesn't do volume, but he's doing his part. In late June he staged his third annual Potomac Snakehead Tournament, open to both bow hunters and anglers, drawing 149 contestants who caught over 1,000 pounds of snakehead. Another 500 or showed up to sample invasive cookery, drink free-flowing Flying Dog beer, listen to live music and ogle snakeheads.
Thanks to all the hunting and fishing he does, Murphy never has to shop for protein at the local grocery store. In addition to fishing, he hunts invasive resident Canada geese, (whose marinated and grilled breasts, he claims, taste "absolutely amazing") and helps cull local deer population.
Murphy is also enjoying a unique moment in hunter-environmentalist relations: "Even your typical non-hunting, eco-tourist-type person appreciates you trying to remove snakeheads," he says. "They just want to take pictures."