For Many Students, College Means Back to Middle School
A new report finds a dramatic misalignment between what high schools expect, what community colleges teach, and what real-world employers require.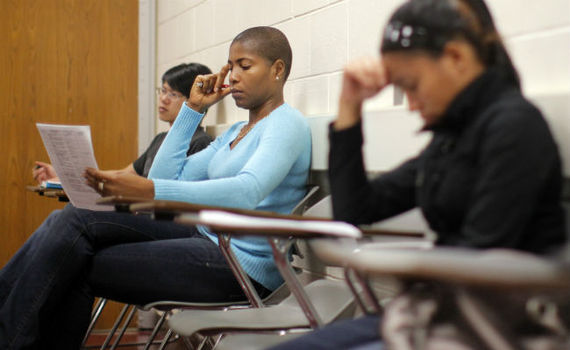 Reuters
"A large fraction of students are leaving the 12th grade with a high-school diploma, and they're about to begin a course of studies at the 8th grade level," said Marc Tucker, president of a Washington, D.C. think-tank, of its recently released a report on college readiness.
"What Does It Really Mean to Be College and Work Ready?" offers a stark assessment of the disparities among what high schools think students should know to succeed in college, what colleges expect students to be able to do, and what skills employers expect college grads to have upon being hired. In recent years, "college and career readiness" has become the benchmark goal of both the school reform movement and the college completion agenda. The report from the National Center on Education and the Economy suggests that achieving that objective might require a radical reassessment of what skills are taught when throughout all levels of the American education system.
The report is based on two empirical studies conducted over three years. NCEE randomly selected one community college in each of seven states, then examined eight of the most popular programs--accounting, automotive technology, biotech/electrical technology, business, criminal justice, early childhood education, information technology/computer programming, nursing, and the general education track. NCEE researchers examined the programs' textbooks, assignments and exams to see what math and English skills truly were necessary to succeed.
While the researchers found that "the reading and writing currently required of students in initial credit-bearing courses in community colleges is not very complex or cognitively demanding," the report's math findings are even more striking. The report also states that middle school math--"arithmetic, ratio, proportion, expressions and simple equations"--were more central to the community college math courses than the Algebra II most high schools emphasize in college readiness programs. "What really is needed in our community colleges--and really for the majority of Americans in the work that they do--is middle school math," Tucker said.
It's a discovery that raises many questions. Should community colleges raise their admission standards? Tucker said that's not the way to go , given that "many students "can't meet the current standards." Plus, as the NCEE research suggests, only a minority of students will ever need to use advanced math skills in college or the workplace, comparing today's college-prep math requirement to previous generations' being forced to learn Latin.
Similarly, the report found placement tests two-year colleges use to determine whether students should be in developmental education or credit-bearing courses also mismatch standards with the skills actually needed.
"It looks like we're denying high school graduates the opportunity to take credit-bearing courses because they can't master math that they don't need, and that seems very unfair," Tucker said.
Instead, "both the schools and our community colleges will have to help their students reach for different kinds of targets and, at the same time, achieve at much higher levels than they do now," the report notes.
Of course, the report also highlights how important it is for students to master those math skills when they first encounter them in middle school. Indeed, Tucker offered a telling example of how difficult it can be to break the cycle once that original opportunity has passed.
"The reason that the students don't understand the concepts underlying middle school math is that their math teachers don't either," Tucker said, adding that "If they didn't learn it in middle school, they'll never have the opportunity to learn it again" as they study to become teachers.
---
This post also appears at The Educated Reporter, an Atlantic partner site.