Fixing Dangerous Schools, E.B. White Loses a Pig, Deep Sea Spy Games: The New Atlantic Weekly
Also in this issue: A frightening deathbed dispute, the GOP vs. the GOP, the case for romance, and more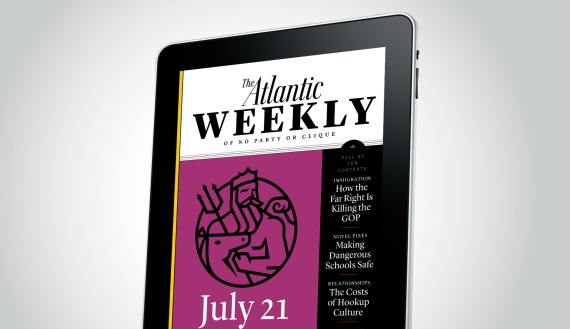 At the end of a real scorcher of a week, our new issue of The Atlantic Weekly may be bereft of good ideas for beating the heat (apologies), but we've got some great pieces detailing novel fixes to other, even bigger problems.
Jeff Deeney reports from a neighborhood in Philadelphia, where students had taken to referring to their school as "Jones Jail" on account of its resemblance to a penitentiary. Unsure how to beef up security, school officials tried something new: they removed the bars on the windows, the metal detectors, and the myriad trappings of police security. Violence at the school plummeted and some surprising new ideas about fixing dangerous schools were born.
We also share a piece about an experiment designed to save Honduras from the scourge of violence and economic turmoil -- an experiment dreamed up by the economist Paul Romer to inspire foreign investors to create tiny pockets of prosperity in an otherwise bleak place. Imagine: Hong Kong in the Caribbean.
Closer to home, Molly Ball reports from Washington on the fracturing of the Republican party under the weight of immigration reform and our own Conor Friedersdorf offers a very personal insight on the "hookup culture" that's so in vogue among striving college students and young adults. We've got a great dispatch from the frontiers of technology and espionage that shows how spies (and spies of yore) listen in on undersea cables. And we present a chilling story that shows what happens when doctors and families disagree about a dying patient's wishes in the final moments of life.
Related to the theme of choice and consequence in the last flicker of life, we also present an absolute gem from our archives, the classic E.B. White essay "Death of a Pig." The story is White's deeply personal account an unexpected death that moved him -- so much so that he wrote a children's novel rooted in the experience. Of course, in Charlotte's Web (spoiler alert), the piglet lives.
Ah, and as for those temperatures? Take some comfort knowing you're not alone -- as Alan Taylor shows us in a collection of photos detailing the record-setting heat wave as it's played out around the globe. Stay hydrated!