California's New Pot Growers: Not at All Earth-Friendly
The Emerald Triangle in California used to be a hippie's paradise. Now, speculators are flooding the area, transforming cultivation and trashing treasured parkland.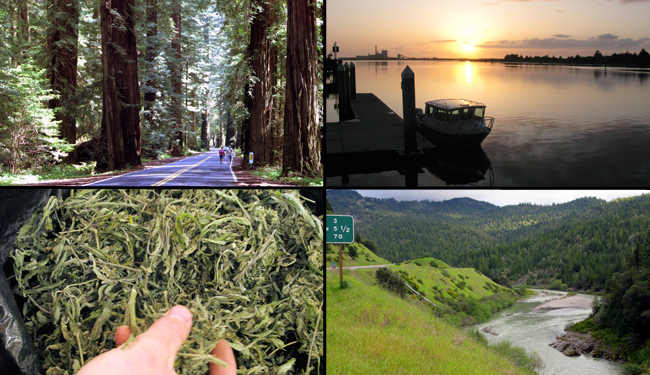 On a warm summer afternoon three years ago, Scott Bauer was hiking near the redwoods in Northern California when he came upon a clearing in the forest. As a scientist with the state's department of fish and wildlife, Bauer had heard about marijuana farms in national parks, but he had never seen one up close. The scale of destruction surprised him. Towering pines and Douglas firs, some over a century old, had been leveled, and a bulldozer had dumped several tons of sediment into a nearby creek, choking it off.
As Bauer got closer he found piles of burnt trash, half empty sacks of toxic pesticides seeping into the soil, and the withering stalks of hundreds of marijuana plants spread out over five acres of denuded landscape.
"The growers had split," Bauer says. "But it was clear they had little regard for the damage they were causing."
Since that afternoon in 2010, Bauer has stumbled across dozens of similar sites and found the same kind of environmental devastation in each place: water illegally diverted from cold mountain streams, lethal bait used to poison endangered animals, and massive greenhouses sucking up electricity.
This is the ugly secret of California's Green Rush, the medical marijuana boom that has turned Humboldt, Mendocino and Trinity counties (often referred to as the Emerald Triangle) in to the Napa Valley of high-grade pot production in the United States. Over the last two years, speculators hoping to cash in on what has become a multi-billion dollar industry have flooded the area, says Bauer. They've radically transformed its culture and doubled the acreage under cultivation.
"When we fly above the forests, we see greenhouses and clearings popping up everywhere," Bauer says. "They'll grow it in rows, like an orchard. It used to be that growers tried to hide what they're doing, but now it's right out in the open."
In two watersheds Bauer studies the numbers of grow-ops have exploded, from 550 sites two years ago to over 1,100 today, taxing a water table already in peril after years of drought. Bauer estimates that over 18 million gallons of water were diverted from one watershed alone last year, drying up creeks where the endangered Coho salmon spawn. Growers typically take the most water during the hot and dry summer months, Bauer says, and often from headwaters that feed fish habitat further down the slopes.
The situation may be even worse in national parks like Yosemite and the Redwoods, says Maurad Gabriel, a scientist with the University of California at Davis. The grow-ops in the forests are typically much bigger than the ones Bauer studies on private lands, meaning they use more water and are often run by Mexican drug cartels, which spray pesticides so toxic they're illegal in the US. Like Bauer, Gabriel has found pesticides lining the banks of streams, as well as open latrines leaking in to creeks.
While Bauer is primarily concerned with the fate of salmon, Gabriel worries about the future of the Pacific fisher, a weasel-like mammal that feeds on fish, and other endangered animals further up the food chain, like the spotted owl. Gabriel says he's come across scores of dead animals that ate pesticides or bait, which is set out for marijuana-eating mice. He's also found dead songbirds, which accidently fly in to the barbed-wire fences growers use to dry marijuana after harvest.
The irony to all of this is that for much of its history the Emerald Triangle has been synonymous with environmental conservation. In fact, the first growers who came to the area, known locally as homesteaders, were hippies and ecologically conscious back-to-the-landers that grew their pot organically under the sun, transforming timber country in to a pothead's Shangri-la. "They viewed marijuana as a sacrament of the earth," says Tony Silvaggio, an environmental sociologist at Humboldt State University. "For them, it wasn't a business. They may have sold a little on the side to get by, but it was more of a way of life."
While those hippie outlaws are still around the Emerald Triangle, come harvest time you're just as likely to see a new breed of grower around town, standing on the side of the road holding cardboard signs looking for work "clipping and bagging" marijuana plants, or parked in front of hydroponic stores in a brand new pick up buying grow lamps or plant food. "In the winter, they take off for Costa Rica and Honduras to live the good life," Bauer says. "And then next spring, they're back. They're here to make money and then leave."
When California voters passed Proposition 215 (which allows for the possession and cultivation of medical marijuana) the new breed of growers who flooded the Emerald Triangle mostly opted for indoor growing, or large-scale farms on private and public forest land, known as trespass grows. Today, at least one third of the marijuana grown in the state is produced indoors, which accounts for nine percent of California's annual electricity use. "Each time there's a new initiative to legalize marijuana for recreational use it just gets worse," says Tyce Frasier, a second-generation grower. "More people move here, or people expand the size of their operation to cash in before it becomes legal and regulated."
If there is a solution to these trends, it may come from the growers themselves. While California has regulations that govern agriculture, requiring permits from everything from water usage to the grading of dirt roads, they are mostly ignored in the Emerald Triangle. "I get growers who come to me and say, 'I'd like to work with the county to make sure I'm getting all the right permits, but what I'm doing is illegal according to federal law, and I don't want to put a big target on my back,'" Silvaggio says.
Environmentally conscious growers are instead taking matters in to their own hands, targeting trespass grows and what they call "pollution pot." A group called Grow It in the Sun ran ads on local radio urging newcomers to stop growing indoors, and another group called the Emerald Growers Association has created a "best practices guide," to encourage organic farming. One non-profit, called Sanctuary Forest, has even begun helping farmers buy tanks to store water for the dry summer months.
"For a long time there was a code of silence, because even if you saw something you didn't like, you were doing something illegal yourself and you didn't want the attention to blow back on you," Silvaggio says. "Now that's changing. It's got bad enough that growers are starting to speak up, pointing out there's a sustainable way to do this."
The implications extend beyond the Emerald Triangle or even California. To date, 15 states allow some form of cultivation, including Colorado and Washington, which just legalized marijuana for recreational use. "We have a market that's going to expand exponentially," Silvaggio says. "And yet most of these states that are legalizing aren't even thinking some of the things we're seeing here. The environmental impact is only going to increase in frequency and scale. It's a moral test for this community."
As for Bauer, finding hope is hard. Not long ago he returned to that first site he visited years ago. Little had changed. There was still sediment in the creek. And then he noticed something that alarmed him: sacks of pesticides that hadn't been there more than a few weeks. The growers were back, expanding their operation.