A Gallery of Snapshots from the 2013 Aspen Ideas Festival
Annie Lennox, Madeleine Albright, Yo-Yo Ma, and more.
The Aspen Ideas Festival, which ran from June 26 to July 2, was full of big ideas. Here are some images from key moments.
Educate all girls, everywhere.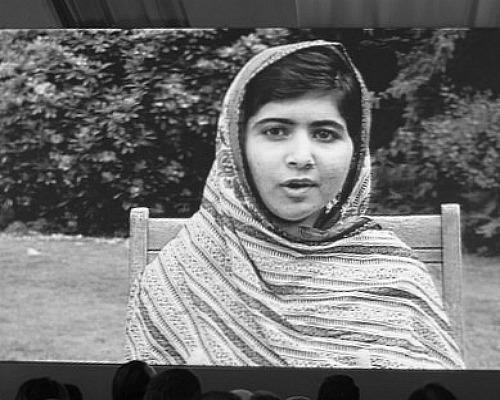 Malala Yousafzai, the 15-year-old Pakistani girl who was shot by members of the Taliban while riding the school bus last fall, joined opening session virtually to share her big idea. "Today, I do want to share my idea -- my big idea -- and that is girls' education. When we get education, we get big change in our society. If we educate one girl, it means we educate the whole society. So let us work for it, together."
Make art an education priority.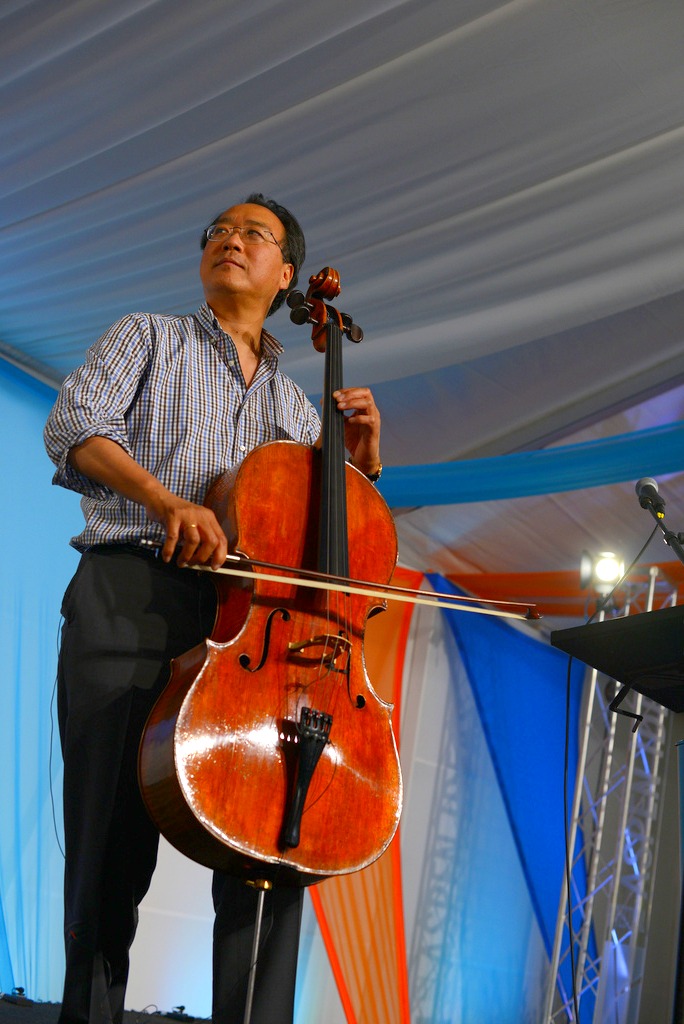 STEM (the acronym for "science, technology, engineering, and mathematics") is now ubiquitous in policy conversations, but cellist Yo-Yo Ma argues that it is off by one vowel: He wants to turn STEM into STEAM, with the "A" standing for "arts, culture, and humanities." "When we tell a story using all of our senses, with touch, with our eyes, with our ears, with our experiences, with movement, we make that memorable. And then we become curious .... It all starts with turning STEM into STEAM."
Change the way America gets its TV news.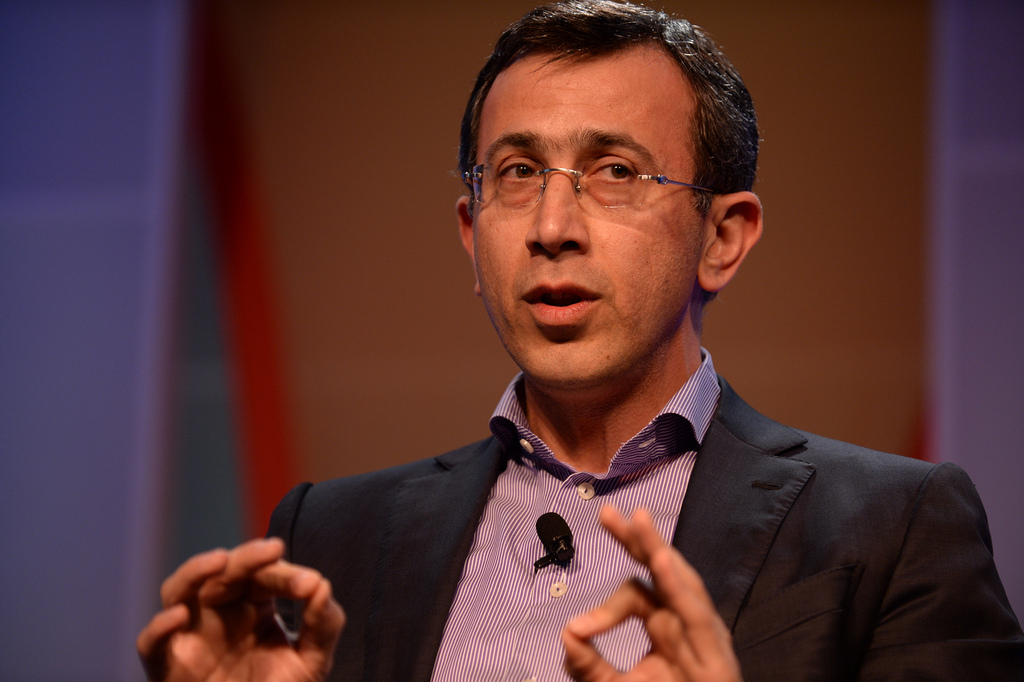 Al Jazeera has made a big bet: They're launching a TV news network in America, and they're not being shy about the investment. As of January, they had posted more than one hundred U.S.-based job positions, and they've snagged big names like former CNN anchor Ali Velshi. Despite a period of post-9/11 suspecion toward the network, its executive director of international operations, Ehab Al Shihabi, says there's now an audience for it in the U.S.
Put pianos in public parks.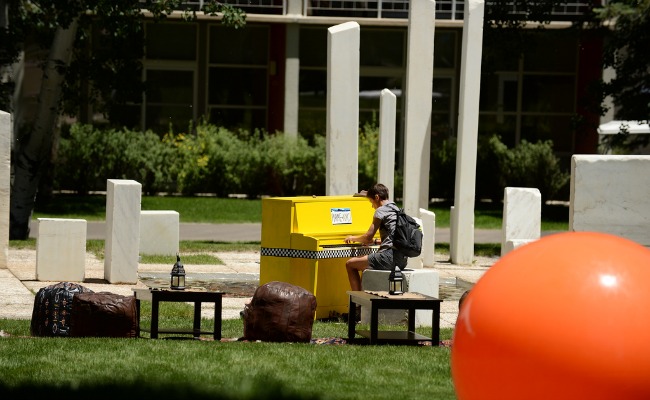 Soprano singers Camille Zamora and Monica Yunus met as students at Juilliard in the late '90s. A decade and a half later, they both have brilliant careers in opera -- and a shared mission to help artists engage in local communities. This summer, their organization, Sing for Hope, placed 88 artist-designed pianos in parks and public spaces throughout the five boroughs of New York. Later, they'll be donated to schools, hospitals, and community organizations.
The self-portrait isn't dead.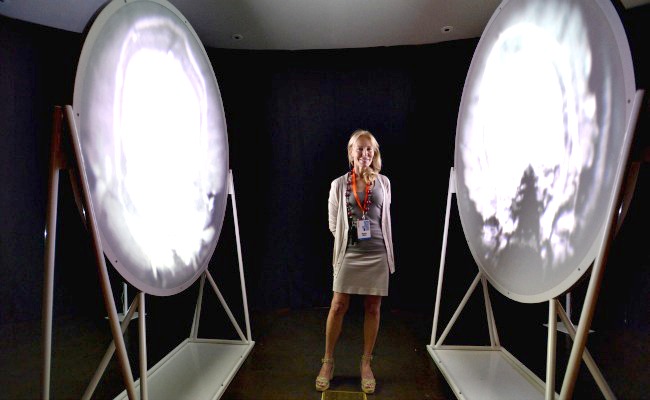 Artist Paula Crown has created a new kind of self-portrait. "The genre of the self-portrait is very well-known to all of you," she explained. "The earliest-known reaches back to 2350 B.C. Each time a new medium emerges, we think we can claim some sort of objective improvement about the representation. But like the camera and the computer, we know that they have proved to be unreliable and manipulated in many ways. With 3-D imaging technology and the use of my brain MRI scans, I'm trying to shift perception and create self-portrait from a different angle, literally from the inside out."
Abraham Lincoln, MBA.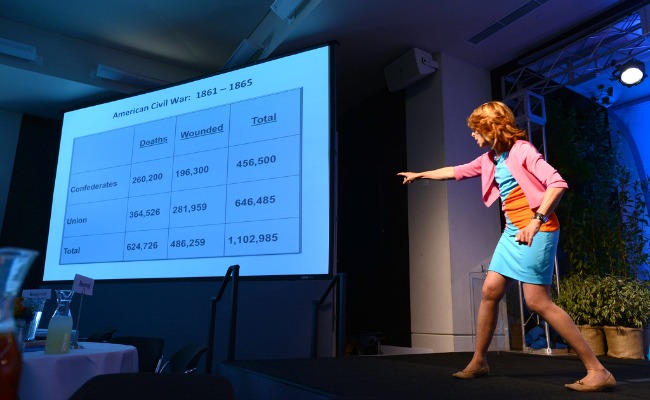 Who knew Harvard Business School hires historians? Nancy Koehn, who mainly studies the history of leadership, has identified lessons from Lincoln that the business world can learn and use. She spoke about Lincoln's pragmatic ability to know which battles to fight; his ability to step outside of himself and evaluate alternative perspectives; how to work with others to accomplish desirable outcomes; and how to mobilize in the face of the most important challenges. Perhaps one of the country's most beloved presidents might have succeeded in the business world.
Egypt needs a revolution for women, too.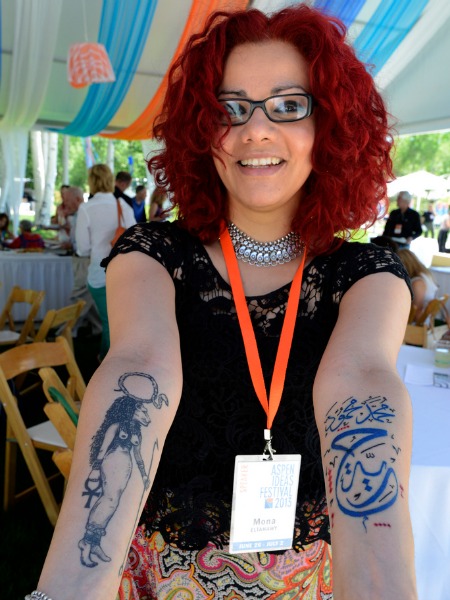 In 2011, Egyptian-American journalist Mona Eltahawy was assaulted by riot police in Cairo after traveling to the country to report on the protests in Tahrir Square. Since then, she has only redoubled her efforts to be a voice for women in the Middle East and North Africa. She spoke about the project she's working on right now in an interview with The Atlantic: "I'm most excited about the social/sexual revolution that I've moved back to Egypt for because it inspires me creatively... Once we've removed the Mubarak from the presidential palace, we now have to remove the Mubarak from our mind, the Mubarak from the bedroom, and the Mubarak from the street corner, who uses street sexual harassment and who sexually assaults women and who thinks it's okay.
Some ideas are bendable.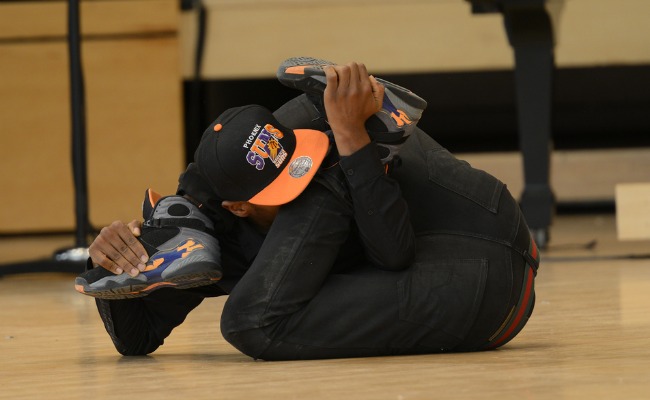 Memphis-native Lil' Buck's pretzel-style performances are nothing sort of mesmerizing. He practices a style of dance called jookin', which involves yoga-like contortions, ballet-like point work, and traditional hip-hop moves performed to music ranging from crunk rap to classical. His big idea has turned into an incredible journey: Take your hometown dance and bring it to people all over the world.
We can beat HIV/AIDS.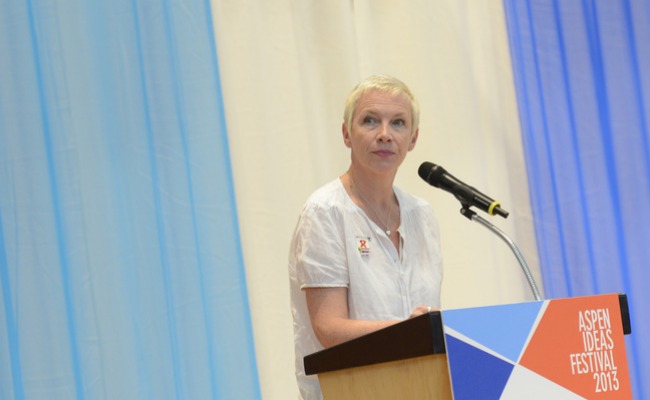 Annie Lennox has a new mission: battling HIV and AIDS, particularly in Africa. She spoke passionately about the topic: "Over the years, I've traveled to African countries like Malawi, Uganda, and South Africa, where I've personally witnessed the devastation of AIDS. I've visited clinics, hospitals, orphanages, and people in their homes in rural areas and urban townships. I've seen young women and mothers dying in their prime, leaving their children to fend precariously for themselves, with entire generations and communities wiped out.
"As a woman, a mother, a human being, I find this intolerable and profoundly unacceptable, especially because it doesn't have to be this way."
Binge-watching TV makes it better.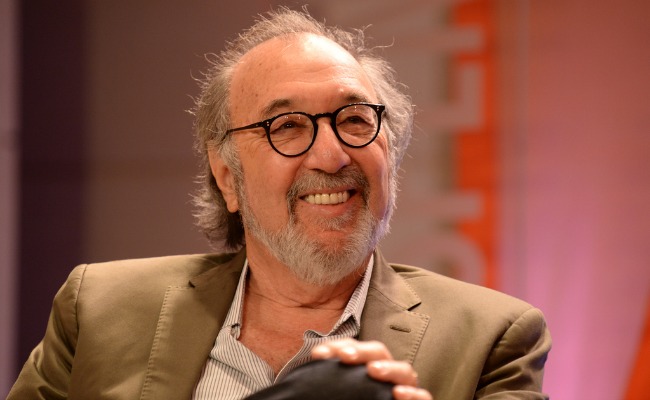 After winning 19 Emmys, nabbing three Oscars, and producing hit shows including The Simpsons, The Mary Tyler Moore Show, and Taxi, James L. Brooks likes to binge-watch TV.
"I did The Wire on a binge -- I think it was 60 shows, something like that -- so it was a real binge. It's a different experience, and I think it's a richer experience. When you're surrounded by it, when you go to sleep and wake up and experience it again, and that happens again and again, you can immerse yourself in it; you can become part of it. It's like with great literature, what a reader brings to it, when they're that immersed in it, when the book starts having an effect on them. There's a very different trip that is becoming a very common trip, and I think it's changing everything."
Foreign aid is about security.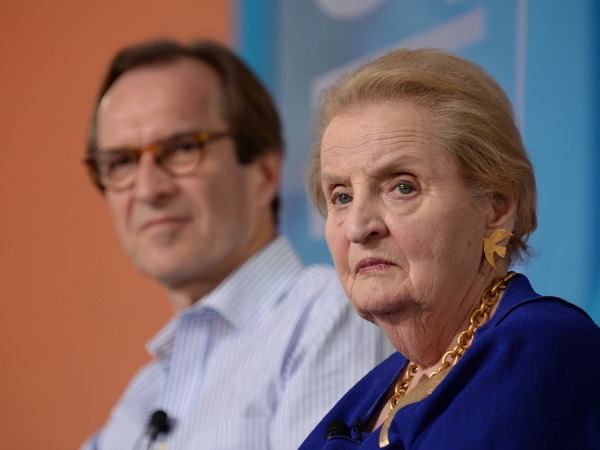 Madeleine Albright, the first woman to serve as secretary of state, the former U.S. ambassador to the United Nations, and the owner of what might be the greatest pin collection in America, thinks that foreign aid will be crucial to America's continued success abroad.
"I do not believe that the United States is a declining power; let me just say that flat out," she said. "But what that requires is to cooperate with other countries... The other part is that our assistance programs are our leverage. If you look at what our budget is, and what Congress is allowing for what is known 'foreign assistance' -- it is a mistake to put those two words together. It needs to be national security support."