What It's Like to Join Portland's 'World Naked Bike Ride'
"To whoever it is behind me that just said he wants to pee from his bike, DO IT!"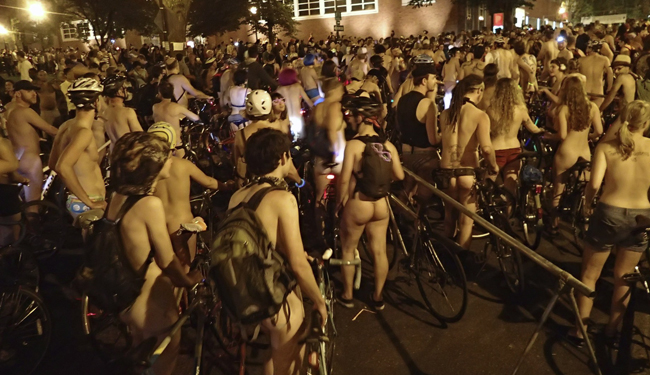 My friend Xochil was shocked to see me when we met up at the Portland Art Museum last Saturday night, mostly because I was wearing underwear, cowboy boots, and nothing else. Then again, she was barely clothed herself.
After years of giving in to excuses like "It's raining," "I'm too tired," or "I don't want my bare breasts roving the city streets," I decided this year to squelch my inhibitions, take off my top and participate in the city's 10th-annual World Naked Bike Ride. Born as a protest of pollution-based transportation and a biking-awareness builder, Portland's infamous clothing-optional ride has multiplied in size over the last decade, from 125 riders in 2004 to 7,000 in 2007, when the weather was particularly nice. Adding a twist this year, the Portland Art Museum, a first-time sponsor and the starting point of the ride, offered participants after-hours admission to its new bicycle-design exhibit for an entrance fee of $1 per worn article of clothing.
I'll admit, the thought of being nude -- both on a bike and in an art museum -- made me want to round up and put on all my jackets at once. But I wanted to both push my limits and understand the widespread appeal of the event, Portland's offbeat free spirit at its finest. I knew the only way to learn anything real was to woman up, strip down and pedal the route for myself.
"I am so in," Xochil (pronounced "Social") responded when I sent an email to friends trying to drum up some company. "This body has produced two humans. I can do anything."
With a partner in crime arranged and a meet-up plan determined, I affixed an empty pannier to my bike for the clothes I'd take off, and I headed downtown.
A Nude Among Nudes
When I arrived at the ride start in the waning 9pm light, thousands of people were preparing themselves for the seven-mile pedal. Across the museum's grassy front lawn, they were painting each other's bodies, wrapping strings of lights around the handlebars of their bikes and dancing to music blasted from battery-powered PA systems. Around the base of an elm tree, four topless women arranged each other's pastel tutu skirts, a 60-something man wearing only a red cape and Viking hat adjusted his bike, and a young naked couple posed for pictures, sometimes covering certain parts with helmets, sometimes not.
Still wearing my hoodie and shorts, I felt overdressed, but I couldn't muster the gumption to disrobe just yet. I headed instead for the long line at the museum entrance in hopes of getting inside before I met up with Xochil and began the ride.
Midway through a conversation with the naked man in front of me in line, I was hit with the panic-inducing realization that I would somehow need to remove my clothing before reaching the front desk of the museum to avoid overpaying. I developed a hasty plan that, admittedly, lacked subtlety.
Corey had just finished telling me about his work as an auto insurance agent when I took off my pants. Minutes later, between discussing recent weather patterns and running shoe preferences, I removed my shirt, then my bra.
Our conversation proceeded like nothing had changed. Corey did not seem to notice my sudden strip. Nor did anyone else. I exhaled. I'd done it.
Two minutes later, I entered the white-halled art museum behind other equally bare visitors and headed for Cyclepedia, a collection of particularly innovative bicycles curated by Vienna-based designer Michael Embacher. I tried to concentrate on the explanations of each bike's innovation (the first folding mountain bike! a ski bike designed for ice riding!), but I spent most of the time awed by the fact that no one but the docent was wearing clothes.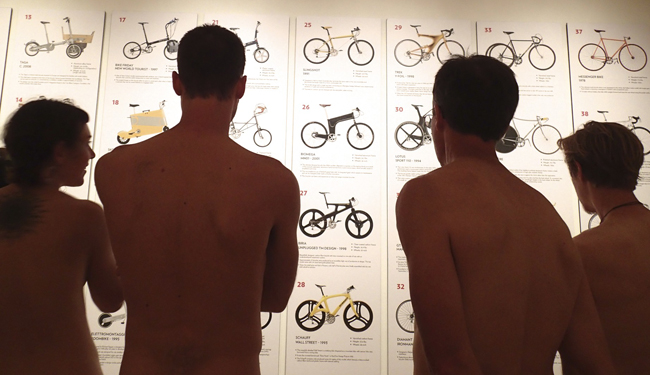 Skin to the Wind
The art museum's two entrances with views of separate horse statues complicated my reunion with Xochil, but we eventually managed to find each other. Retrieving my bike, which I'd locked to a pole half a block and a dense sea of riders away, proved our next challenge.
Xochil opted to reason with the people. "We have to get Christina's bike," she stated loudly to the crowd before hoisting her mountain bike over her head and wading in. Surprised at the effectiveness of her move, I followed and three minutes later, had reunited with my clunker.
As we waited for half an hour under the golden glow of street lamps for our far-back section of the ride to budge, I marveled at the good-naturedness of everyone in my vicinity. A guy named John shared his airplane-sized bottle of bourbon. A girl named Ali offered her body glitter. Matt, a four-year ride veteran, passed along tips he'd picked up in years past, which included 1.) bring along supplies including your clothes and a spare tube, and 2.) try to position yourself near someone with music. I ran into Jeff and Wesley, two guys I'd met (fully clothed) at a coffee shop a few weeks prior. Everyone in our section of street seemed open and happy; I didn't feel judgment anywhere.
The safe feeling shifted, however, when we finally rolled forward and, at the first bend in the road, entered a gauntlet of clothed onlookers who'd shown up with their iPhones and video cameras to capture the spectacle. The inward press of the gawkers, which prevented me from gaining momentum, snapped my sense of vulnerability back into focus.
Once I'd passed through the bottleneck and could pop up onto my seat and begin pedaling, though, I felt free. The wind raised goose bumps on my skin as I rode past landmarks I see on a weekly basis, albeit clothed -- the iconic sign announcing visiting authors at Powell's City of Books, the Burnside Bridge spanning the Willamette River, the sweet-smelling Franz white bread bakery, The Slammer Tavern on Sandy Boulevard. In multiple parts of town, late-night revelers stepped out of bars to give us high fives and cheer us on. Some took off their own clothing in solidarity (or drunkenness); navigating the route, I had to swerve around multiple pairs of crumpled underwear. We passed a troop of naked cowboys, a group of blue people in short cutoffs inspired by Arrested Development's never-nude Tobias, a rollerblader doing fancy footwork despite the road rash on his left lower cheek and a happy old man with very clear arm signals.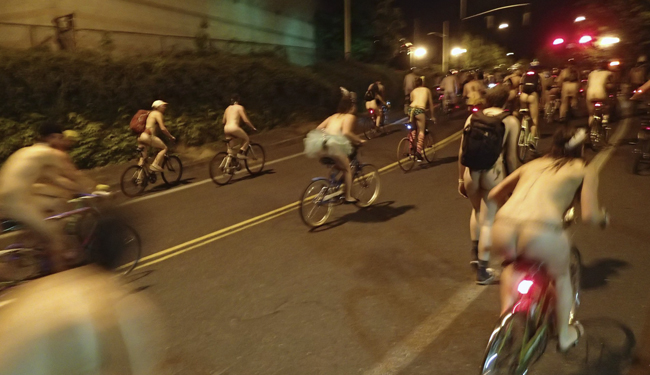 With continuous whooping and banter, the ride felt like a moving celebration of bodies and bicycles and people at their most elemental.
"To whoever it is behind me that just said he wants to pee from his bike, DO IT!" Xochil yelled over her shoulder at one point. "I promise, you will never, ever regret that life decision."
"Bare as You Dare"
One of the lead ride organizers Meghan Sinnott estimates more than 5,000 people participated in the ride this year, though she says a formal count won't be available until July or August, once volunteers count a video recording of the start.
Though more than 70 similar "bare as you dare" rides occurred last weekend throughout the world, in cities including New York, Thessaloniki, Guadalajara and London, Portland's gathering has traditionally been the largest.
Sinnott attributes the high levels of participation in part to Oregon's permissive laws regarding nudity, which basically allow people to be publicly naked unless they're sex offenders, having sex, or trying to arouse someone else. (While Portland city law is stricter, prohibiting any exposure of genitalia in the presence of members of the opposite sex, city police recognize naked pedaling as a "well-established tradition" and a form of "symbolic protest" in Portland, and they go easy on riders who stay on route and behave.)
While the Portland ride originated a decade ago as a renegade group out to highlight the vulnerability of cyclists and protest dependence on fossil fuel, the tenor has changed as the size has grown and mainstream entities like the police department and art museum have come on board. Yes, many riders still bare it all for the original mission (Exhibit A: the guy with the slogan "More nude, less crude [oil]" painted on his back), but others strip down and saddle up to promote positive body image or, as Sinnott put it, have a "yay-yay-naked-naked!" experience.
Sinnott says she'd like to direct the ride back toward its protest roots next year by pushing a central message harder -- and perhaps holding the ride during daylight hours and routing it through neighborhoods that have not seen it before -- but she is pleased with this year's outcome nonetheless.
"If you throw a ride where 5,000 people show up, that's more people than commute per day in Portland," she said. "We're getting people who are buying bikes or borrowing bikes or dusting off bikes and getting out there and thinking, 'This is fun; I can do this.' I want people to know this is a protest, but I am so satisfied personally to know it's getting people out on bikes."
At the end of the ride, before pulling our clothes out of our bags, Xochil and I pulled our bikes to a stop under the Morrison Bridge and looked across Willamette River to the downtown lights beyond.
"How magical to be part of something so ridiculous, and so big," she said.