The GOP's Future, Putin's Olympics, Kanye's Latest Album: The New Atlantic Weekly Is Out
Also in this issue: How darkness affects our minds, why the Kennedy brothers wiretapped Martin Luther King, and more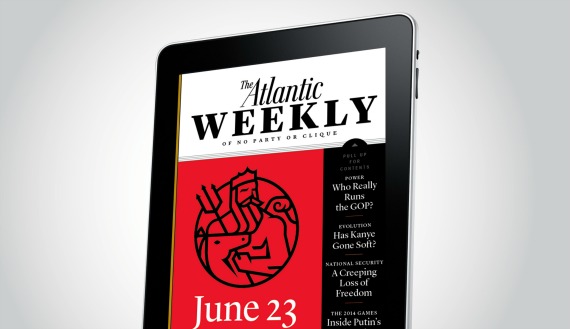 We're thrilled this Friday--as we will be most every Friday--to share the latest issue of The Atlantic Weekly, our new digital magazine for the iPad and iPhone featuring some of our favorite stories, ideas, and photos from the week.
In this issue, our political writer Molly Ball explains why social conservatives still hold considerable sway in the Republican Party, and we suggest a new way of thinking about Kanye West. In an essay that takes stock of recent revelations of clandestine telephone and Internet monitoring, the legal scholar Garrett Epps argues that Americans are quietly acquiescing to something dangerous--a legal system that no longer restrains the government. And speaking of assertive political leaders, this week we probe the new and very personal obsession of Vladimir Putin: his embattled 2014 Winter Olympics, to be held in February in the summer (that's right) resort city of Sochi. We also offer some new insights into an age-old claim that bad things happen at night, and demonstrate how Google is taking users of its map program to the ends of the Earth, while the Pulitzer Prize-winning Tony Horwitz shows why, as we mark the 150th anniversary of Gettysburg, it may be time to rethink much of what we know about the Civil War.
Finally, for iPad users, we're presenting a piece from our archives about the infamous FBI wiretapping of Martin Luther King Jr. in 1963. A tale rich with Kennedys and Communists, the story serves as a timely reminder that the government's curiosity about phone calls is perhaps nothing new.