Remembering Will Campbell
Fired from the University of Mississippi for playing Ping-Pong with a black man, this man of faith, this white man of faith, was a critical part of the civil rights movement.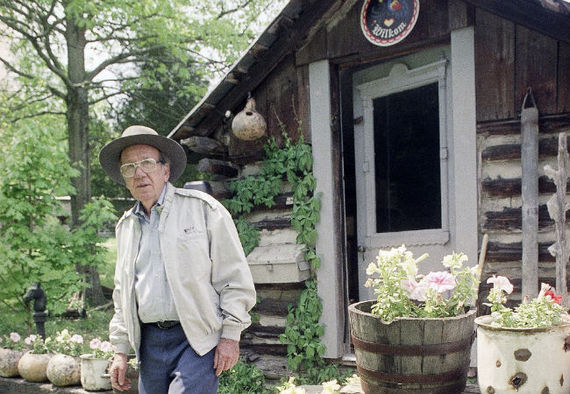 Even a laudatory obituary by Pulitzer-winning journalist Robert D. McFadden in the New York Times doesn't do justice to the life and times of Will Campbell, a civil rights activist unlike any other. McFadden's tribute emphasized Campbell's evident contradictions -- "he was a civil rights advocate who drank whiskey with Klansman." But the essential truth of the man's life is that he was an enormously important civil rights figure because of the color of his skin (white), because of the manner in which he migrated to the movement, and because of the crucial role he played as a conduit for information from one racially isolated community to the other.
David Halberstam, in his masterful book, The Children, recounted the dignity and courage with which Campbell acquitted himself in the early years of the civil rights movement:
One of the first things Will Campbell did when he came to Nashville was to go to the local NAACP office and join up; as he crossed the street to enter the building which housed the office, he still felt enough of the fear generated by his experience in Mississippi that he instinctively stopped and looked around for possible police informers or cameramen outside, men stationed there to record the doings of the state's enemies.

Later, as he left the office, he found himself again looking back over his shoulder to see if anyone was watching him or whether he was being followed or filmed. The Mississippi twitch, he called it. In Mississippi, his superiors had always kept a close watch on him. Because he was rumored to be a secret integrationist, there had been informers everywhere. An Ole Miss student had come by at the end of each day to collect the used carbons from his office so that authorities -- Campbell was never sure which ones -- would know to whom he had written that day and what he had said.
Representative John Lewis, the iconic civil rights figure, picks up the story there. In his book Walking With the Wind, here's how he remembers Campbell in the heat of the campaign to desegregate Nashville's lunch counters:
The next morning there were fewer than a hundred of us gathered in the pews at First Baptist as we listened to Will Campbell, the white minister I'd first met at Highlander, warn us of the danger waiting for us downtown. Campbell, who had been run out of Oxford, Mississippi [as a chaplain for the University] a couple of years earlier for playing Ping-Pong with a black janitor, had come to Tennessee to work with the religious community.

He was also a member of of the Nashville Council of Churches, as well as one of the few white members of the NCLC. He'd been to a few of our meetings, supported us completely, and had come down this morning to tell us he'd heard from some of Nashville's white community leaders that the police did indeed intend to make arrests that day. He said there might be violence as well, attacks from onlookers.
Later, in February 1961, Lewis recounted an episode with Campbell which marks one of the most dramatic internal moments in the history of the Civil Rights movement, the moment, Halberstam wrote, in which Campbell "finally realized the leadership of the Nashville wing of the movement had changed, that the young people had taken over, that a dramatic generational passing of the torch had already taken place, and no one had quite understood it." From Lewis's book, as he and his colleagues (and older members of the movement) argued over whether they should continue to march in Nashville given the increase in violence there:
I listened to the debate that night. I considered everything that was said. And I heard nothing fundamental enough to shift the sureness I felt inside about what we were doing. I did not have a shred of doubt about what our next step should be. "We're gonna march," I said, when Will Campbell asked my opinion.

He turned away and went on with the discussion. Someone else asked what I thought about something that was said, and my answer was the same. "We're gonna march," I said, as simply and softly as before. At that point, Campbell lost his temper with me.

"John," he said, "you're agreeing with everything everyone in this room is saying. But all you say is, 'We're gonna march.' There's very apt to be some serious violence if there's another demonstration," he continued. "You agree with that, and still you say, 'We're gonna march." What it comes down to," he went on, "is that this is just a matter of pride with you. This is about your own stubbornness, your own sin."

The room was absolutely silent. Everyone turned to me. I looked straight at Will. "Okay," I said. "I'm a sinner." The room remained still. "But," I added, "we're gonna march." And that was that.
Will Campbell was a white man in the 1950s, a man of faith, who endured great professional hardship as a result of his enlightened views. He was a man who crossed the racial divide as a tribune, in the South, at a time when there wasn't always enough prudent dialogue between white leaders and members of the civil rights movement. It is impossible to know what the civil rights movement would have been like without his counsel. It is impossible to know if he saved lives with his advice. But it is also impossible to conceive of the success of the movement without his profound contributions to it.