One of the Darkest Periods in the History of American Prisons
Recent lawsuits and Justice Department investigations have uncovered grotesque abuses of mentally ill inmates at state and local prisons. Yet Washington refuses to investigate allegations of similar mistreatment at federal penitentiaries.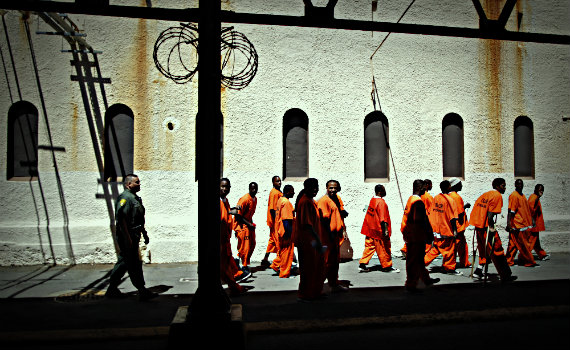 (Reuters)
It has been an extraordinary three weeks in the history of the American penal system, perhaps one of the darkest periods on record. In four states, from the Atlantic to the Mississippi, from the Gulf of Mexico to the Great Lakes, the systemic abuse and neglect of inmates, and especially mentally ill inmates, has been investigated, chronicled and disclosed in grim detail to the world by lawyers, government investigators and one federal judge. The conclusions are inescapable: In our zeal to dehumanize criminals we have allowed our prisons to become medieval places of unspeakable cruelty so far beyond constitutional norms that they are barely recognizable.
First, on May 22, the Civil Rights Division of the Justice Department released a report highlighting the unconstitutional conditions of a county prison in Florida. Then, on May 30th, the American Civil Liberties Union filed a federal lawsuit alleging atrocious conditions at a state prison in Mississippi. One day later, the feds again sounded out on behalf of inmates, this time against profound abuse and neglect at a Pennsylvania prison. Finally, last week, a federal judge issued an order describing the unconstitutional "brutality" of the prison in Orleans Parish, Louisiana.
There were many common themes in the reports. In each instance, the mistreatment of mentally ill inmates was highlighted. Prison officials have failed to provide a constitutional level of care in virtually every respect, from providing medication and treatment to protecting the men from committing suicide. In the Louisiana court order, one prison expert is quoted by the judge as describing an "extraordinary and horrific" situation with the prison there. In the Florida investigation, federal investigators noted that local prison officials "have elected to ignore obvious and serious systemic deficiencies" in the jail's mental health services.
Taken together, these developments shed welcome light on some of the worst government abuses of our time and demonstrate vividly the need for enlightened policies and more human decency and accountability from prison officials. But these lawsuits and investigations and court orders also beg a critical question: If the feds are so concerned with the constitutional rights of mentally ill prisoners in state and local prisons, why is the Justice Department so unwilling to undertake an equally thorough review of the similarly dubious practices and policies now being forced upon mentally ill federal prisoners by the Bureau of Prisons?
The findings from the Florida and California investigations, and the evidence and allegations in Louisiana and Mississippi, are remarkably similar to the evidence and allegations that have been made in two federal civil rights cases about inmate abuse and neglect within the federal penitentiary in Florence, Colorado, the ADX-Florence facility that includes "Supermax," America's most famous prison. Yet the Inspector General of the Justice Department has refused to investigate those allegations against federal prison officials. Nor has the Civil Rights Division of the Department. Nor has Congress. This is unacceptable.
Florida (the Atlantic)
In and around Pensacola, Florida, the Justice Department concluded three weeks ago that conditions at the Escambia County Jail manifestly violated the constitutional rights of prisoners there. There was the failure of jail leadership to adequately prevent, monitor and track terrible prisoner-on-prisoner violence. There were chronic and debilitating staff shortages. "Obvious and known systemic deficiencies," Deputy Assistant Attorney General Roy L. Austin, Jr. wrote, "continue to subject prisoners to excessive risk of assault by other prisoners and to inadequate mental health care." Here is the link to the letter.
In their report, the feds listed some of the many ways in which Escambia County fails to meet the constitutional needs of its prisoners:
1) the Jail does not afford prisoners timely and adequate access to appropriately skilled mental health professionals; 2) the Jail routinely fails to provide appropriate medications to prisoners with mental illness; 3) the Jail provides inadequate housing and observations for prisoners with serious mental illness and/or risk of self-injury, including suicide, and; 4) On average, the Jail sends roughly one prisoner per month to the hospital after an incident of self-injury, a rate our expert found indicative of a clearly inadequate mental health program.
Calling the jail's staffing levels for mental health services "grossly inadequate," the Justice Department noted that the jail "employs only a single part-time psychiatrist for the entire facility, and relies heavily on unsupervised trainees to screen and evaluate prisoners for mental illness. Using trainees in this way leads to missed and inadequate diagnoses. . ." Moreover, the feds wrote, jail records revealed "that many of those requesting mental health care never get past the trainee to see an actual mental health professional. . . expos[ing] prisoners to a serious risk of harm." Here is just one exampled offered by the Justice Department:
A prisoner was admitted in 2012 with a history of suicide attempts while incarcerated, most recently in 2011. An initial screening conducted by an intern indicated that the prisoner had a history of schizophrenia with auditory and visual hallucinations and possible retardation and a history of four or five suicide attempts by hanging. After conducting a review of this record, the intern cleared the prisoner for placement in the general population with a referral to psychiatry.

The prisoner was seen by the psychiatrist five days later. The psychiatrist noted that the prisoner was hallucinating and diagnosed him as suffering from paranoid schizophrenia with "poor insight and judgment." Notwithstanding this diagnosis, the prisoner remained housed in the general population without a mental health treatment plan or any follow-up by the a mental health professional. Nine days after his admission to the Jail, the prisoner attempted to kill himself by hanging, and was only prevented from doing so because two prisoners intervened.

Subsequent to this incident, the prisoner was returned to general population without a treatment plan.
Mississippi (Gulf Stream Waters)
On May 30th, the ACLU filed a long-awaited federal lawsuit against state officials for the atrocious conditions at the East Mississippi Correctional Facility. "The lawsuit filed today," the lawyers wrote, "describes a facility where [mentally ill] prisoners are often locked in filthy cells and ignored even when they are suffering from serious medical issues. Many cells lack light and working toilets, forcing prisoners to use trays or plastic bags that are tossed through slots in their cell doors. Rats often climb over prisoners' beds, and some prisoners capture the rats, put them on makeshift leashes, and sell them as pets to other inmates."
In such an environment it can be no surprise to anyone that the prison is failing to come close to meeting the constitutional standard for providing mental health care for its many ill inmates. But there is a twist which makes the situation even worse. "Although designated as a facility to care for prisoners with special needs and serious psychiatric disabilities, EMCF denies prisoners even the most rudimentary mental health care services," the ACLU asserts. The prison had made a mockery of its special designation as a facility where mentally ill inmates will be treated -- and treated humanely -- in accordance with Eighth Amendment principles.
Here is the link to the complaint. It reads remarkably like the Justice Department's assessment of conditions at the Escambia County jail in Florida. There is not enough prison staff to adequately diagnose and treat the prisoners. There is not enough room to house them separate from the main prison population. And from prison officials -- public servants -- there is as a matter of routine brutal indifference to the plight of these wretched people. Here' one summary paragraph:
Among the hundreds of mentally ill prisoners at EMCF are many whose untreated illnesses lead to extreme behaviors such as screaming, babbling, throwing excrement and starting fires. Suicide attempts are frequent, some are successful. Other prisoners engage in gross acts of self-mutilation, including electrocution, swallowing shards of glass and razors, and tearing into their flesh with sharp objects. Defendants deny prisoners even rudimentary mental health treatment and, last year, reduced access to psychiatric care.
And here is another:
EMCF's solitary confinement zones house dozens of seriously mentally ill prisoners who are locked down in filthy cells for days, weeks, or even years at a time. . . It is commonplace for cells to lack working lights, leaving prisoners with barely enough light to see during the day and in total darkness at night. . . Correctional officers seldom appear on the housing zones and prisoners are left to fend for themselves, sealed behind solid-front doors.
Pennsylvania (Great Lakes Waters)
The very next day, the Civil Rights Division of the Justice Department issued its damming report on conditions for mentally ill inmates at the Pennsylvania State Correctional Institution at Cresson. The prison is going to close soon, evidently, but federal officials were so alarmed by what they saw at Cresson that they immediately notified state officials that they were going to expand their investigation across Pennsylvania to determine whether "these other prisons also engage in the unlawful use of prolonged and extreme isolation of prisoners with serious mental illness and intellectual disabilities."
The Justice Department's findings here were no less blunt than they had been in evaluating the Florida jail, no less dramatic than the specific and detailed allegation contained in the ACLU's lawsuit against Mississippi officials. At Cresson, there is not enough staff, not enough medicine, and not enough accountability. In Pennsylvania, however, the focus was a bit more narrow. The feds were clearly appalled by the prison staff's routine use of solitary confinement upon mentally ill inmates -- often for years at a time. From the feds May 31st letter:
In addition to finding that Cresson routinely resorts to locking prisoners with serious mental illness in their cells for 22 to 23 hours a day, for months or even years at a time, the department also found that Cresson often denies these prisoners basic necessities and subjects them to harsh and punitive conditions, including excessive uses of force.  The department concluded that Cresson's misuse of solitary confinement on prisoners with serious mental illness leads to serious harms, including mental decompensation, clinical depression, psychosis, self-mutilation, and suicide.
The federal report describes a prison in which mentally ill prisoners are locked away so thoroughly that what few mental health professionals are available are unlikely to see the very inmates who need the most care. And what are such rare visits like when they occur? "Cell-side visits at Cresson involve mental health staff standing outside prisoner cell attempting to speak to the prisoners through cracks in door frames or food tray slots, amid the commotion of the unit." How bad is it? Here is just one of the many examples cited by the Justice Department in its report:
Prisoner CC has been diagnosed by the [Pennsylvania Department of Corrections] with schizophrenia and has a past diagnosis of an intellectual disability, a history of psychiatric hospitalization starting at age eight, and an IQ of 55.* In July 2011, after spending nearly a year-and-a-half in isolation, he had decompensated to the point of becoming an immediate threat to himself or others and was transferred to the inpatient treatment unit. . . ignoring his history of decompensation while in isolation, after three weeks at the [inpatient treatment unit] Cresson officials returned him to isolation. . .

There, his condition deteriorated again. He ingested objects such as sandwich bags and spoons. He cut his wrists. He tied a sheet around his neck. Cresson staff inappropriately minimized these serious acts of self-injury as "behaviorial issue[s]." Then, when he swallowed a nurse's lancet (a plastic device containing a spring-loaded needle), he had to be hospitalized and undergo surgery for the serious injuries he sustained. Again ignoring CC's extensive history of self-harm and decompensation while in isolation, after one month at the infirmary, staff again returned CC to isolation. . .
Louisiana (The Mississippi River)
Finally, last week, U.S. District Judge Lance Africk, an appointee of George W. Bush, issued a lengthy and detailed court order approving a consent decree involving the Orleans Parish Prison. The foul place has been the subject of persistent litigation over the years -- it surely is among the worst in the nation -- but the consent decree is a step toward bringing the rule of law back there. And the order from this judge is a glimpse at the future for those prison officials in Florida and Pennsylvania if they choose to ignore the Justice Department findings that have just been handed to them.
What's it like at OPP? Sexual assault is rampant. So is the use of contraband. So is negligent classification by prison staffers who place violent inmates in the same units with inmates who are less so. There aren't nearly enough prison staffers, not nearly enough supervision over inmates, and, as is always the case, those inmates with severe mental illness are the most vulnerable to the pervasive atmosphere of lawlessness that exists within the prison. Judge Africk started with the obvious:
In 2012, OPP had over 600 transports to local emergency rooms for physical injuries, of which far more than half were related to violence. A similarly sized jail in the Memphis, Tennessee area had 7 emergency room transports related to violence in a comparable period of time. OPP's alarming levels of violence are directly attributable to numerous policies and practices that are gravely deficient, including policies and practices associated with staffing and supervision, contraband, classification, sexual assault, and training and accountability (citations omitted by me).
When it came to the level of mental health care given the prisoners at OPP, Judge Africk declared himself shocked. "During the course of the fairness hearing," he wrote, "the evidence, including credible witness testimony, exposed stark, sometimes shocking, deficiencies in OPP's medical and mental health care system. Inmates with mental health issues are housed in deplorable conditions." It starts with negligent or deliberately indifferent intake procedures by prison officials. Here's one example the judge noted, citing a prison expert:
In his report, Dr. Gage stated that in several cases, including instances of inmate suicide, an initial referral to psychiatry could have changed the outcome of the cases. For example, M.H.committed suicide while still in the Intake Processing Center, notwithstanding that he had previously reported ingesting crack cocaine and he had recently been hospitalized for suicidality. At intake, he was wandering around, and "gravitated toward the exit doors," but he was "herded back to the seats" by staff members. Because he attempted to leave through an exit door, he was placed in an isolation cell. In the isolation cell, he hung himself with his t-shirt.
Here's one more excerpt from the court order to give you a sense of the care these mentally ill prisoners receive a this prison:
After Dr. Gage reviewed the records provided, "[t]here was not one example of a thorough psychiatric assessment by the OPP psychiatrist in any of the records and most were not even minimally adequate."

None of the records included an assessment of suicide risk, rather, "this portion of the assessment consisted in simply noting whether the person expressed suicidal ideation or not. The same was true of homicidal ideation and consideration of danger to others in general." This is consistent with the testimony of an inmate that the extent of psychiatric exams is often limited to: "Are you suicidal or homicidal?" OPP has one full-time psychiatrist who works 40 hours per week. Inmates may wait weeks or months for psychiatric appointments (citations omitted by me).
The Path Forward
The conditions within these prisons all share many similar characteristics. But they also share many of the same characteristics of the conditions within federal prisons. From inadequate intake procedures, to negligent supervision of mentally ill prisoners, to inappropriate delivery of medicine and therapy, to the indifference and lack of accountability displayed by prison staff, there is a remarkable degree of similarity between the evidence the feds have found in Florida, Louisiana, and Pennsylvania and the conditions alleged in the two Supermax lawsuits The Atlantic has covered so closely over the past year.
So while it's reasonable to applaud the focused federal effort to protect the constitutional rights of mentally ill state prisoners around the country, it's hard to fathom or accept why the Justice Department has been so tepid in its protection of mentally ill federal prisoners. Based upon the evidence already publicly available in the Colorado civil rights cases against the Bureau of Prisons, it is beyond doubt that federal prison practices and policies would similarly fail to meet basic constitutional standards if they were subject to the same review the Civil Rights Division has used to evaluate state and local facilities.
Until such a review comes -- from the Justice Department, from the inspector general of the Justice Department, from Congress -- there will be no meaningful reform within the federal penal system. And until there is such reform on a national scale it will be easier for state and local prison officials to justify the deplorable conditions within their own prisons. In other words, it is critical here for strong leadership from the federal government which goes beyond telling local authorities what they are doing wrong. "Do as I say not as I do" just isn't good enough when mentally ill Americans are sitting in dark cells and shitting on plates.
In the Florida case, the feds praised the new sheriff of Escambia County who, they say, "has implemented meaningful reforms that have led to significant improvements" at the jail. The consent decree in Louisiana, by its nature, represents some level of willingness by prison officials to try to improve inmate conditions. The Cresson prison in Pennsylvania is closing, which means one fewer place where solitary confinement is abused. The Mississippi litigation is too new to assess (although a spokesman for the private company which now runs the Meridien prison implausibly claimed last week that "it's a much better place now.")
The optimist in me sees the good in these developments. The pessimist in me realizes that it is going to take more than letters from federal lawyers or allegations in federal lawsuits to meaningfully reform these awful places. It's going to take money, for starters, and which politician out there wants to lobby for more money for the humane treatment of prisoners? Which judge is going to threaten drastic action if that money isn't spent? And it's going to take a change in attitudes about the mentally ill prisoners themselves. Mistreating them so cruelly, so consistently, says way more about us than it does about them. What a shame.
____________________
* The United States Supreme Court, in Atkins v. Virginia, prohibited the execution of mentally retarded defendants. The man whose lawyers brought the action, Daryl Atkins, has an IQ of 59.