Flying Cars, Divided America, and the Future of TV: Aspen Ideas Festival 2013
Hunting for big ideas in the Roaring Fork Valley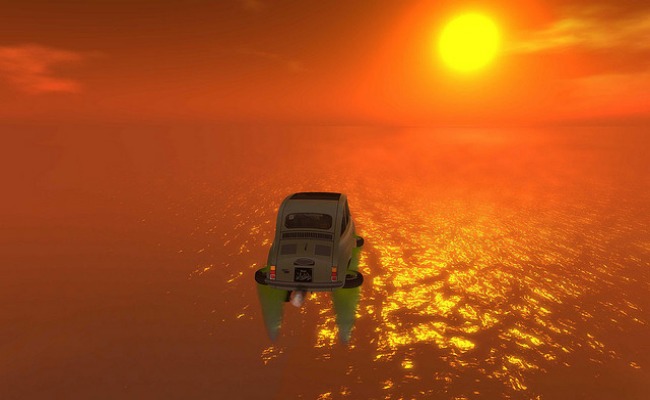 Torley/Flickr
Conceived for science lovers, art admirers, and policy wonks alike, this year's Aspen Ideas Festival, which starts today and is hosted by the Aspen Institute and The Atlantic, will attack a diverse set of issues. These include cosmic puzzlers ("Are we alone?"), industry challenges ("Can TV news compete?"), and policy riddles ("Can we afford our health?"). Viewers beyond the small mountain town can watch a live stream of sessions here and here, and in our Ideas Special Report, The Atlantic's on-site team will cover the best insights and conversations we encounter, here.
A sample of what's coming up over the next week:
For the Scientist-at-Heart
Dreams of flying cars will meet the visions of urban infrastructure wonks during sessions on "The Future of Transportation." Tony Hsieh, the CEO of Zappos, will talk about his ambitious project to overhaul downtown Las Vegas.
For those who have never given up on close encounters of the third kind, this year's focus on "Space and the Cosmos" will touch on subjects from deadly asteroids to private space travel. The program line-up will include Harvard scientist Dimitar Sasselov, whose search for potentially habitable planets circling other suns has led him to believe, as he wrote in his 2012 book, The Life of Super-Earths, "that on some of those Earth-like planets, we will find signs of life. When we discover New Earth -- a planet we could call home -- the question of the 'plurality of worlds' will come front and center, reminding us yet again that we are not the center of the Universe."
Education will take a psychological turn as science experts and politicos examine "How We Learn." One panel will feature a conversation among the House majority leader, Eric Cantor, the former chancellor of the New York City Department of Education, Joel Klein, and the superintendent of the Los Angeles Unified School District, John Deasy.
For the Art Lover
Oscar Wilde believed that "a really well-made buttonhole is the only link between art and nature," but the range of artists who will reflect on "Innovation by Design" presumably hope to prove him wrong. Speakers such as entrepreneur Yves Béhar will discuss the challenges of building beautiful technology. Jawbone, the company where he serves as chief creative officer, re-released its health-tracking wristband and app, Up, in late 2012.
"Citizen Artists" will explore the power of the arts in civic life. Performers Yo-Yo Ma and Lil' Buck, the counter-intuitive dynamic duo whose collaborations began when they were part of a cultural delegation to China in 2011, will pair up again for conversation and, with luck, impromptu performances.
Defying the decades-old paradox, "so many shows and nothing to watch," network giants will argue for "The Reinvention of TV," which some claim has entered its "golden age." The edgiest television acolyte hanging around Aspen will be Sarah Heyward, the Executive Story Editor for HBO's Girls.
For the Policy-Minded
A long roster of political cognoscenti will speak on "America: One Nation Divisible," including Stanley McChrystal, Karl Rove, and Nate Silver. Conversations on "The Critical Middle East" will include the former prime minister of Kurdistan, Barham Salih, and the former United States secretary of state, Madeleine Albright. As Albright wrote in her 2009 book about the way she wielded brooches as a diplomatic tool, "As a rule, I prefer polite talk, but there are moments when only plain speaking will do."
Questions of "The Economic Puzzle" continue to dominate national discussion, including topics like chronic unemployment, financial regulation, and budget deficits. Among others, Goldman Sachs CEO Lloyd Blankfein will weigh in. Pieces to consider reading in preparation: round-ups of Blankfein's 2013 commencement speech at a community college in New York, as well as Ross Douthat's recent New York Times piece on the "great divide" between policymakers and the economic experience of average Americans.
Takes on "You and Your Health" from speakers such as Planned Parenthood President Cecile Richards will be particularly relevant in the wake of news that the Supreme Court will consider a decision to bar protestors from a 35-foot buffer zone outside of abortion clinics. Former Eurythmics star Annie Lennox will also talk about the battle against HIV/AIDS.
Finally, technology and policy will intersect in conversations on "The Energy Revolution," touching on topics like climate change, international trade, and sustainability.
Meanwhile, Supreme Court Justices Elena Kagan and Stephen Breyer will both take a break from a busy few weeks in Washington to speak at Aspen.
As they and 2,800-plus others converge on the Roaring Fork Valley for the ninth year of the festival, consider this historical sketch of the broader "Aspen Idea"
behind it.