Cruel, Unusual, and a Matter of Law in Illinois
A year after the Supreme Court ruled mandatory juvenile life sentencing without parole unconstitutional, the Midwestern state still hasn't brought its laws into compliance.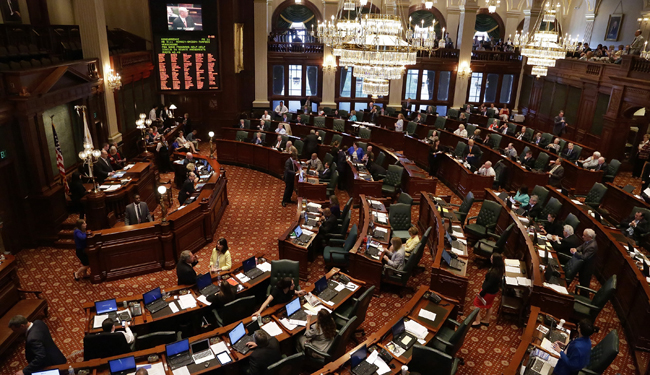 The one-year anniversary of the U.S. Supreme Court's landmark decision to outlaw juvenile mandatory life sentencing without parole is coming up fast, yet Illinois is no closer to being in compliance.
Late Friday, Illinois lawmakers finished the year's legislative session and walked out of the Capitol with the media decrying their failure to act on pension reform as well as gay marriage.
But with less notice in the media−and despite heated lobbying−the state also failed to craft a bill to put Illinois in compliance with Miller v. Alabama, last June's decision recognizing the mental and emotional differences between juvenile and adult offenders and ruling juvenile mandatory life without parole, even in the case of homicide, to be unconstitutional.
Having failed to act, the state−bogged down with a pension mess and massive debt−is now open to, potentially, reams of lawsuits challenging any future juvenile mandatory life sentencing and legal action demanding retroactivity for all past juvenile sentences. As it is, more than 100 Illinois inmates, sentenced as juveniles, are facing life without parole. Without passing retroactive legislation these youth are forced to live the rest of their lives in prison.
"The practical problem right now is that the statue remaining is unconstitutional, and now judges [in Illinois] need to work around that without legislation," said Shobha Mahadev, assistant professor of law at Northwestern University. "Looking back I cannot think of any case where a state didn't adhere to the Supreme Court's ruling−maybe in Brown v. Board of Education."
But this ruling, some say, appears to be different. "I'm not sure any state has fully implemented Miller," said Antonio Ginatta, the U.S. advocacy director at Human Rights Watch. "If you held to three benchmarks: 1) elimination of all mandatory life without parole sentences for youth; 2) a consideration of all the youth factors delineated in Miller at sentencing; 3) meaningful opportunities to review youth sentences taking into account the Miller factors and rehabilitation...it's up for debate as to how many states comply with the decision," he said.
Miller calls not just to eliminate mandatory juvenile life without parole (or JLWOP), but also for retroactive action and consideration of mitigating factors in youth sentencing, activists say. The problem, according to Mahadev, is that while Miller recognized juveniles' developmental limitations, it only stated what states can't do and did not draw a road map on how, precisely, laws should be crafted to comply with the decision.

Throughout this past legislative session, activist groups have been lobbying with legislators in Springfield both for and against mandatory reviews, retroactivity and the rights of victims' families. Various bills in Illinois have been drafted to address this issue, but all have failed to receive the necessary traction. The current bill sponsored by state Rep. Barbara Flynn Currie (D-Chicago) and state Sen. Don Harmon (D-Oak Park) has been stuck in the negotiating process this past year. But, the Illinois Supreme Court is expected to rule on the issue of retroactivity in the near future.
"We are at a functional impasse; political dynamics will not allow a successful resolution of this issue," said Matt Jones, associate director at Illinois's State's Attorneys Appellate Prosecutor
Julie Anderson, a Southwest Side mother of a juvenile lifer, has been visiting her son regularly at the Menard Correctional Center over the past 18 years. Anderson's son, Eric, was sentenced to life without parole for a double homicide at 15 years old. She said her son fell into the wrong crowd, but he has changed and deserves a second chance.
"A lot of legislators don't understand that these juveniles are capable of rehabilitation and are not monsters; they are real people with families and people who care about them," she said. "With this bill there is a chance that maybe−my son won't die in prison."
Juvenile rights advocates, led by Human Rights Watch, the Precious Blood Ministry on the South Side and members of Northwestern University Law School are seeking to restore discretion to judges when determining juvenile life sentences. In addition, they are seeking to create a review process for juvenile lifers that would be applied to both future and past cases. Without an opportunity for review, these groups believe, the state fails to fulfill Miller's decision.
The review process is a sticking point for their chief opposition, the National Organization of Victims of Juvenile Lifers, which is led by North Shore resident and victims' rights activist, Jennifer Bishop-Jenkins. She argues that life sentence can offer victims finality.
Bishop-Jenkins, whose 25-year-old pregnant sister and brother-in-law were murdered by a juvenile offender in 1990, says that applying reviews retroactively does not give these families the justice they deserve. She argues that families need to be notified of the review process in order to give them time to challenge it, especially if applied to retroactive cases.
"The victim's family is re-tortured by the process," she said. "It reopens the wounds."
Jones said Miller v. Alabama does not guarantee a review process. He added that the court's decision does not reject juvenile life sentencing; it merely states that this punishment should be rare.
"Based upon that it is incomprehensible that it [Miller] would require a mid-sentence review," he said.
Although the U.S. Supreme Court does not explicitly call for a review, many argue that the language implies it. "It doesn't make sense from everything we know about child development to have this policy," said Mahadev. "We can't predict who these kids at 15 will turn into later."
Adopting a review process, added Marsha Levick, Deputy Director of the Juvenile Law Center in Philadelphia, would be consistent with the decision's requirements of individualized sentencing and a reasonable opportunity for early release.
If the state's attorneys' plan is adopted, juveniles convicted of committing murder with a firearm would face a minimum sentence of 45 years. Levick said without a review process this lengthy sentencing would still fall short of satisfying Miller's requirements.