An Astonishing Graph of the Voting Rights Act's Influence—in Justice Roberts' Own Opinion
Ironically, the table supports the chief justice's argument for why the law is outdated.
This morning, the Supreme Court ruled 5-4 that a crucial part of the Voting Rights Act was unconstitutional. Writing for the majority, Chief Justice John Roberts acknowledged that the VRA had played a key role in breaking down barriers preventing minorities from voting. But the court struck down Section 4 of the law, which includes a formula that determines which states and cities with a history of voting discrimination deserve additional scrutiny when changing their voting laws.

Buried deep in Roberts' opinion, on page 15, is this remarkable chart comparing voter registration numbers from 1965 to 2004. The influence of the VRA in increasing black registration percentages appears extraordinary and undeniable.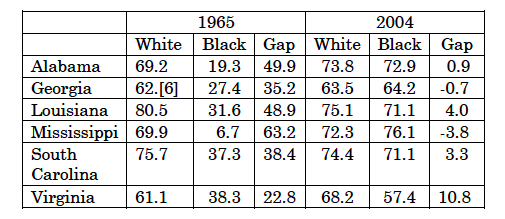 From Roberts, himself:
Census Bureau data from the most recent election indicate that African-American voter turnout exceeded white voter turnout in five of the six States originally covered by [Section 5] with a gap in the sixth State of less than one half of one percent ...

In the first decade after enactment of [Section 5] the Attorney General objected to 14.2 percent of proposed voting changes. In the last decade before reenactment, the Attorney General objected to a mere 0.16 percent. There is no doubt that these improvements are in large part because of the Voting Rights Act. The Act has proved immensely successful at redressing racial discrimination and integrating the voting process.
Roberts argued that it was precisely this significant progress in eliminating barriers that helped to persuade him that the law was outdated. "The Act has not eased the restrictions [or] narrowed the scope of the coverage formula along the way," he wrote. "Those extraordinary and unprecedented features were reauthorized -- as if nothing had changed." Liberals immediately objected to the ruling, calling it an act of hubris that pretends racism is a thing of the past.