America's Teacher-Training Programs Aren't Good Enough
A new report from the National Council on Teacher Quality finds "fundamental flaws and weaknesses" -- but critics have raised questions about its methods.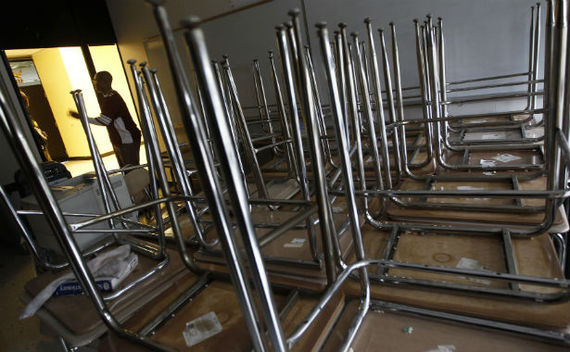 Reuters
A report out today from the National Council on Teacher Quality rates more than 1,100 elementary and secondary programs at just over 600 institutions of higher education across the country and concludes that the bar is set too low for entrance into professional training, future teachers are not being adequately prepared for the classroom or new requirements such as the Common Core State Standards, and the nation's expectations are far below those for teachers in countries where their students score higher on international exams.
NCTQ is an advocacy group that has pushed for greater accountability and transparency in the teaching profession and recently has focused on issues related to performance evaluations and preparation. The original intended scope of the NCTQ project was ambitious and would have evaluated programs in 16 areas. But the current rankings used a significantly scaled-down set of metrics, and in many cases are based on only partial information -- largely because ed schools refused to cooperate.
The new rankings, published in U.S.News & World Report, have also engendered criticism and pushback from, among others, the American Federation of Teachers, education schools, and some researchers who argue that looking at a program's course requirements or a catalog syllabus (as NCTQ did) doesn't contribute to a meaningful evaluation.
Kate Walsh, president of NCTQ, didn't shy away from that criticism in a call today with reporters, agreeing that the report is "not a very deep look" into the teacher prep programs. However, Walsh added, "we have scratched an inch deep, and just going that deep we found fundamental flaws and weaknesses. I wonder if you went a lot deeper what you would find."
NCTQ used a four-star rating system to rank schools on factors such as selectivity, content preparation and student teaching requirements. Only four universities received four stars -- Furhman, Lipscomb, Ohio State, and Vanderbilt -- while 163 programs earned less than one star. The lowest-rated program in the country was East Tennessee State University. (NPR broke the news to the school's dean.)
Teacher quality has moved to the front burner of the crowded education policy stove in recent years, with many states adding new provisions aimed at improving student learning, eliminating de facto tenure laws, and increasing accountability for classroom learning. But teacher preparation hasn't faced the same scrutiny, Walsh said, perhaps because the problems seem too difficult or intractable.
While some critics have come down hard on NCTQ (historian Diane Ravitch questioned the organization's ties to reform-minded funders in a column last year), the new report does have supporters, including Mike Petrilli, vice president of the conservative Thomas B. Fordham Institute in Washington, D.C. He told me the report is "the most significant study of the decade. May it lead to the demise of the country's worst ed schools, which need to close."
That there are significant problems in the nation's teacher preparation system isn't a surprise -- least of all to Arthur Levine, president of the Woodrow Wilson Foundation and former president of Columbia University's Teachers College, who sounded the alarm in a landmark report in 2006. The overall findings are consistent with his own research, that there are "some strong ed schools and a fair number of weak ed schools and that preparation for teachers is inadequate." But the NCTQ report is undermined by weaknesses in the process, Levine said. (You can hear more from Levine on teacher education here.)
NCTQ has compared the organization's ed school rankings to the historic Flexner Report in 1910, which transformed the nation's medical training programs. But that comparison falls short in a key area, Levine said: Investigator Abraham Flexner visited the medical schools he evaluated. Another concern is that the figures NCTQ tried to dig up on its own aren't as accurate as what schools would have provided if they had cooperated, Levine said. The rankings also don't consider how each school's graduates actually did on the job once they graduated, Levine said. The report "didn't consider the outcomes - it is focused entirely on the process," Levine said.
I raised Levine's point about site visits to Walsh in today's press call, and she was blunt: "This is where my temper flares a little bit," Walsh said of the criticism. She's open to hearing ideas of how NCTQ could make more than 1,100 site visits and have time for more than just sitting in on a lecture of two -- which might not even yield much information about a program's quality.
Leaving deeper evaluations up to accreditation authorities or state agencies doesn't necessarily mean low-quality programs will be identified and forced to improve. In 2011, the U.S. Secretary of Education Arne Duncan said that in the prior 12 years over half the nation's states had not rated a single teacher preparation program as inferior, a statistic he called "laughable." Those remarks came as part of the Obama administration's attempt to turn up the heat on teacher prep, including calling for a $185-million plan to push states to improve training programs, provide incentives to shut down inferior ones, and make state licensing exams more challenging.
Just how uncooperative were some ed schools in NCTQ's requests for data? Walsh said the organization had to hire attorneys in nine states. One of those cases goes to trial later this week -- the University of Missouri contends its syllabi are intellectual property. That's the argument the Minnesota State Colleges and Universities system made -- and lost -- in court last winter, Walsh said.
To Cory Koedel, a researcher at National Center for Analysis of Longitudinal Data in Education Research, the criticism of NCTQ's rankings is an example of "the perfect being the enemy of the good." There's no question the NCTQ report breaks new ground, Koedel said, and the fact that people might want them to have done more "shouldn't take away from all of the progress they've made." He noted that NCTQ went to significant lengths to find alternate means of collecting data when a school declined to provide it outright.
"I sure hope that the pushback about incomplete data isn't coming from the same people and programs who are withholding the data in the first place," said Koedel, an assistant professor in in the economics department at the University of Missouri.
One ed school which did provide full cooperation was the University of Michigan in Ann Arbor. Dean Deborah Lowenberg Ball told me that "we didn't think this was a particularly useful way to learn about teacher preparation, but we didn't have any reason to withhold the information."
The University of Michigan earned 2.5 stars on the NCTQ rankings, but Ball said she's not particularly concerned about that. She's more interested in whether the conversation will move beyond the controversy and into a meaningful dialogue about "what good teacher preparation really requires." An independent, in-depth review of the nation's ed schools hasn't yet been attempted and would be welcomed, Ball said. But that would mean moving beyond rating a school on its syllabi and focusing on how teachers perform in the classroom during the crucial first few years in the profession, and then finding the best way to support them, Ball said.
"If this report can get people to care about that, I'll be happy," Ball said. "If all it does is get people to point fingers ... that won't advance the conversation at all."
---
This post also appears at The Educated Reporter, an Atlantic partner site.