A Sneak Peek at the American TV News Network Al Jazeera Is Building
An idealistic plan for the future of tv journalism -- and a skeptic who swears it will never work.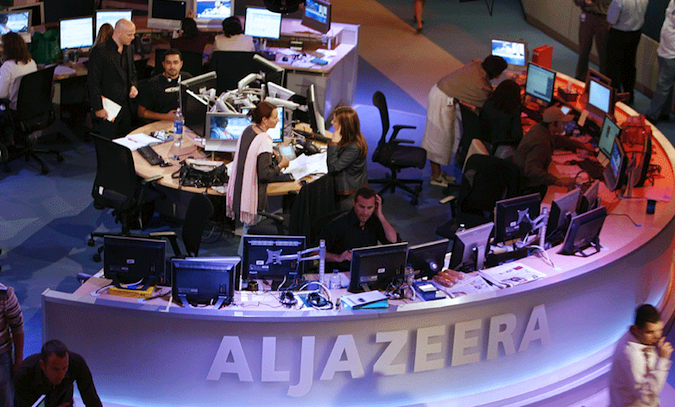 Al Jazeera
Despite the rise of the Web, "TV news is still the information sea in which democracy swims," my colleague, James Fallows, regretfully observed Thursday during a panel on the future of that medium.
What is the future of TV news?

The question sparked a polarized debate between two people beside him on an Aspen stage: Ehab Al Shihabi, director of international operations for Al Jazeera Media Network, the idealist in the back-and-forth; and MSNBC host Lawrence O'Donnell, whose take on TV news is far more cynical.
Take a look at the stark divide in their focus and perspectives:

Al Shihabi: I'm opening Al-Jazeera America -- an American channel for an American audience. I'm not opening it as a normal channel because I strongly believe that the current model... is not sustainable. So I'm opening a channel for the 21st century. And let's talk a little bit from a research perspective: we have conducted extensive research, nationwide, with a huge sample. The research indicates that the root cause [of the problems TV news is facing] are not because people are moving to digital. The root cause is that 40 to 50 million Americans want in-depth, informative journalism. That matters most to them. That's really the root cause of why people are going to Twitter and digital, because they are not getting what they want from the networks. They are not getting depth, the informativeness -- they are getting infotainment.

...I would like on tv to have detailed, informative facts... I think if we follow the model of the 21st century... in depth, detailed information that is unbiased, a lot of people will say, we're going to stick with the tv. The research indicated that the new operating model needs to be fully integrated [across broadcast, web and social media]... a place to go for immediate, breaking news, and a place to go back for detailed, informative information. The new digital world will allow the American audience to be interacting with the producers before the launch of the program... and if you have a problem you still have two way communication between the audience and the executive producers to enrich the content of the TV. Why now? Research indicated that there is a huge need for in depth, informative, fact based, unbiased.

He added that he'll eschew a focus on celebrities and politicians:
I am now in the process of opening 12 bureaus. I need original content from the community. There is a great news happening in Denver. There is great news happening in Chattanooga. there is great news happening everywhere in the United States... The research indicated that they want a one stop shop to have news around the block and also news around the globe in an interconnected way, that reflects the lifestyle and issues and translate them to the American audience.  

Here's O'Donnell's response:
I think if you did a survey of the 300 million Americans, somewhere close to 50 million of them would tell you that they would like to read the complete works of Shakespeare. They won't, even if I put every single page on their desks in front of them. And I for one am unimpressed by the research results that there are 50 million out there who want to watch something called "in-depth TV news," because it's being offered to them all the time. It's offered every night on PBS, on The News Hour. Every night there are serious and protracted conversations that do not require interruptions because the time period is too short.


Charlie Rose does it every night.


And every time you put on a PBS Frontline documentary, I can guarantee you that those 50 million people will find something else to do, because they always do. If you could actually deliver 5 million of those people to a serious, hour-long documentary, that's what NBC news would've done with the 30 Rock space and all the other spaces they're struggling with now... This 50 million is uncorralable. They're smart people with a great variety of interests. They'll sneak out to the ballet or bowling or all sorts of other things when you offering them this time specific, in-depth news that they won't watch.

Time will tell who is right. I'd just add that serious, in depth broadcast news could meet the same quality standards as The News Hour while operating with a different sensibility that turns out to be more successful. Compare the most staid, boring news show on public radio -- but very informative! -- to This American Life or RadioLab, the aesthetics of which no one anticipated before they existed. Al Jazeera perhaps also has an opportunity to distinguish itself (with its more international perspective) in a way that isn't ideologically driven, like MSNBC or Fox News.