50 Years After Abington v. Schempp, a Dissenter Looks Back on School Prayer
The Philadelphia high schooler whose protest led to a landmark Supreme Court decision is now 72, and living in Boston.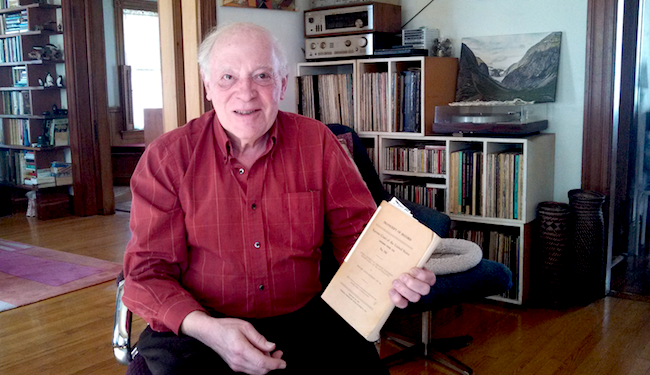 In 1956, Ellery Schempp, a 16-year-old junior at Abington Senior High in a Philadephia suburb, started a dispute that would pit him against his high school, conservative Christians, and a society eager to paint America as a devout country in its Cold War with the Soviet Union. What began as a quiet homeroom protest led to a landmark Supreme Court ruling on June 17, 1963, that declared the requirement of daily Bible readings and prayer in public schools to be unconstitutional. At the time, not just Pennsylvania, but three dozen other states allowed Bible readings in the public schools through various means, including laws or court decisions. As Schempp was to note nearly six decades later, the country at the time was barely out of the McCarthy era: Congress had recently added "under God" to the Pledge of Allegiance all to contrast "us" with the "godless Communists." Within Abington High, administrators stressed conformity, whether it was about the Bible readings, hair styles, or clothing.
Today, Ellery Schempp is a 72-year-old retired physicist from suburban Boston. He has spent the last few months at events celebrating the fifty-year anniversary of Abington v. Schempp, including one at The First Unitarian Church of Philadelphia, where a pair of religious school teachers and children ranging in age from 4 to 13 performed a skit reenacting Schempp's original homeroom protest.
"I was touched by the children here," said Schempp, grinning upon taking the floor after the skit. "First of all, I noticed that they didn't know the Lord's Prayer. You can blame me for that."
"He was a real classic American dissenter," says New York University journalism professor Stephen D. Solomon, author of the 2007 book, Ellery's Protest, How One Young Man Defied Tradition and Sparked the Battle over School Prayer. "He felt that his rights were being violated and the rights of his classmates. He stood up in a very unpopular cause."
But Schempp, whose life from age 16 to 23 was largely defined by the case, spent much of his adulthood building an identity separate of the young man whose protest became legendary. After graduating from Tufts University and going on to earn a Ph.D. in physics from Brown, Schempp worked as a physicist and manager on superconductor projects, MRI systems, and nuclear waste. He was a professor at the University of Pittsburgh and taught as a guest professor at the University of Geneva in Switzerland. He also climbed mountains in Greenland, Switzerland, and Pakistan.
He began renewing his interest in First Amendment causes in earnest in the 1990s when he became concerned about the religious right's increasing attempts to put religion back in the schools. Over the years, he had changed from a young Unitarian vague about his religious beliefs to an adult who firmly believed there was no such thing as a supernatural power. Today, he is a Unitarian who also refers to himself as an atheist and secular humanist.
Known as relatively quiet and scholarly as a teen, he has become a frank and often humorous advocate for the cause that made him famous and for the rights of non-believers.
Schempp never intended to be a lone dissenter in November 1956 when he brought a borrowed copy of the Koran to school. He was a part of a group of honor students who met weekly at an English teacher's house to discuss intellectual issues. At one meeting, Schempp brought up the Bible readings in school and how they violated the First Amendment. Many of his peers agreed to stage a protest, Solomon recounted in his book on the case, but later dropped out because they feared problems with college recommendations or their parents.
Schempp's parents, though, backed his idea. And a sense of fairness motivated the teen. He knew his Jewish friends were uncomfortable and believed the same must be true for other religious minorities and non-believers.
So Schempp made his protest alone. As his homeroom teacher read 10 Bible verses to the class, Schempp leafed through the Koran. He refused to stand when a student began reading the Lord's Prayer over the announcement system. Nor did he recite the prayer. He sat in nervous silence. When homeroom ended, his teacher confronted him and asked him which book he had been reading. She asked if he planned to repeat his actions again. He said yes.
"When I was sent to the principal, he lectured me about respect for the school's rules," Schempp recalled in his booming voice as he faced the audience in the pews of the Philadelphia church in February. " 'Was I having problems at home or respect for authority?' the principal asked. 'No,' I reassured him, 'I just disagreed with Bible readings in school.' "
The teen then was sent to the guidance counselor's office for an evaluation to see if something was wrong with him. That night, he told his parents what happened, and at his father's suggestion, he typed a letter to the American Civil Liberties Union and enclosed $10. He read the letter aloud to his audience of roughly 200 in Philadelphia. In the letter, he asked for information the organization might give regarding ACLU action or help in testing the constitutionality of the Pennsylvania law which, according to the teenager, "arbitrarily (and seemingly unrighteously and unconstitutionally) compels the Bible to be read in our public school system. I thank you," he concluded, "for any help you might offer in freeing American youth in Pennsylvania from this gross violation of their religious rights as guaranteed in the first and foremost Amendment in our United States' Constitution."
Today, he chuckles about his verbosity. He did not think at the time that his protest would lead to a Supreme Court case.
"I thought the practices in Abington schools and Pennsylvania law were so transparently in violation of the First Amendment and the Establishment clause. I had the naïve notion that if I simply pointed this out, the grown-ups would fix this matter," said Schempp in a recent interview at his 19th -century home in Medford, Mass.
Technically, Ellery Schempp was not the plaintiff because by the time the case reached the Supreme Court, he was a Tufts University student. Schempp's younger brother, sister, and parents were the listed plaintiffs. And his case, while it went by his family's name, was a merger of two lawsuits - the one by the Schempps and another by Madalyn Murray, the founder of American Atheists and a Maryland mother who had objected to her state's practice of Bible readings.
The aftermath for the Murrays and the Schempps was brutal. Some people sent letters smeared with excrement to the Schempp home. In all, the family received a few thousand letters from the late 1950s through at least 1963 - a third supportive, a third negative but polite, and a third vile, says Schempp. Schempp's principal wrote him a letter of "disrecommendation" to Tufts; after he graduated from high school, his siblings bore the brunt of the opposition. His brother was bullied, and his sister was teased. Students shouted "Commie camp" when the school bus passed the Schempp home.
During the hearings, Abington school system's attorney had argued that Pennsylvania saw the Bible readings as a way to bring morality to school children. The ACLU's main attorney countered that the state did not have the right to insist on children praying in school. After the court's ruling, prominent Christian conservatives lashed out. On a CBS television special, which also featured Ellery Schempp and his father, Senator Strom Thurmond of South Carolina called the court's decision a "conspiracy to throw God completely out of national life."*
Most of Schempp's souvenirs from that period, including political cartoons, letters and articles his brother Roger assembled in scrapbooks, now sit in boxes or on shelves in his home. At one point during an interview, Schempp walks over to what he jokingly calls his "I love me" wall, plastered with First Amendment award plaques and a framed copy of his letter to the ACLU. He points to the award he's most proud of: his nomination to Abington High School's Hall of Fame in 2002. He finds it amusing: His school recognized him for his contributions to science - not Supreme Court case law.
A high school classmate, Carol Dedov, said she and other honors students approved of Schempp's stand. "All of us thought of it as our cause," says Dedov, who lives in Philadelphia and came to hear Schempp speak in February. Her former classmate made a huge difference even if many people do not know his name, she says. She recently met a young child who goes to Abington schools and told the boy about the Ellery Schempp case.
"I said, 'Back in those days, we read the Bible in school,' and he said, 'They can't do that. It's against the Constitution.' The legacy is that he knew it wasn't right."
Yet, if anything, over time, the Supreme Court ruling has led to a bigger presence of religion in the schools and more student expression of religion, says Charles C. Haynes, the First Amendment Center's senior scholar.
One of the most oft-quoted parts of the ruling is when Justice Tom Clark refuted the opponents' stance that without the religious exercises, schools would then oppose or show hostility to religion. Rather, the justice wrote, "It might well be said that one's education is not complete without a study of comparative religion or the history of religion and its relationship to the advancement of civilization. ... It certainly may be said that the Bible is worthy of study for its literary and historic qualities."
It took a while, but by the late 1980s, educators started to reach consensus about how to teach religion. Guides were published about how to treat religious holidays in the schools, how to teach students about religious traditions, and how to create equal access for organizations, including religious clubs on campus. In 1995, roughly three dozen groups representing numerous faiths as well as a secular humanist organization designed a joint statement on religious liberties, showing support for what could be done legally in the schools, and disputing the claim that schools were "religion-free zones."
It is now common for high schools to allow religious clubs, Haynes says. Furthermore, many schools across the country now offer courses about the Bible or about the world's religions. All of this, he says, is part of the Schempp case's legacy.
Schempp says he thinks schools are better, at least, for religious minorities and non-believers, even if problems persist. He does insert himself when he hears of teens battling against violations of the First Amendment - such as graduation prayer or banners emblazoned with a Christian prayer. He writes the teens letters of support and if possible, speaks on their behalf.
"Government and religion should not be intertwined, and when they are intertwined, individual Americans can feel oppressed," he says.
Schempp's role then, fifty years after the Abington v. Schempp decision, might almost be called cheerleader-in-chief of the newer generation. Last year, 16-year-old Jessica Ahlquist, an atheist, sued for the removal of a prayer papered onto the wall of the Cranston West High School auditorium in Cranston, Rhode Island. After her case made the news, a Rhode Island state representative called Ahlquist an "evil little thing" on a radio talk show. She met Schempp when he came to a hearing on her behalf. She didn't know about Abington v. Schempp until the pair met. "I was completely clueless," she says. "I wish I had been told about him in school."
In April, Schempp and Ahlquist spoke to about 50 people at "50 Years: From Ellery to Jessica," a talk sponsored by the Massachusetts Chapter of Americans United for Separation of Church and State. Before their audience at the Boston Community Church, Ahlquist and Schempp shared their war stories. He spoke about the hate mail and bullying and harassment of his siblings. Ahlquist spoke about walking with police escorts at school because of threats.
But the teen also said she felt like her case was not difficult to win - because Schempp and others laid the groundwork.
Asked for closing remarks, Ahlquist referred to Schempp, who sat a few feet away at the same table. "It's important to realize that everything that I did and the reason that I won was because of what Ellery did 50 years earlier, and because he did stand up," she said. "And so, thank you, Ellery." she said, looked at him, and smiled.
He smiled back. A few moments later, after the discussion ended, he handed Ahlquist a plaque similar to many of those on his "I love me" wall - an award for religious liberty.
*This piece originally incorrectly gave Strom Thurmond's state as North Carolina, and has been corrected. We regret the error.