The Other Immigration Reform: When a Husband Can't Sponsor His Spouse
Because federal law remains unchanged, deportation can split up gay and lesbian couples even in states that permit them to marry.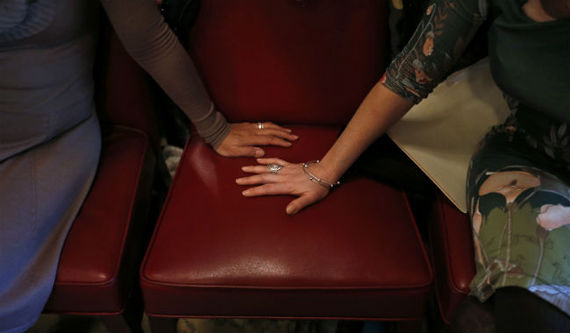 Jim Young/Reuters
While advocates for both gay rights and immigration reform pursue comprehensive solutions to the problems they want addressed, one group at the center of both debates is desperately hoping their troubles will finally be over. For the estimated 32,000 same-sex couples in which one partner is a U.S. citizen and the other is not, finding ways to legally stay together in the United States has been a constant source of anxiety and uncertainty. If the Supreme Court doesn't strike down the Defense of Marriage Act, these couples are in trouble: Immigration reforms currently being considered in the Senate do not include a fix for bi-national families, if those families are same-sex.
Tim Simulian and Edwin Blesch have struggled to find a legal path to remain together since they first met at a teashop in Simulian's native South Africa 14 years ago. Blesch, a New Yorker, wants to sponsor Simulian, whom he married in 2007, for immigration to the United States, but he can't, because the federal government only grants that benefit to individuals in heterosexual relationships.
"If Tim were a woman I could sponsor her for a green card in a minute and the problem would be over," said Blesch, 72.
After being forced to split their time between countries for years, Simulian, 66, was granted a deferred action status last year. He can stay in the United States for two years, but he is not allowed to leave and reenter the country, meaning that Simulian won't be able to visit his 92-year-old mother in South Africa.
"It's a long stretch for an old lady not to see her son," said Blesch. "They give with one hand and take with the other."
U.S. citizens are denied the right to sponsor their foreign-born partners because the Defense of Marriage Act, known as DOMA, specifies that, for federal purposes, the definition of marriage shall be restricted to unions between a man and a woman, said Tony Plummer, an attorney with Immigration Equality, a gay-rights advocacy group.
Plummer said that the legal roadblock imposed by DOMA could be removed if the Supreme Court, which heard a case earlier this year with regard to the act, declares it to be unconstitutional. He also said that legislation proposed by New York Representative Jerry Nadler, a Democrat, would permit Americans to sponsor their same-sex spouses for immigration purposes. The immigration reform bill unveiled last month in the Senate currently does not include this provision.
"It's a small and practical fix that would allow families to be together and stay together," Plummer said.
Congressman Nadler said that he is working with his Senate colleagues to include his bill in the Senate version, and that this was its best chance for passage.
"We cannot solve one of our most pressing social problems -- immigration -- by leaving out a large and vital segment of our society," said Nadler in an email.
Tiffany Loria, a New Yorker, said that being able to sponsor her Canadian girlfriend for immigration after getting married would end a source of constant frustration that recently left the couple particularly worried about whether or not they'd be legally allowed to remain together.
Loria, a marketing manager, 46, said she went to bed on a late summer night in 2012 expecting her girlfriend of nearly eight years to return from her native Toronto the next morning. Instead, she awoke to a phone call at 3 AM from her girlfriend, explaining that she had been denied entry into the U.S., Loria said.
"It was the most helpless, frustrating feeling I've ever felt. I couldn't call anyone, I couldn't do anything," said Loria, adding that she cried herself to sleep that night, not knowing when she would next see her girlfriend again.
Loria's girlfriend, who did not want to give her name, was eventually granted a new visa to replace the expired one, but the couple was separated for over three months, with Loria in New York and her girlfriend staying with family in Toronto.
"There were all these life events -- birthdays, Hurricane Sandy -- and she wasn't there," Loria said.
Her girlfriend, an entrepreneur, 35, said that it is frustrating to be allowed to come to the U.S. to open a business, work, and pay taxes, but not be given the same rights that heterosexual couples have.
"If you fall in love with someone of the same sex, too bad," she said.
Blesch and Simulian are in a different situation because Simulian can't apply for a green card to work: He is retired. The couple initially tried to split their time between the United States, South Africa, and Canada, but the constant travelling was draining their retirement savings, becoming more taxing on their health as they got older, and complicating their lives in unforeseen ways.
"If you're bouncing between countries, you can't have pets," said Blesch, gesturing to his grey and black cat. "It's a small consideration, but other couples don't have this problem."
The couple is currently living at Blesch's home on Long Island. Blesch said that he is grateful for that reprieve, but that he still wants to sponsor Simulian as his spouse for permanent immigration.
"I've lived in this house for 30 years, planted a garden, I've got roots here. But just to know that I can be with my family -- because Tim is family -- with my support system, to have that surety. That is gold," he said.
If the Supreme Court dismantles DOMA in June as expected, Tim and Edwin, along with upwards of thirty thousand other couples, may be merely months away from getting that surety. If not, they may be back at square one.