In Appalachia, a Road Trip for Faculty Makes a Difference
For over 50 years, Berea College has put its employees on a bus tour that will teach them about the communities they serve, and challenge stereotypes about Appalachian life.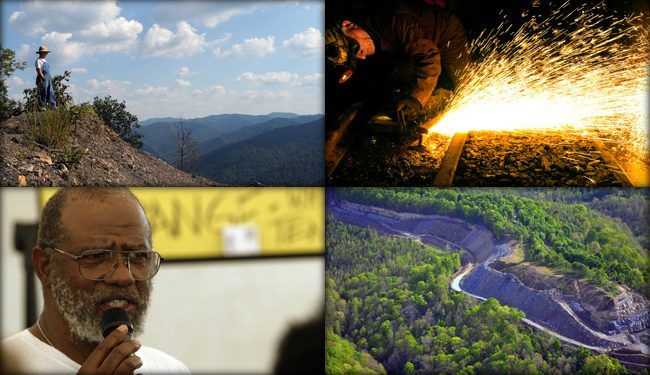 There may be nothing like it anywhere else in higher education--but given the results, perhaps there should be. For over 50 summers, while other colleges have focused on getting students oriented to campus, Berea College in Kentucky has taken faculty and staff on an extended bus tour to get them oriented to their students and region. The tour, which originally just ran through the eastern part of the state, now spends five days in a swathe of Appalachia, the area from which most Berea students come and which Americans tend to see in terms of poverty, a homogeneous white population, backward ways, old-time music, and other entrenched stereotypes. Faculty and staff board the bus after a two-day campus seminar on Appalachia and travel through eastern Kentucky, southwestern Virginia, West Virginia, and east Tennessee.
"It's not a poverty tour through the glass of an air-conditioned coach," says Chad Berry, Berea's academic vice president and dean of faculty, who has led the last four tours. "I'm trying to challenge people's preconceptions about arguably the most misunderstood region in United States."
The tour reflects Berea's longstanding commitment to Appalachia, and aims to help Berea personnel understand the Appalachian region and where their students are coming from, literally and figuratively. About 60 percent of the college's 1,600 students come from Appalachia. Nearly all its students are low income and pay no tuition. They must help with other costs by doing paid work at the college10 to 15 hours a week. The college also aids the region directly, for example through its Grow Appalachia program, which teaches 500 families at 15 sites to grow, share, and preserve healthful food, and the Brushy Fork Institute, which offers leadership training, organizational development workshops, and technical assistance to mountain communities
The tour is part of a concerted effort at Berea to reach Appalachian, poor, and African American students and help them succeed. It's "the start of the faculty and staff's work to de-educate the assumptions about Appalachia that are rife in our culture," says Appalachian Center director Chris Green. Pointing to the college's graduation rate, Green adds, "Clearly, Berea is doing something right." A 2011 study ranked Berea fourth in the nation among liberal arts colleges in actual-versus-predicted graduation rates. The study noted that given their academic credentials and other factors, 50 percent of Berea students would be expected to graduate, but nearly 65 percent actually do. By contrast, the latest graduation rate for students from economically distressed Kentucky counties who attend Kentucky state universities is 41 percent.
Since Berea students come from the least wealthy quartile of those attending college nationwide, the college's exceptional graduation rate makes it an engine of upward mobility. In 2011, the Washington Monthly rated Berea the top liberal arts college in advancing such mobility (as well as the best such college overall). The tour is crucial in preparing faculty and staff to work with this distinctive population.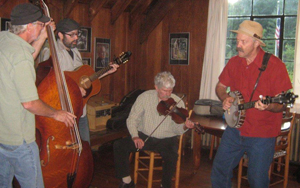 I was invited along the tour last summer. We stopped at small towns (two struggling, one thriving), a historic settlement school in the mountains, a family homeplace, two churches (one white fundamentalist, one African- American), a famous media and education center called Appalshop, and a museum to a historic civil rights struggle in Clinton, Tennessee. We visited a historic log cabin belonging to Frontier Nursing University, heir of the renowned Frontier Nursing Service, which once sent nurses on horseback into the hollows. We spent an evening at the legendary Highlander Research and Education Center, which played a key role in advancing the southern labor and Civil Rights movements. The itinerary was packed, the pace fast. On the bus in between some stops we watched two educational films on the bus about the region and listened to a radio program.
We couldn't visit the site, but an 85-year old man told us about living next to a mountaintop removal coal mining operation. We had a close look at a vast organic farm. We talked to the people we met in these places and took home-cooked meals--of memorable proportions- with some of them. Much of what we saw and heard raised sensitive issues about Appalachia--cultural, racial, economic, historical--and back on the bus Berry led discussions of them over the dull roar of the highway. We talked again at Highlander and after the trip.
The tour had its drawbacks: It stopped in no big cities, omitting the urban side of Appalachia, though a number of Berea students come from cities like Knoxville and Birmingham. Tour members questioned the relevance of some places we did stop. And due to the tight schedule, we left one church suddenly, just as we were starting to converse one on one with men in the congregation, who had lined up to meet us.
Most of those on the bus had been at Berea fewer than three years and several just a matter of months. But judging from the people I interviewed who had taken the tour in previous years, even those who have taught at Berea much longer find the tour eye-opening.
Assistant Professor of Education Althea Webb grew up in western Kentucky only a couple hundred miles from Appalachia. She knew little about the region beyond the stereotypes. When she went on the tour in 2007, she found the culture mind boggling. "I'd never been up a mountain," she said. "I really didn't understand why people loved the mountains. To me, it's something you'd look at."
She spent the next year educating herself about Appalachia and took the tour again in 2009. This time things made sense. The bus stopped in Kentucky's coalfields at Lynch, once regarded as a model company town, now long past its prime. For Webb, an African-American only vaguely aware there were blacks in Appalachia, "talking to [retired]African-American miners was inspiring, amazing." She had known nothing about company towns or that blacks and whites worked together in the mines but lived in segregated areas.
In Virginia, she went to a service at an Old Regular Baptist Church, a denomination she'd never heard of. "The warmth, the love, the simplicity of it was beautiful," she said. "It's definitely helpful to understand that some of our students...their home church, that's what it's like."
"I had bought into all of the mainstream stereotypes," she says. "The thing that bothered me most was that I had been taught some of these stereotypes in school." She'd also been taught to pronounce the name of the region Appa-lay-cha. "When I came here," she said, "I thought 'Oh, the people are pronouncing name of the region wrong." All the locals pronounce the middle-syllable vowel softly like the "a" in "cat": Appa-la-cha.
Mark Mahoney, an assistant professor of technology and applied design, who grew up in Bridgeport, Connecticut, said he never even heard the term "Appalachia" till he went to graduate school at Ohio State. He knew only of the Appalachian Trail. To him, Appalachia was a mountain range.
Mahoney found the tour "invaluable" for what it taught him about his students at Berea. What struck him on the tour--besides how hospitable local people were-was that many small mountain communities were like fully developed, tight-knit eastern cities, only they had no room to grow due to the steep terrain. They reminded him of the inner city where he had grown up.
He recalls a resident of a coalfield community being asked by a Berea colleague whether, in light of coal mining's boom-and-bust history, residents had considered converting to other enterprises, like tourism or alternative energy. The telling reply, says Mahoney, was essentially, "This is coal country."
He also was struck by the comment made in a church by the reverend (who was also the mayor) in an outwardly quite hospitable community. Local people did not want gays teaching in their town, the reverend declared.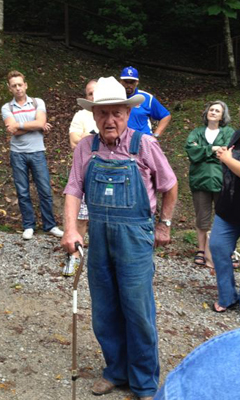 Joshua Guthman, an assistant professor of history from Los Angeles, came to Berea knowing a fair amount about Appalachia from his studies. He took the tour in 2009. He remembers Daymon Morgan, then 82, telling the Bereans about mountaintop removal, standing "in his overalls, cream-colored cowboy hat, red plaid shirt." Guthman found that to his general knowledge of coal, "this put a name and a face and a whole life history."
"We couldn't even meet at his place," Guthman says. "He was very nervous about our coming up there...because the coal company was not happy with us being there."
So they tried to see the mountaintop removal site by driving up another dirt road. Steve Karcher, Berea's vice president for operations and sustainability, was also on the bus. He says, "a coal truck coming down that hill refused...to budge" and their driver had to back the tour bus down the hill. "I'll bet he had to back half a mile down this road," Karcher says, "with the coal truck bearing down on...him." The message, he adds, was clear: "You're not going up here with this busload of people to go see this."
Karcher also remembers sitting outside a community center in West Virginia much of the night with the night watchman, who also worked as an ambulance driver/EMT. The watchman talked about living in a village on the other side of a mountain from the county seat, about "having to run over the top of the mountain, no matter what the weather, for any kind of basic services." It made Karcher realize "just how isolating that geography can be."
Judith Weckman, who directs institutional research and assessment at Berea, spoke of three places on the tour that made a particular impression on her. One was the 76-year-old Highlander Center in Tennessee, where she felt "in the presence of a profound history." She hadn't known its record of promoting social justice. "You think of the Civil Rights movement taking place in big cities," she noted. Highlander, she learned, "had been a hotbed of radical thought... people sat in those chairs and cooked up ideas."
She also mentioned a conversation at a diner in the town of War, West Virginia, where her group had breakfast with Mayor Tom Hatcher and a couple townspeople. "I hadn't really paid attention to how dangerous and problematic meth addiction was," she said, "until I heard them talk about it." The mayor, she said, "was telling us that they buried one young person a week there in that county. And he became a victim himself." Hatcher, who had fought the prescription pill epidemic, was murdered, apparently for drug money, two years after her visit. His daughter in law and her brother have been charged. "It's like a Greek tragedy," Weckman said.
By contrast, Blackberry Farm, a magnificent 9,200-acre organic farm and resort in Tennessee's Smoky Mountains, gave her hope for the region. A trained botanist, she wrote, "I saw for the first time how much economic potential our eastern forests have in terms of sustainable agricultural products--high-end foods like truffles, herbs, trout, heritage vegetables, etc. These eastern mountains have ample water supplies and that is the greatest commodity on the planet."
Adanma Barton, who teaches theater, had never set foot in Appalachia before taking the tour. "I didn't know what a holler was," she says, referring to the term for a small valley between mountains. "So [now] when a student says, 'up in my holler,' I know exactly what they're talking about."
Mary Robert Garrett, who teaches organic chemistry, grew up close to Appalachia, but says she "didn't know until [the tour] how poor some students were and what struggles they deal with, having to work and sometimes being the primary breadwinner of their family. " These students may leave Berea in the middle of a term for a few days to go home and help their families. Garrett also found that some students are short on social skills, like the confidence to ask another student for his or her notes after missing a class.
As a teacher, she admits to "a slight reputation for being a hard ass," but says after the tour she started taking her students' backgrounds into account and being more accommodating.
It's an experience others have reported as well. Webb says at one point one of her students was not working up to her potential but seemed unconcerned. Webb asked her department chair why this young woman wouldn't come talk about her grades. "She looked at me and said, 'Althea, she's Appalachian.' I went, 'I've got to go to her.' That told me what I needed to know...because I've learned Appalachian values." Appalachian children are taught, she said, to know their place and respect elders, which could override an impulse to come forward.
"I went to her and I said, "Would you like to talk about your grades?' She said, 'Oh, yes, ma'am.' She wanted to, but humility holds people back."
The tour can also stir up resentment. On his tour Mahoney noticed that not everyone who saw the big bus with "Berea College" on the side was sympathetic. Some people seemed to regard them as outsiders. At the family homeplace they visited, a teenager told him he'd like to go to Berea, but his parents feared if he did, he would not come home after graduation. Other faculty members reported hearing students on campus talking about the same parental fear of losing close family ties.
Mahoney says in some situations students feel a lot of guilt in leaving their family to come to Berea. "Some students are very well supported by their families," he said, "some students are not. You have to really understand what they're dealing with...I know a lot of students who have gotten flak because they've come here: 'Oh, that place is going to change you. That's going to make you different than we are.'"
Weckman, however, believes this is just a small minority of students. Berea's studies of its students, she says, show that the vast majority arrive with strong support from their families.
Mahoney said he pays attention if a student tells him he needs to miss a class to go home for the weekend. Because of the tour, he knows there may be more to this situation than meets the eye and tries to find out what's really going on. On two occasions, he believes he may have prevented a student from dropping out.
The stereotypical college student, he said, "returns home on the weekend to do laundry and eat some good food. Our college students go home to help on the farm, work in the mine because their father was hurt (or has passed) or simply to earn extra money for the family, hunt so that the family has food, or help a family member struggling with an addiction."
Noreen Karcher, a Berea financial aid counselor, said normally she chides students who send their work pay home instead of saving it for housing, books, and fees. But after seeing poverty-stricken families on the tour, she understands why some do. Her office tries to find them a student loan, but often they don't qualify, forcing students to choose between their education and their family.
Karcher thinks the tour is so valuable it should be required of every new Berea employee. Her husband Steve does almost that. "When I hire new folks," he said, "I all but insist they go on this tour. Even folks from Kentucky, even folks who've grown up here."
The apparent success of Berea's tour raises a question: Would a tour like Berea's make sense for other colleges and universities? Not many other schools serve such a distinct region and geographically distinctive student body. Perhaps schools in New England, the Deep South, the Great Plains, and the Mountain West that are particularly oriented toward their part of the country and its culture might find a tour advantageous--there's no substitute for faculty and staff understanding where their students are coming from.
Berea's tour, though, might also offer an example for schools serving disadvantaged, stereotyped, or low-income students--whatever their region of origin--who historically have had low graduation rates. Berea has shown that making familiarity with the students' world a priority can help faculty and staff connect much more effectively with young people in populations traditionally excluded from higher education--to the benefit of all involved.
Embedded images: (top) Bluegrass musicians accompany square dancing at Pine Mountain Settlement School in Harlan County, Kentucky (Peter Slavin); (bottom) Daymon Morgan, 85, talks about his fight against mountaintop removal strip mining in Leslie County, Kentucky (Chris Maguire)