Hours Before Execution, a State Court Grants Willie Manning a Stay
A capital case about race and scientific evidence, about jailhouse snitches and faulty federal testimony, comes to a screeching halt.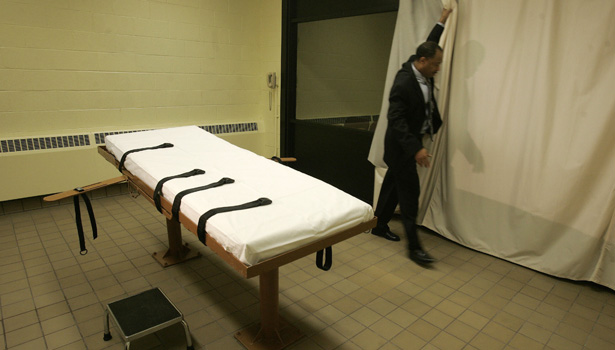 AP
By a vote of 8-1, the Supreme Court of Mississippi this afternoon halted the scheduled execution of Willie Manning just hours before the convicted murderer was to be put to death by lethal injection at the Parchman prison in Sunflower. In their brief order, which you can read for yourself here, the justices did not give any reason for blocking the execution, and it is unclear at this time exactly how the case will proceed from here. (For The Atlantic's coverage of the case, please see the "More On" box below)
Manning, who is black, was convicted in 1994 for the murder of two white university students in 1992. He has maintained his innocence ever since, amid troublesome (and growing) questions about the accuracy and reliability of the evidence on which his conviction and death sentence are based. Manning's long-ago trial was marked by racial bias in jury selection, for example, and a jailhouse informant, who incriminated Manning in 1994, has since sought to recant his trial testimony.
But the Mississippi court's order Tuesday is likely based upon the scientific evidence that was and was not introduced at trial. Manning's attorneys have long argued that state officials should test DNA and fingerprint evidence from the crime scene -- evidence that has never been tested and that would either incriminate Manning definitively or perhaps identify someone else who may have committed the crimes. The state has consistently refused to undertake this testing even though the FBI has offered to do it, and Mississippi has a remarkable recent record of exonerating criminal defendants in such a fashion.
MORE ON THE WILLIE MANNING TRIAL
As a matter of law, the absence of this testing from a shaky case like this was likely enough to warrant a stay of Manning's execution. But the state's refusal to test its DNA evidence was made even more pronounced over the past few days by the intervention of federal officials. Since May 2, the Justice Department has sent three letters to the attorneys in the case announcing that the feds now are backing away from the "ballistics" and "hair fiber" testimony their so-called "expert" testified about at Manning's trial. State prosecutors heavily relied on that now-discredited evidence at trial -- as have state court judges ever since -- as proof that Manning's conviction was secure enough to warrant his execution.
The state came within four hours of executing Manning despite the conceded inaccuracy and unreliability of the scientific evidence against him, despite the willingness of a jailhouse informant to recant, despite racial bias in jury selection. It came within hours of executing the man, even though the scientific evidence that could exonerate him was never tested. No matter what happens now -- and don't forget Manning is still a long way from being out of trouble -- it is a credit to the eight Mississippi justices who voted for the stay that they were willing to change their minds about this case. Last month, by a vote of 5-4, this same court refused to require the DNA testing.
Today's order, by contrast, is a mark of great dishonor to the lone dissenting justice, Michael K. Randolph, who in just a few paragraphs helped illustrate the dubious rationale behind so many of these flawed capital cases. To Justice Randolph, the grave error in this case was not the false testimony against Manning or the lack of DNA testing, it was the fact that his lawyers this week failed to submit affidavits with the letters from federal officials. Then, in a passage as unhinged as any I have ever read in a judicial opinion, Justice Randolph gave full voice to his real frustrations about the result here. Of the Justice Department's timely intervention in this story, Justice Randolph wrote:
The letter also states that the Department of Justice is "assist[ing] [the Innocence Project and the National Association of Criminal Defense Lawyers] in their evaluations." "The Innocence Project supports a moratorium on capital punishment." The "NACDL has been an outspoken critic of the death penalty system. Of critical concern is the language contained in the first FBI report stating that, "[g]iven the abbreviated time frame for review, the FBI requests the Innocence Project (IP) to advise as to whether or not they agree with the FBI's conclusions as soon as possible."

Although the connectivity and expediency by which this review was accomplished is mind boggling, I should not be surprised, given that the families of the victims of the clandestine "Fast and Furious" gun running operation can't get the Department of Justice to identify the decision makers (whose actions resulted in the death of a border agent and many others) after years of inquiry, and that this is the same Department of Justice that grants and enforces Miranda warnings to foreign enemy combatants." [emphasis in original]
While Willie Manning will live for at least a few more months, nothing about today's order guarantees him a reversal of his conviction, or a new trial, or a new hearing about jury selection or that jailhouse snitch or those discredited federal experts, or any DNA and fingerprint testing. Those questions are left for another day, and both Manning's lawyers and state attorneys now are waiting for further guidance from the court on what happens next. We haven't heard the last of Willie Manning, in other words -- or Justice Randolph, either, for that matter.