Feds Acknowledge Scientific Errors in Testimony in Willie Manning Case
A Mississippi man is scheduled for execution Tuesday. State officials won't test DNA and fingerprint evidence in his case. And now the feds have cast doubt on the evidence that was introduced at his trial.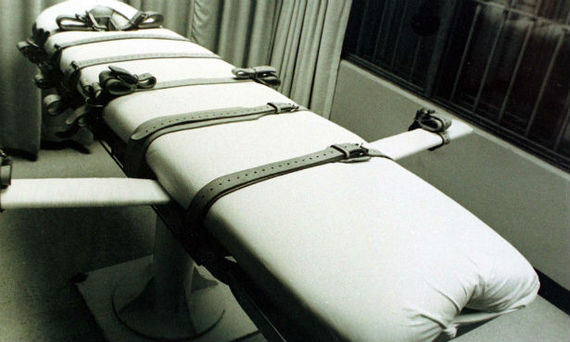 Reuters
Unless some judge or justice intervenes, or Governor Phil Bryant exercises his clemency power, Willie Jerome Manning has about 24 hours to live. A black man convicted of murdering two white university students in Mississippi in 1992, a black man who has maintained his innocence for two decades through a racially charged case in the Deep South, Manning is scheduled to be executed by lethal injection tomorrow at 6 p.m. at the Parchman prison in Sunflower.
Last week I wrote in depth about this case, focusing on the fact that state officials are refusing to test DNA and fingerprint evidence which could definitively exonerate (or incriminate) Manning.  But now there's more. In the past four days, the Justice Department has delivered two separate letters to lawyers in the case acknowledging that an FBI "hair" analyst's "expert" testimony at Manning's 1994 trial, testimony which helped incriminate the defendant by linking him to hair fibers found at the crime scene, "exceeded the limits of science and was, therefore, invalid."
Here's how the feds put it in their second (May 4th) letter:
We have determined that the microscopic hair comparison analysis testimony or laboratory report presented in this case included additional statements that exceeded the limits of science and was, therefore, invalid. In response to inquiries regarding whether the errors identified in the notification letter had any bearing on the examiner's opinion regarding the racial classification of the hair, the FBI states the following: The scientific analysis of hair evidence permits an examiner to offer an opinion that a questioned hair possesses certain traits that are associated with a particular racial group.

However, since a statistical probability cannot be determined for classification of hair into a particular racial group, it would be error for an examiner to testify that he can determine that the questioned hairs were from an individual of a particular racial group. Thus, an examiner cannot testify with any statement of probability whether the hair is from a particular racial group, but can testify that a hair exhibits traits associated with a particular racial group.
Citing the two Justice Department letters, which you can read for yourself here and here, Manning's attorneys early Monday filed another motion with the Mississippi Supreme Court seeking a stay of their client's execution and other relief, including a reversal of the 1994 convictions. State lawyers must file their response by 4 p.m. today, and I'll update this piece then, but there is no reason to believe that Mississippi is suddenly going to give up its plan to execute Manning by tomorrow evening.
All the legal posturing aside, what the startling Justice Department letters mean is that Mississippi now is defending a capital conviction in which the scientific evidence prosecutors introduced at trial was demonstrably false and the scientific evidence prosecutors refuse to include in the case -- the DNA testing and modern fingerprint analysis -- is almost certainly going to prove true. Unless something changes, Willie Manning now has 24 hours left to contemplate the meaning of that perversion of justice.
UPDATE (5:50 pm ET): In response to Manning's latest motion, Mississippi has filed a short, concise brief (which you can read here) in which the state asserts "that the supposed 'new' evidence does not represent new evidence nor do these letters form [sic] the DOJ represent, when read in context, a repudiation of the testimony of" the FBI agent who testified at the trial of this case. In Mississippi's view, the discrepancy between the FBI witness' testimony at the 1994 trial and the Justice Department's position today is a "matter of semantics." Manning should not be given a stay of execution, state lawyers argue, and his attorneys should not be given a chance to further argue this new issue. A decision is expected either later tonight or early Tuesday.
UPDATE, (Tuesday morning 8:45 am ET): Late last night, the Justice Department sent the lawyers in the case another letter, this one casting doubt upon the ballistics evidence introduced at trial by the FBI. Here is the text of that letter-- another blow to Mississippi's argument that there is enough credible evidence in the case to preclude the need to test the DNA.