'Continuous Partial Attention,' 'Metonym,' 'FOP,' 'Charm'—Items From Our New Issue
What we're serving up this month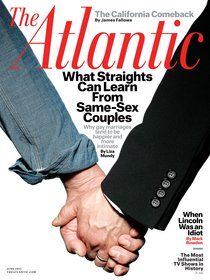 The June issue of The Atlantic has arrived. Say it with me: Subscribe! I read the "actual" (printed) magazine cover-to-cover last night, on the DC-NY train and then after arrival; it's full of good stuff. In my hypothesized "spare time" some day I will intend to do a story-by-story gloss. For the moment I'll just touch on a few in-house features:

This is by way of segue to two extra in-house aspects of the issue that involve me. One is a long story by me about the past-present-and-future governor of my original home state, Jerry Brown. I'll do a follow up item here soon, but the two points I tried to convey in the story are what is unusual (and impressive) about Brown as a person, and what is unusual (and instructive) about the predicament of California as a state. For now I'll say that I really enjoyed doing this story, except the always-tedious "writing" part; and it helped me come to terms with the changes for good and bad in California between my time growing up there and my sons' time there now.
Oh, yes, the story also involves my (and the governor's) discovery of what a certain literary term means.

The other is a Q-and-A with Linda Stone, known inside the tech world for her work at Apple and Microsoft and known to the world at large for coining the term "continuous partial attention" to define our modern mental state. The print version of the interview, with tips on maintaining your own focus despite the blur, is here; the next post in this space will be a "director's cut" extended version of the interview, with more tips. I will try to maintain focus long enough to get it posted.