Christine Quinn's Image-Making Machine
The candidate's disclosure that she has struggled with bulimia and alcoholism may make her more "relatable," but it doesn't change her record on First Amendment protections.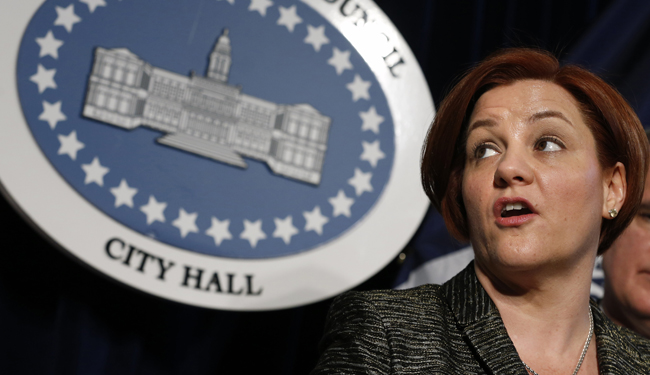 New York City mayoral candidate Christine Quinn's describing as "oddly non-political" her decision to reveal her struggles with bulimia and alcoholism was not the most blatant political lie of the week. A Justice Department spokesman's assertion that "we value the freedom of the press," might qualify for that honor. But Quinn's lie is more interesting (and more likely to be believed.) It's a window into the mechanics of political image-making and also testimony to the continuing appeal of addiction and recovery narratives.
Discussing her history of addiction with the New York Times, in the midst of a campaign, Quinn is obviously intent on "humanizing" herself. She's been accused of bullying, a particularly damaging charge for a woman, and she needed to soften her image, without weakening it. An addiction story demonstrates a human failing with which many voters will identify; a recovery story puts the weakness in the past and demonstrates the strength to overcome it.
Voters respond, or are expected to respond, to log cabin stories, actual or metaphoric. (Mitt Romney suffered for the lack of one.) Triumphs over hardships like poverty, abuse, or addiction are supposed to signal a capacity for empathy as well as resilience.
Strong, shrewd, sharp-tongued, admirable and likeable. That, it seems, is how Christine Quinn would like New Yorkers to describe her. That's probably how you'd see her, if all you knew of her were what you read in the Times this week (which may be doing penance for a earlier piece on Quinn's bad temper that drew charges of sexism).
The sympathetic, front-page story Tuesday about her history of addiction was preceded two days earlier by a puff piece in the Sunday style section -- a conversation with Quinn and actress Holland Taylor, currently performing a one woman play about the late Ann Richards. What do Quinn and Taylor have in common? According to reporter Philip Galanes, "both have embraced their roles as women looking to break barriers, one in real life -- as a candidate for mayor of New York, to be the first woman and openly gay person to hold that position -- the other on the Broadway stage ..."
What do Quinn and Ann Richards have in common? That's the implicit question the "conversation" poses, and it compares Quinn, implicitly and explicitly, with the strong, shrewd, "feisty," admirable and likeable Ann Richards,who acknowledged her history of alcoholism before doing so was entirely fashionable.
Well, maybe Quinn is, in part, the person she and the New York Times would like us to believe her to be. But it's best to judge a politician by her record, not her humanizing image machine, or the actual hardships she suffered. Quinn was 16 when her mother died a lousy, premature death from cancer. But tragedies that elicit sympathy shouldn't elicit political support.
What does Quinn's record include? Her brush with a slush-fund scandal may be long forgotten, having surfaced a few years ago. But voters don't need long memories to recall her autocratic disregard for political speech. In April of this year, Quinn threatened to sue Time Warner for running an ad by an independent group that dared to criticize her and that Quinn's camp alleged was inaccurate; then she asked other mayoral candidates to join her in rejecting the rights of independent groups of citizens to air their views.
As former ACLU Executive Director Ira Glasser wrote, Quinn's position was "exactly what the founders of our country tried to avoid when they passed the First Amendment, guaranteeing all Americans -- not just candidates and newspapers -- the right of free speech."
Quinn's contempt for First Amendment rights in this case was not an aberration. She demanded that Brooklyn College shut down (or "balance") a controversial discussion of divestment in Israel. (As Mayor Bloomberg observed, "If you want to go to a university where the government decides what kinds of subjects are fit for discussion, I suggest you apply to a school in North Korea.") She opposed Chick-Fil-A's entry into New York, demanding that its owner apologize for his "un-American" statements criticizing gay marriage.
Who's calling who un-American? Given her record, Quinn's sympathetic personal history seems largely irrelevant. Is she resilient? Apparently. Can she be trusted with power? Apparently not.