You May Leave Boston, but Boston Never Leaves You
Millions of Americans came of age at Boston's many colleges and universities. For them, Monday's tragedy is a reminder of how much the city still means.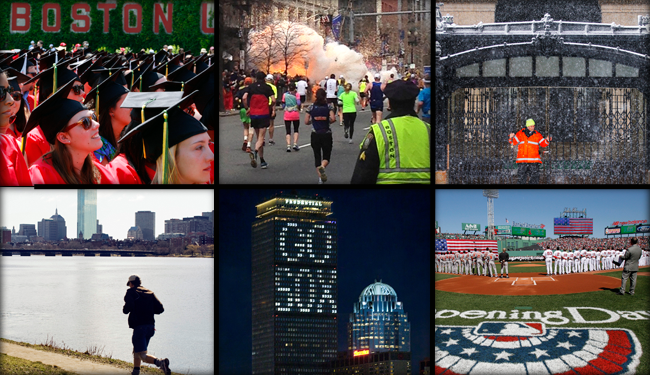 Images from Reuters and Massachusetts Office of Travel and Tourism
Each year, the city absorbs into its colleges and universities tens of thousands of teenagers, 18-year-olds, from every corner of the world, each of whom is seeking, in one way or another, to learn something and to become whatever it is they are destined to become. The boy from Arizona, there on a scholarship, who has never before seen snow. The girl from Montana, who's never seen anything but Big Sky. The lucky son of diplomats. They all arrive in late summer to a city used to showing children what it means, and what it takes, to live in a great American metropolis. No other city in the nation does this as well.
And, every year, in a cycle renewed for hundreds of years, the city disgorges tens of thousands of college graduates into the world. This means that there are millions of men and women wandering around America today who spent some of the best years of their lives in and around Boston, walking some of the very streets splattered with blood yesterday in the wake of the Marathon bombings. Boston is where those students like me came of age. It's where we met our spouses or significant others. It's where we learned our craft. It's where we connected with the friends and mentors we would have for the rest of our lives. Even if we can't say we are "from" Boston we surely confirm when asked that we are "of" Boston. It remains in our blood.
Boston's enormous extended family didn't have to be on or near Boylston Street Monday to appreciate how glorious Patriots' Day can be: the joy of springtime after the brutal New England winter; the early Sox game; the crowded Green Line; the early-opening bars; and the runners and their families, coming in toward the City, coming in toward the finish line. The parties on the balconies in the apartments along Beacon Street. The cheering for the men and women who had run so far for so long just for the privilege of running on this day. Indeed, even to those who never run, Marathon Day meant the end of our own personal marathons-- the looming end of the school year, the looming end of our college careers, the end of our youth.

No bombing can ever take away what Boston means to the men and women whose lives have been shaped by it over the generations. No tragedy can ever take away Patriots' Day, or the Marathon, or the city's pride and relief in having made it to another spring. For now, for today, perhaps it is enough to merely remind our friends and family there in the Hub that we are with them, that we never really left no matter how far away we may be, and that we'll be with them again next year, in sorrow and in joy.

Editors note: Andrew Cohen spent seven years in Boston, from 1984-1991, while pursuing his undergraduate and graduate degrees from Boston University