Why Congress Should Pass 'Kaitlyn's Law' Today
New federal legislation would help the disabled daughter of a Navy captain -- and thousands more military families in need of hippotherapy.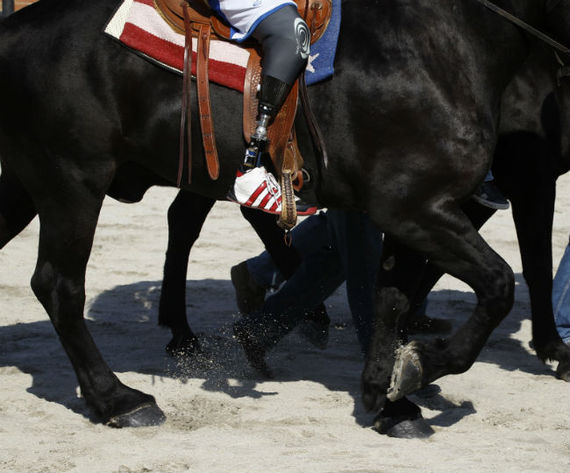 Congress has an opportunity now -- this week, this month, today even-- to do something truly noble; something that will help a disabled young woman, the daughter of a Navy captain, and thousands of other military families all across the country. Our federal lawmakers are about to contemplate the virtues and merits of a new military health insurance rule that clarifies the scope of reimbursement policies to ensure they cover an innovative form of physical therapy, called "hippotherapy," that has consistently proven to work on those who need it most.
The proposed measure introduced in the House of Representatives this week by Rep. Michael Burgess, a Texas Republican, is called "Kaitlyn's Law." You remember Kaitlyn Samuels, don't you? She's unforgettable. As chronicled last year in The Atlantic, she's the young woman whose physical disabilities make it impossible for her to walk or talk. In 2009, her loving parents discovered a form of physical therapy that helped Kaitlyn, body and soul. The therapy involves Kaitlyn sitting atop a horse, riding around a ring, allowing the animal's natural gait and rhythm to straighten her back, help her balance, and ease the pain from her severe scoliosis.
But when the Samuels' sought reimbursement for this professional therapy from TRICARE, the military's health care system, the request was denied. Such therapy, officials declared, was "unproven" and thus not reimbursable. What followed over the course of the next few years was a typical story of Pentagon mindlessness. Federal officials declared that they would reimburse the family for therapy that didn't work on Kaitlyn -- like sitting on a bench -- but would not reimburse the family for the physical therapy that did. The family's efforts to seek legal relief failed. The Pentagon said it needed additional guidance from Congress.
That was then. This is now. Since November, the family has received financial support from Jeff Gural, a racehorse owner and breeder and owner of racetracks in New York and New Jersey. (The ever-gracious family, in turn, re-donated some of that money to other children in need of hippotherapy.) The Samuels also have received legal help from Marcella Burke, a smart attorney with the powerful Akin Gump law firm. And, just in the past few days, the family finally has received a measure of political support from Rep. Burgess and Rep. Tom Cotton, an Arkansas Republican who served tours in Iraq and Afghanistan and who thus understands more than most the burdens TRICARE may impose on military families.
Both the text and the purpose of "Kaitlyn's Law" are simple -- Rep. Cotton also is a graduate of Harvard Law School, and that no doubt helped. Listed as HR 1705, and formally titled the "Rehabilitative Therapy Parity for Military Beneficiaries Act.'' it reads in pertinent part:
(g) Rehabilitative therapy provided pursuant to subsection (a)(17) may include additional therapeutic exercises or therapeutic activities if such exercises or activities are included in the authorized individual plan of care of the individual receiving such therapy. Such exercises or activities may include, in addition to other therapeutic exercises or therapeutic activities, therapies provided on a horse, balance board, ball, bolster, and bench.
That's it. That's all. One paragraph that will tweak federal policy to make a vital difference to families without burdening federal resources. The clarifying paragraph above does not create a new mandate on private insurance carriers. It does not broaden existing coverage but rather precludes military insurers from second-guessing the diagnoses and treatment choices made by doctors and therapists who are treating patients like Kaitlyn. Those professionals still will have to justify their choices on medical grounds -- but when they agree that hippotherapy is effective and working their patients will get more support from TRICARE.
The measure has the support of the American Physical Therapy Association. "One patient may not respond well to one type of treatment, while another patient getting the same treatment is very responsive," said Michael Hurlbut, the APTA's Congressional liaison. "This particular measure is important because it helps ensure access to services that are critical for maintaining, improving, or regaining function... It can be an effective strategy for gait simulation and maintaining function. This legislation just ensures that physical therapists are not limited in what care they can provide." 

Rep. Burgess, who is also a doctor, said the issue is one of fundamental fairness. "Family members of our military service members, like Kaitlyn, deserve the opportunity to receive equal access to physical therapy services that enables them to maintain physical functioning and allow them to live a full and happy life. In the past, certain physical therapy services have been denied to TRICARE beneficiaries ... Our bill simply corrects this inequity and ensures TRICARE beneficiaries receive the services they are entitled to."
Even in the poisonous atmosphere of Capitol Hill, where lawmakers can barely agree upon what they disagree about, who today is going to disagree with bringing more relief to families with children who need help? The measure already has bipartisan support. Rep Marc Veasey, a Democrat from the Dallas-Ft. Worth area, also is co-sponsoring the measure. He told me via email on Friday: "I believe that therapy should serve to meet the needs of patients and the minimum we can do for our men and women in uniform is ensure that health and well-being of their families."

Indeed, every member of Congress could co-sponsor this amendment and be proud to do so. The first lady, Michelle Obama, and Jill Biden, the vice president's wife, who both have been such forceful advocates for military families, should support the measure as well. For when we talk as a nation about supporting our troops, and their families, this is precisely what we mean. It is a small step. It doesn't ease all the financial burdens that military families bear. And it doesn't solve the bureaucratic maze that is the military health care system. But it's a step in the right direction. Or, more precisely, it's a series of steps by a calm and trusted horse that make a huge difference in the life of a girl like Kaitlyn.