Why Are 2 of U.S. News's Top 5 'Best High Schools' Arizona Charter Schools?
There are some interesting surprises in the newly released rankings.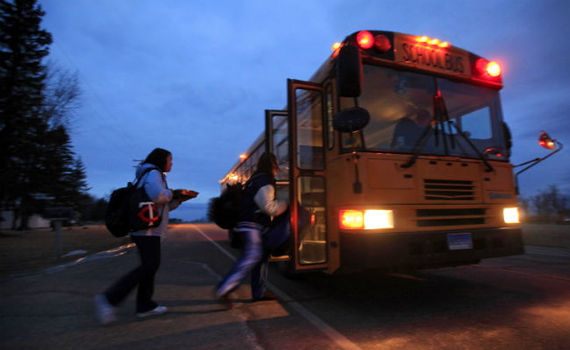 Jim Young/Reuters
U.S. News & World Report's annual rankings of the nation's best high schools are out, and the results suggest students thrive when given access to curriculum and instruction that's significantly more challenging than what a typical American student receives.
The top 15 campuses in the rankings include magnet schools, small campuses offering specialized programs, and charter schools. Two of the top five schools are part of the BASIS charter school network in Arizona, which offers an intensive curriculum designed to be comparable to international academic standards.
The news outlet's formula for determining the best campuses is a combination of overall school performance on statewide proficiency tests, factoring in considerations for populations of disadvantaged students who typically score lower on such assessments. Schools that did well enough on those factors were then evaluated for "college readiness," using student achievement on Advanced Placement and International Baccalaureate (IB) exams. (Because the data is self-reported by schools and states to a federal database, errors can occur -- which was the case for a number of campuses in last year's rankings.)
It's important to note that the rankings are a snapshot of a school's performance, rather than a definitive judgement. However, they do shine a light on campuses that are exceeding achievement benchmarks often with challenging student populations.
More than 21,000 high schools in 49 states (Nebraska didn't report enough data to be considered) and the District of Columbia were evaluated. U.S. News awarded gold, silver or bronze medals to more than 4,805 top-performing schools. Just under 41 percent of the rankings' gold-medal schools receive Title I federal funding, which is earmarked for campuses serving large populations of students of students from low-income households. California led the states with close to 28 percent of its high schools earning gold or silver medals, followed by Maryland with about 26 percent.
The two charter schools in the Top 5 are BASIS Tucson (No. 2) and BASIS Scottsdale (No. 5). Created in 1998 by Michael and Olga Block, BASIS serves about 5,000 students on eight campuses in Arizona and recently opened a charter middle school in Washington, D.C. serving about 400 students. For a second consecutive year, the top-ranked campus was the School for the Talented and Gifted in Dallas.
I asked Mary Riner, BASIS' director of external relations, to explain how the open-enrollment charter schools managed to score so highly on U.S. News & World Report's scale. She said one reason is that the program's intensive curriculum is more akin to what would be expected of students in Asian and European countries that score highly on international assessments. Proponents of the new Common Core State Standards, adopted by 46 states, contend the more rigorous expectations will eventually help American students boost their comparative performance on those same exams.
"By the time one of our kids takes AP chemistry or biology exam, they've had five years of that subject," Riner said. "We've taken the best world standards in the humanities, math and sciences in Europe and Asia and married them to the American-style freedom in the classroom."
Just how high are the academic standards at BASIS? Consider this -- the charter schools in Tucson and Scottsdale were among the 105 U.S. schools that took part in the Organization for Economic and Cooperative Development (OECD) Test for Schools, which was based on the Program for International Assessment (PISA) exam. According to a new report from education advocacy organization America Achieves, BASIS students outscored the average student from Shanghai, which ranked No. 1 in the world on the international assessment. The BASIS Scottsdale campus was among the top 1 percent of schools in the world in reading and mathematics.
To be sure, outscoring an "average" student in Shanghai isn't the same as beating that country's top performers. But BASIS students were also found to be several years ahead of their American classmates when it came to proficiency in basic subjects.
BASIS' track record thus far combined with its strong showing on the new OECD exam "is a sign that there is something in their formula that needs to be replicated as quickly as possible because it seems to be producing great results," Nina Rees, president and CEO of the National Alliance for Public Charter Schools, told me Monday.
Charter schools have been slowly gaining in popularity since the first independently operated public school opened 20 years ago. Research on the success of the model is a varied as the types of charter schools themselves. Some recent studies at the regional and national level have found certain charter schools are making gains with at-risk student populations. However, there is also evidence suggesting that many charter school students don't do better than their peers at traditional public schools, and many fare worse.
BASIS has plans for expansion and will open its first Texas campus in San Antonio in August. However earlier this month the D.C. Public Charter School Board turned down a request by BASIS to add seats, citing the fact that about 10 percent of the students had withdrawn since fall.
Paul Morrissey, head of BASIS' D.C. campus, said that the student attrition wasn't unusual for the program's first year. "When a BASIS school comes into a new market, there are students who understand and know what the workload is and what it takes to be successful at BASIS, and there are students who are not prepared to do that kind of work," Morrissey said, according to a Washington Post story.
Even if a public school is open enrollment, there is some self-selection taking place among the student body. Magnet schools typically require students to meet entrance requirements and focus on intensive instruction in areas such as math, technology, or international studies that attract already high-achieving students. And a charter school can be "open enrollment" by definition but still end up weeding out students who are less likely to succeed under its model. For some kids the academic demands are overwhelming, or there aren't enough extracurricular activities to meet their interests. Some families balk at the longer academic day, additional homework and requirements for parental involvement. That selectivity is why the U.S. News rankings also include separate lists for magnets and charter schools.
So what's the lesson from the U.S. News rankings? One message is that there are certainly pockets of excellence among the nation's high schools and models well worth replicating. But the news outlet's list doesn't tell us what happens to students once they leave these elite schools: Are they more likely to enroll in post-secondary education? How many of them require remedial classes when they get to college? And what percentage of them graduate on time? Shouldn't those long-term outcomes also factor into whether a school is judged to be successful?
---
This post also appears at The Educated Reporter, an Atlantic partner site.