What Happened Overnight in Watertown: 1 Suspect Dead, Another On the Run
The manhunt for two fugitives wanted in the Boston marathon bombing takes a deadly turn.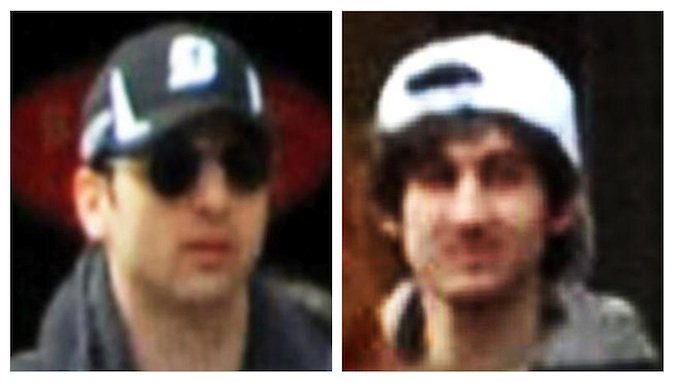 Above is the photo of suspects in the Boston marathon bombing. Overnight, the man on the left with the black hat died after an altercation with police. The man on the right with the white hat is presumed alive and dangerous. There is a ongoing manhunt for him in Watertown, Massachusetts: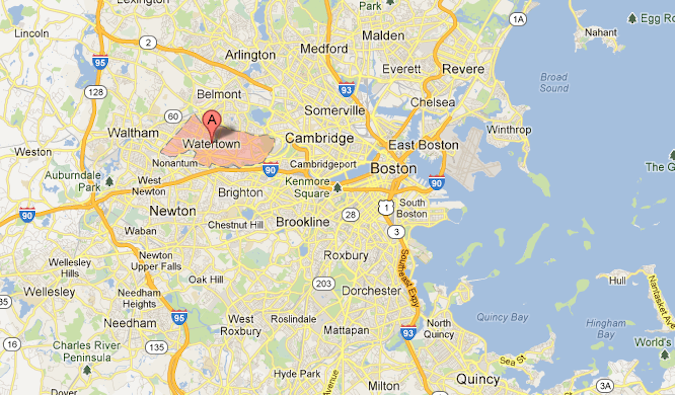 As of 5:20 a.m. residents of Watertown were being asked to stay inside their homes and to come to the door only if a uniformed police officer is knocking. Residents are getting robocalls from the local police department to warn them. At 5:50 a.m. Friday, authorities were on television telling locals to avoid driving through the area and asking all nearby business to stay closed. They were also reportedly shutting down the public transit system for surrounding communities in metropolitan Boston prior to the morning commute. At 6:26 a.m. CNN broadcast images of heavily armed law enforcement, dressed in military garb, conducting house-to-house searches.
CNN reported that President Obama had been apprised of the manhunt overnight.
The Boston Globe
has posted
this chronology
of events:
According to State Police Colonel Timothy Alben, the night's outbreak of violence began about 10:30 p.m. police received reports of a robbery of a convenience store in Kendall Square near MIT. A few minutes later, an MIT police officer, who has not been identified, was shot multiple times while in his cruiser at Main and Vassar streets, near Building 32, better known as the renowned the Stata Center on the MIT campus.

The officer was pronounced dead at Massachusetts General Hospital.

A short time later, two men carjacked a Mercedes SUV at gunpoint, and the owner of that car was able to flee at a gas station on Memorial Drive. The SUV proceeded out Memorial Drive toward Watertown followed by a long train of police vehicles in pursuit.

At one point during the pursuit, the two suspects opened fire on Watertown police and a Transit Police officer, who was shot and who is now in critical condition at a Boston-area hospital this morning.

During the gunfight, the man known as Marathon suspect #1 was wounded. He was taken into custody and later died at Beth Israel Deaconess Medical Center in Boston, Alben said.

Police have since been searching for the other bombing suspect.
The New York Times
reports
:
A Watertown resident, Andrew Kitzenberg, 29, said he looked out his third-floor window to see two young men of slight build in jackets engaged in "constant gunfire" with police officers. A police SUV "drove towards the shooters," he said, and was shot at until it was severely damaged. It rolled out of control, Mr. Kitzenberg said, and crashed into two cars in his driveway.

The two shooters, he said, had a large, unwieldy bomb. "They lit it, still in the middle of the gunfire, and threw it. But it went 20 yards at most." It exploded, he said, and one of the two men ran toward the gathered police officers. He was tackled, but it was not clear if he was shot, Mr. Kitzenberg said.

The explosions, said another resident, Loretta Kehayias, 65, "lit up the whole house. I screamed. I've never seen anything like this, never, never, never."