Students Would Learn About Climate Change Under New Teaching Guidelines
The Next Generation Science Standards also recommend that students be taught evolution. But will policy-makers listen?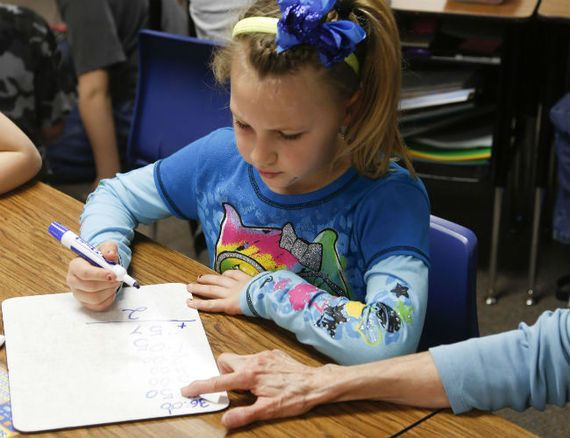 Jeff Tuttle/Reuters
Proposed national standards for science education were unveiled Tuesday, and include recommendations for teaching evolution, as well as the first-ever expectations for students to learn about climate change.
Known as the Next Generation Science Standards, the recommendations come from a coalition of educators and policymakers. So far 26 states have pledged to consider using the new standards, which, according to the coalition's website, contend that science education "should reflect the interconnected nature of science as it is practiced and experienced in the real world." Students will be expected to know how to apply scientific principles, weigh evidence, solve problems and explain their reasoning, and tackle increasingly complex subject matter as they progress from grade to grade. The new science standards are aligned to the separate Common Core State Standards that have been adopted by 46 states.
"This is a huge deal," David L. Evans, the executive director of the National Science Teachers Association, told the New York Times. "We depend on science in so many aspects of our lives. There's a strong feeling that we need to help people understand the nature of science itself, as an intellectual pursuit."
Under the new science standards, students would begin learning about climate change in middle school. As the New York Times story points out, some conservative and religious groups are challenging that inclusion, along with the teaching of evolution.
Science educators contend the standards have long needed an overhaul. The nonprofit science education advocacy group Change the Equation, released a study last year that highlighted the vast gaps in expectations among states for student science knowledge. I had the opportunity to talk with Linda Rosen, the group's CEO about that report, and here's how she described the problem with how students are typically being taught science:
"We spend time giving kids a picture of a cell and asking them to fill in the blanks to name parts of the cell. What we should be doing is giving them a picture of a cell and asking them to describe what is the function and purpose of each part. That's a fundamentally different task, both for the learner and for the teacher to convey. When we have Next Generation Science Standards and hopefully high-quality, well-aligned assessments, I think it will be much clearer what we value, what's important for a young person to master."
But of course revising the standards is only part of the battle. There also need to be qualified, effective science teachers in the classroom actually helping students make those higher-level connections. That's part of the push behind the Carnegie Corporation's campaign to add 100,000 high-quality STEM teachers to public schools in the next 10 years. (You can read my previous post on this issue here.)
Just about a year ago, science educators gathered in Washington, D.C. for the release of the latest results from the National Assessment for Educational Progress (NAEP), often referred to as "the Nation's Report Card." While there were some positive trends for some subgroups of students, less than a third of the nation's eighth graders demonstrated proficiency in science. At that time I asked Shirley Malcom, the head of the education and human resources directorate for the American Association for the Advancement of Science what policy changes she thought would position the nation's students to improve their performance on the next national exam.
"The best case scenario is we will get acceptance of the new [science] standards, a ramp-up in terms of teacher professional development, and a real commitment to improving the way science is taught so that we incorporate inquiry, technology and focus on populations that have not been served well," Malcom said. "If we can do those things, then maybe we'll being to see movement [in the NAEP scores] that is meaningful. That would mean a real improvement in terms of conceptual understanding by all students."
---
This post also appears at The Educated Reporter, an Atlantic partner site.