A Map That Shows the Dramatic Spread of Legal Weed in the U.S.
A look at the recent spread of liberalized marijuana laws across America
This article is from the archive of our partner
.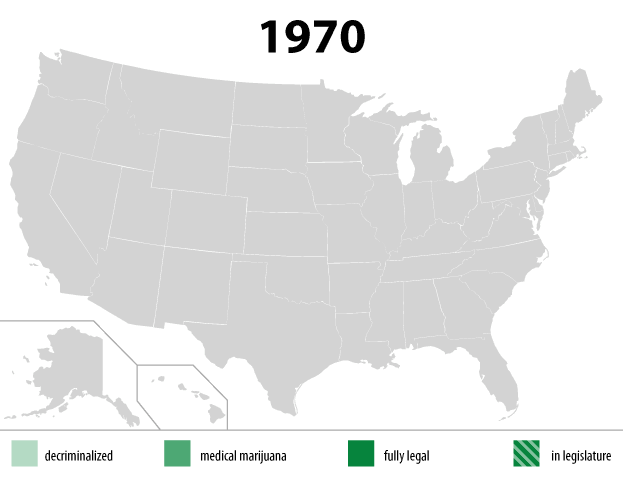 Looking at the recent spread of liberalized marijuana laws across the United States, it's hard not to think we're entering some kind of Weed Spring. The latest state to act is Maryland, where on Monday the state senate approved a bill legalizing medical marijuana by 42 to 4, sending it to Gov. Martin O'Malley, who is expected to sign it into law. Several state legislatures are considering relaxing their restrictions on marijuana. A majority of Americans now favor legalizing marijuana, and 65 percent of young people support legalizing it, suggesting support will grow. The Justice Department still won't say how it will deal with marijuana legalization in Colorado and Washington—it's still banned by the federal government—but officials in both states say they're going ahead. "We intend to move forward with supporting the will of the people," Washington Attorney General Bob Ferguson told Talking Points Memo.
That's doesn't mean there haven't been setbacks for the pro-weed crowd in recent years. California voters rejected a legalization initiative in 2010, and Oregon voters did the same in 2012. Bills to legalize weed have died in Hawaii and New Hampshire this year. But as our map GIF above shows, the trajectory is unmistakably toward legalization. Here are four state legislatures debating whether to follow Maryland in 2013:
Oregon. The state House is considering a bill that would legalize, regulate, and tax marijuana, USA Today reported last week. House Speaker Tina Kotek says passing the bill this session would be a "heavy lift." Voters rejected a ballot initiative to legalize it last fall.
Maine. Medical marijuana is so well-established in Maine that workers at a major pot dispensary protested last week because they said owners were blocking their efforts to unionize. A bill to legalize marijuana has 35 co-sponsors. "There's a momentum building and it's clear it's coming to the Northeast and to Maine," state Rep. Diane Russell, who introduced the bill, said Sunday. "I would rather see us get ahead of the curve and be ready. The train is coming and if we bury our heads in the sand, we're going to get hit."
Illinois. The state House is working on a medical marijuana bill that would allow patients with certain diseases—like cancer, HIV/ AIDS, and multiple sclerosis—to use the drug if their doctor prescribed it and the Department of Health approved. Last week, two state representatives wrote an op-ed saying Illinois' bill "can serve as a national model."
Vermont. A state House judiciary committee held hearings last week on a marijuana decriminalization bill. Originally supporters wanted to decriminalize possession of 2 ounces, but that has been lowered to 1 ounce. The bill is expected to be voted out of committee next week.
Elsewhere: Alabama rejected medical marijuana in February, but in April, a state legislator introduced a bill to legalize 1 ounce for recreational use. Several states have pending medical marijuana legislation. Kentucky's legalization of hemp will become law.
(Weed map GIF by Philip Bump.)
This article is from the archive of our partner The Wire.