Jerry Brown Should (Still) Be Ashamed of California's Prisons
60 years ago, Pat Brown fought the mistreatment of the mentally ill. Today, his son, the governor of California, defends such mistreatment.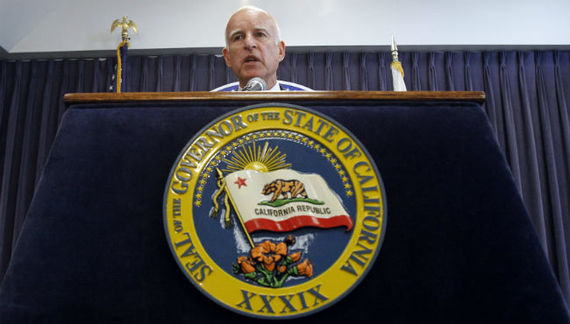 Mario Anzuoni/Reuters
On January 8th, California Governor Jerry Brown ceremoniously declared an end to what he called the "prison emergency" in his state caused by epic overcrowding, chronic under-staffing, and the systemic mistreatment of inmates. "I mean, we've gone from serious constitutional problems to one of the finest prison systems in the United States," he said, pitching a success story with which no federal court in the past two decades has ever agreed.
Not only was the prison system now the envy of the nation, the governor proclaimed, but the health care given to California inmates was so good that it was worthy of awe by ordinary citizens unencumbered by the bonds of custody. "Most of the people in prison get far better care for mental health problems or their physical well-being inside the prison than they'll get once they're released on the streets," he said. And then Pat Brown's son said this:
We've spent billions of dollars. We've hired hundreds, if not thousands, of professionals to make sure that we have excellent health care and excellent mental health care. And because of that, it is now time to return the control of our prison system to California. We have the constitutional obligation. We have the expertise and we're ready to do it. There's no question that there were big problems in California prisons -- overcrowding, lack of health care, lack of mental health care, lots of other problems. But after decades of work, the job is now complete.
But it was not up to the Governor to unilaterally declare his state in compliance with its legal obligations to the inmates. The state long ago lost that right by persistently depriving prisoners of basic medical care under conditions that virtually every single reviewing court has deemed to be "cruel and unusual punishment" under the Eighth Amendment. Not only were the governor's remarks an insult to all those mistreated people, in and out of prison; they were also irrelevant as a matter of law. He still needed permission from the federal courts to reclaim state control over prisons -- and, in January, he asked for it.
The Scheme
Sometime in the last few years, unwilling to pay the price of restoring basic constitutional rights to the inmates, frustrated state officials ginned up a new idea to wiggle out from under federal judicial oversight of their overcrowded and understaffed prisons. Instead of doing an honorable thing -- complying in good faith with a a series of federal court orders requiring them to provide adequate medical treatment to thousands of mentally ill prisoners -- state officials chose to do a dishonorable thing. They chose to cheat.
Instead of hiring enough psychiatrists and staff to help treat the inmates, or moving more quickly to provide inpatient care for the ill men and women, or following the recommendations of a court-appointed expert who urged them to alter their suicide prevention policies, California officials decided instead to interrogate mentally ill inmates without giving notice to, or getting consent from, the prisoners' attorneys. State officials then used those interviews to argue in their January motion that California had complied with its legal duties to the inmates.
But such ex parte contact between officials and inmates violates California's attorney ethics rules. (Imagine how a judge or jury would react to the use of a mentally ill person's statements against that person in court.) Worse, at the same time that officials were unlawfully questioning these prisoners, they were denying requests for information about prison practices and policies made by the inmates' attorneys. On Friday, a federal judge in Sacramento put an end to the sleazy scheme. He denied Gov. Brown's motion and once again ordered California to obey the letter and the spirit of the Eighth Amendment.
The Background
If you know something about the recent history of California's continuing failure to humanely treat prisoners, then you will find frustrating U.S. District Judge Lawrence J. Karlton's ruling in the case styled Coleman v. Brown. Once more, a judge had clearly set forth what officials must do to meet their legal obligations to the inmates. Once more, a jurist caught California blatantly disregarding its legal duties while pretending otherwise to the world. Once more, state officials have embraced a culture that dehumanizes inmates by diminishing their mental illnesses.
And if for some reason you know nothing about what's been happening in California's prisons these past few decades -- if, for example, you didn't pay attention when United States Supreme Court Justice Anthony Kennedy declared California's prisons unconstitutionally overcrowded -- Judge Karlton's ruling offers a quick summary of why the costly case has lingered unresolved for decades. It's not that the state can't comply. It's that the state still doesn't want to comply. It's no more complicated than that.
Read the ruling for yourself and then compare it with Gov. Brown's January announcement. For example, the "far better care for mental health problems" the governor said that state inmates now are receiving? That care is evidently so good, the actual evidence shows, that the state's inmate suicide rate, which fell to 15.7 per 100,000 prisoners in 2009, has risen again to 23.72 per 100,000 prisoners in 2012. The most obvious sign of poor mental health treatment -- the pace of suicides -- is getting worse, not better, inside Gov. Brown's prisons.
The Ruling
Last August, after 16 years of litigation over the poor treatment of these prisoners, and one year after Justice Kennedy ordered California to more quickly bring its prisons into compliance with baseline constitutional standards, Judge Karlton offered state officials what he identified as six "critically important" goals they would have to meet in California prisons to satisfy their constitutional burdens. Solve these problems, he told them, and you will be in compliance with federal obligations and thus free from federal oversight. The six items were:
Re-evaluation and updating of CDCR [California Department of Corrections and Rehabilitation] suicide prevention policies and practices;

Ensuring that seriously mentally ill inmates are properly identified referred, and transferred to receive necessary higher levels of mental health car, including inpatient care only available from DMH [Department of Mental Health];

Addressing ongoing issues related to placement of EOP (Enhanced Outpatient) inmates in administrative segregation, particularly those housed in such units for over 90 days;

Completion of the construction of mental health treatment space and beds for inmates at varying levels of care;

Full implementation of defendants' new mental health staffing plan; and

Refinement and implementation of MHTS.net [the defendants' internet-based mental health tracking system] to its fullest extent and benefit.
To win, Judge Karlton wrote, "defendants must prove that there are no ongoing constitutional violations in the delivery of mental health care to the plaintiff class." First, he turned to suicide prevention. We can't eliminate all suicide risks, California had argued, and we've put into place a "thorough, standardized program." Not good enough, the judge ruled*: "The facts show that the rate of inmates suicides is not declining, and more than seventy percent of inmate suicides in California involve significant inadequacies about which defendants have known for years."
Next, the judge addressed "administrative segregation," the grim policy by which state prison officials segregate mentally ill prisoners in isolated cells or wings that naturally exacerbate the inmates' illnesses. (This is an ongoing problem in federal prisons, too.) Here, Judge Karlton didn't need to look further than to California's own experts -- their testimony undercut their client's argument that prison officials had "developed and implemented procedures" to better protect mentally ill prisoners from "administrative segregation or security housing" units.
California has made significant progress in "access to inpatient care" by making more beds available to mentally ill inmates who need special care, Judge Karlton found, but not yet nearly enough to merit dissolving the judicial oversight over the prisons. "Until the necessary number of mental health crisis beds are complete and operational," he wrote, "mentally ill inmates in need of this care are held in conditions that defendants have now agreed should be used to house inmates in need of crisis care."
Prison staffing -- or the lack of staffing -- was another one of the judge's six points of emphasis. California argued that despite "ongoing mental health staffing vacancies," the level of care of mentally ill prisoners was no longer "significantly" impaired. Nonsense, the judge responded, citing California's own statistics of the vacancy rates of its psychiatric staff at prisons. "Chronic understaffing continues to hamper the delivery of constitutionally adequate medical care," he wrote, "and is a central part of the ongoing constitutional violation in this action."
And on and on. What's striking about the opinion is not just that the judge called out state officials for their misconduct, but that there is so little basis anyway for California's request to regain full control over its prisons. Neither the special master appointed by the court to evaluate prison conditions nor, in some cases, the state's own experts support the state's pitch. Did Gov. Brown know this when he made his bold announcement in January? Did he know how bad the state's evidence was? If not, why not? And if so, is he now going to apologize for being so wrong?
California's Response
Three months ago, Gov. Brown declared: "At some point, the job is done." When Judge Karlton, relying upon the special master's findings, didn't agree, the state last week blamed both the judge and his nationally-respected expert. "It's unfortunate that the judge didn't give the appropriate weight to reports by national experts who found that CDCR is providing constitutional mental health care to inmates, and in fact is a model for the nation," said Deborah Hoffman, a state spokeswoman with an evident sense of humor.
The state will appeal the ruling to the 9th U.S. Circuit Court of Appeals, hoping its panel will overturn Judge Karlton. Don't bet on it. After Judge Karlton called out California officials for their unethical behavior, after he noted that he had the authority to disregard in its entirety the state's expert testimony on the basis of that misconduct, he nevertheless evaluated the state's argument on its merits. He still didn't see enough progress to reward California and it's hard to imagine the 9th Circuit overturning his decision.
Which no doubt will bring another round of whining from the governor. After Friday's court ruling, another court ruling designed to help all those mentally ill inmates get the medical treatment the Constitution requires them to receive, one of the prisoners' attorneys had a bright idea of his own. "Instead of wasting the taxpayers' money on an appeal," said Ernie Galvan, "why not use the money to fix the problems?" Why not, indeed. There is only one reasonable way out of this situation -- California has to pay the price for the mess it has created.
The Father
It is fitting that Gov. Brown is the first named defendant in the case. He should be on the defensive, given the gulf between his grand declaration in January and the grim evidence identified by Judge Karlton in April. The governor's position is even less tenable, and his place as a named defendant here is even more poignant, given his family's history with the issue. For example, in "California Rising: The Life and Times of Pat Brown," Ethan Rarick writes about the role Brown the Elder, then attorney general of California, played half a century ago in discovering the severe mistreatment of mentally ill patients in state hospitals:="#v=onepage&q=%22pat%20brown%22%20state%20mental%20hospitals%20modesto&f=false">
For three months Department of Justice investigators burrowed their way into the state's mental hospital in Modesto. They found horror stories. Patients, it was said, had their arms twisted until the bones broke. They were beaten with rubber plungers or forced to drink from toilet bowls. The hair was ripped from their scalps. And if there was little humanity, there was less treatment: few patients received adequate psychiatric care, record keeping was slipshod, doctors shirked their duties ...
There is little doubt that Brown would have been concerned about conditions in the hospital; it fits with much else in his life and career. But he also admitted years later that, influenced by his own ambitions, he worked to his own advantage.
There it is. Pat Brown in the 1950s found it politically advantageous to uncover and try to root out the mistreatment of the mentally ill. Today, his son finds it politically advantageous to pretend the state is doing all it can to prevent the continuing mistreatment of the mentally ill in state prisons -- even to the point of tolerating unethical behavior by state officials. The governor can whine all he wants about how cruel and unfair the federal oversight of state prisons is -- but it is nothing compared to how cruel and unfair the conditions of those prisons continue to be for thousands of mentally ill inmates.
---
* Pages 32-43 of the judge's opinion are particularly shocking for what they reveal about the callous manner in which state officials have treated (or not treated) suicidal prisoners. If you want to truly understand how bad things are in these state prisons, read that portion of the ruling and this as well.