Housekeeping Notes, Plus Classic Air Travel Video
A video I was being sarcastic in recommending, and one other about which I am sincere
In a day or two I will resume normal programming here.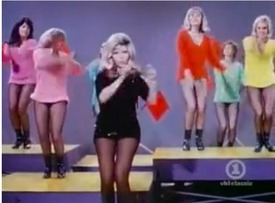 In the meantime, many people have written to ask whether I was being literal and sincere 
in saying
that Nancy Sinatra's "Boots" video was "the best part of the 1960s."
For clarity: No.
If Andrew Sullivan hadn't already patented the concept of the 
Hathos Alert
, I would have applied it here. By those terms, the video is pretty great.
Also, as several readers have pointed out, "Boots" had in its time a distinct political connotation, beyond just being an object of hathos. Details below*.
Let me now switch to completely sincere mode in endorsing this classic
parody video
, via the
Atlantic's own John Tierney
. If you see nothing else, watch the part from time 0:26 to 1:12, which is taken from a Nicoderm commercial that made a star of
Anna Silk
. But you probably should see other parts too.  For instance, starting at 4:24, or 2:28, or ...
Now back to work, including filing that tax extension.
>>During television news coverage in 1966/67, the song was aired as a soundtrack as the cameras focused on US Infantrymen on patrol during the Vietnam War. Later, during that same time frame, Sinatra traveled to South Vietnam to perform for U.S. servicemen. It was used on the soundtrack to Stanley Kubrick's Full Metal Jacket (1987). Sinatra also sang it on an episode of China Beach in the late-1980s. In 2005, Paul Revere & the Raiders recorded a revamped version of the song using Sinatra's original vocal track. It appeared on the CD Ride to the Wall, Vol. 2, with proceeds going to help Vietnam veterans.

In addition, the Fembots were introduced to the strains of the opening and closing notes of the song in Austin Powers: International Man of Mystery.<<