Fund Early Education With Tobacco Taxes: An Interesting Longshot
President Obama's proposal is probably doomed. But here are the pros and cons.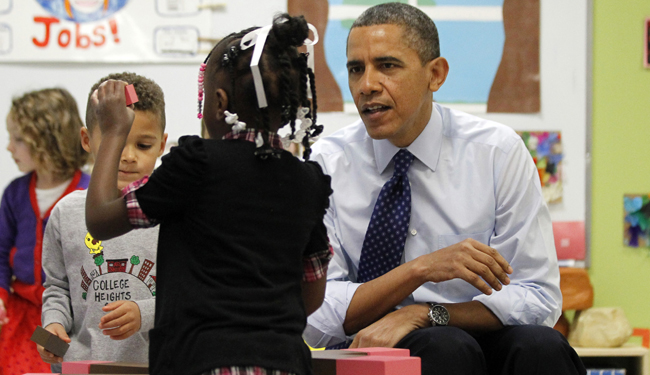 Jason Reed/Reuters
President Obama's budget request includes a proposed steep hike in tobacco taxesto help pay for expanded early childhood education programs. As a demographic group to tax, smokers make an easy target. And it's tough to argue that more families shouldn't have access to affordable, high-quality early education options for their children. But the president's proposal to raise the tobacco tax by 94 cents per pack remains a long shot.
I asked Rick Hess, resident scholar and director of education policy studies at theAmerican Enterprise Institute, to lay odds on the tobacco tax hike surviving. "I'd put it at about 5 percent," Hess said. "If it's a question of whether the president will get some kind of smaller tobacco tax boost and pre-K spending increase, I'd put the odds of that - as part of some kind of big bipartisan budget deal - at maybe 15 or 20 percent."
Using tobacco tax revenues to provide programs and services for needy kids isn't a new idea. The federal cigarette tax was raised sharply in 2009 - after a substantial fight by the tobacco industry - and went toward expanded health care coverage for children. Additionally, 14 states currently earmark cigarette tax revenues for education-related spending, and another 11 states add the tobacco-tax money to their general funds, which could include education among other expenditures. (For more on this topic check out the American Lung Association's comprehensive online database of State Legislated Actions on Tobacco Issues.)
The president's proposal could yield benefits on multiple fronts, by not only funding pre-K but also reducing tobacco consumption. In the call with reporters last week, Duncan said the tobacco tax would bring in upward of $75 billion over 10 years, and that 233,000 fewer youth would start smoking. The Campaign for Tobacco-Free Kids has praised the proposal, and said it could result in 1.7 million fewer kids growing up to be addicted adult smokers, prevent 626,000 premature deaths by reducing the number of youth smokers, and save the nation $42 billion in associated health care costs.
But tying a program's funding to a so-called "sin tax" - be it tobacco, alcohol or a state lottery - isn't without risk, both of the ethical and fiscal variety. On the ethical front, can you discourage a behavior choice at the same time that you profit from it, even if those dollars go to something as well-intentioned as high-quality preschool? And on the fiscal side, what happens when more people do, indeed, stop smoking, and the revenues inevitably decline?
Historically, sin taxes yield diminished or flat returns over a period of time, said Mike Griffith, a consultant who works with the Education Commission of the States, a legislative and research clearinghouse for policymakers. Revenues from sales and income taxes grow along with the economy but that's not necessarily the case with sin taxes. If a preschool program is largely dependent on tobacco revenues, eventually "you're either going to give each kid fewer resources, or serve a smaller number of kids," Griffith said. Scaling back social programs is particularly tricky when the funding comes from a successful ballot initiative. To voters, that's the equivalent of a contract.

In the Washington Post Bryan Hatchell, a spokesman for R.J. Reynolds, "questioned the wisdom of paying for preschool with a tax that will drive down cigarette purchases, ultimately reducing the funding stream for the program." From education reporter Lyndsey Layton's story:

"If you're successful in driving down smoking, you're dooming programs to nearly immediate budget shortfalls," Hatchell said. "This means that states will be left holding the bag for funding, or even more new taxes will have to be imposed in the future."
(The Campaign for Tobacco-Free Kids pushed back Tuesday against that argument, and what it said were "false claims" by the tobacco industry fighting the tax increase.)
Because the decline in sin tax revenue is fairly predictable, there are ways to prepare for it and to make sure programs aren't derailed by a lack of funding, Griffith said. One solution might be to capping the number of children who qualify for the new federal early learning program or only allowing a certain number of states to be added each year. But that would almost certainly be less popular from a political standpoint than opening it up to everyone.
In many states, there is some funding for preschool for kids from the poorest families. Parents earning too much to qualify for federal Head Start programs but not making enough to foot the bill for a private preschool would particularly benefit from the new federal initiative.
"This is a good step to help low and moderate-income families," said Helen Blank, director of child care and early learning for the National Women's Law Center in Washington, D.C. "You get a double benefit - there's higher quality pre-K, and research shows (the tax increase) can reduce smoking in older children."
One criticism of the tobacco tax is that it will unfairly target lower-income consumers, who also make up a larger percentage of smokers. As the Washington Post reported, adult smokers had a median household income of $27,000 in 2011, compared to $45,761 for non-smokers, according to the federal Centers for Disease Control. But Blank said that's not a valid reason to block the tax. "We know smoking isn't good for people," Blank told me. "You're not taxing essentials they need. You're taxing an activity that has incredibly bad health effects for children and families."
Even if the proposed tobacco tax increase goes through it might not go far enough. "It just doesn't seem like a long-term solution," said Kathleen Porter-Magee, senior director of the High Quality Standards Program for the Thomas B. Fordham Institute. "If we're going to invest in pre-K we should find a way to invest in pre-K. I don't think paying for universal early childhood education through a sin tax is going to get us where we need to be."
There are also some practical logistical questions to answer - including the definition of "high quality" that preschool providers would have to meet in order to qualify for the funds. (The New America Foundation has some of the details here, and it looks like it might be tough for more than a handful of states to satisfy all the prerequisites at the outset.)
"It's interesting that President Obama is proposing this at the federal level," Porter-Magee told me. "But states should be in control when it comes to deciding how those revenues would be spent and how they would deliver preschool."