For American Muslims, Dread
"We are doing a bad job of reaching out to young people," he said. "Extremists are doing a great job."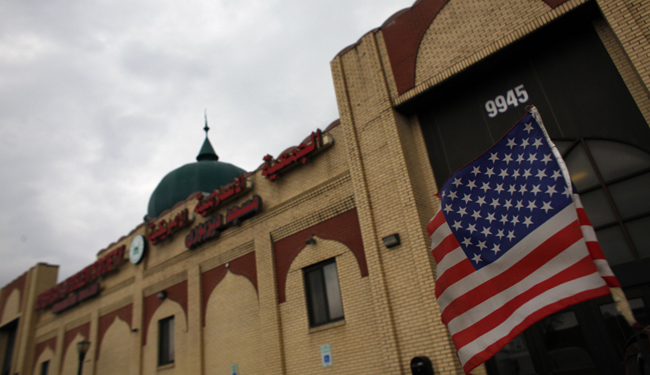 Eric Thayer/Reuters
Louisville, Kentucky - Friday morning, four Pakistani-American doctors dressed in business suits and medical scrubs sat in one of this city's most popular breakfast spots and fretted. At an adjacent table, a middle-aged woman grew visibly nervous when their native land was mentioned. One of the doctors, a 47-year-old cardiologist, was despondent.
"We were all praying this wouldn't happen," he told me. "No matter what you do in your community, that's the label that is attached."
Another doctor worried that years of outreach efforts by the city's 10,000-strong Muslim community, a mix of Bosnians, Somalis and Iraqis, would be lost. Thursday, he sent a letter to the local newspaper condemning the Boston attack "no matter who committed it." When news broke Friday that the two suspects were Chechen Muslims, his family grew nervous.
"Five minutes ago my mom called from Copenhagen to see if I was ok," the 41-year-old geriatrician said. "It rattles all of us."
Clearly, Bostonians have and will suffer the most from the marathon bombings. Hundreds of thousands of innocent people "sheltered in place" in and around Boston Friday. The injured now face months, if not years, of arduous recuperation. And the families of the dead will never recover.
It is by no means equivalent but the attack also impacts the United States' roughly 2.5 million Muslims. As television screens displayed the words "the terrorist next door" Friday, a sense of dread spread among Muslim community leaders here.
"When this happens," the cardiologist said, "it just gets tough."
Twelve years after the September 11, 2001 attacks, some see it almost as a cliché to say all Muslims should not be blamed for the actions of a radical few. But it is vital that understandably anxious Americans adhere to that principal. Whatever their motivations, the Tsarnaev brothers are not representative of Muslims in the United States -- or the world.
In the days and weeks ahead, Americans will learn chilling details about the Tsarnaev brothers. Links to groups outside the United States may be revealed. Their years in the America will be dissected. The immigration policies that allowed their families to emigrate will likely be criticized.
But it is important not to exaggerate their impact. Days of chaos have unfolded in Boston but the attacks have not paralyzed the country. Four deaths and 176 injuries are heart rendering but they are a tiny fraction of the 3,000 who perished on September 11. The attack's primary legacy is fear. The actions of two young men will focus an enormous amount of suspicion on Chechens and Muslims across the nation.
Based on initial reports, the Tsarnaevs' story is chilling. Two brothers, one an aspiring boxer and the other a high school wrestling captain, were seemingly transformed overnight into soulless killing machines. I suspect, though, that the process took years.
In 2008, the Taliban kidnapped two Afghan colleagues and me after inviting us to an interview. Held captive in the tribal areas of Pakistan for seven months, we found that Arab, Afghan and Pakistani militants had created a sophisticated system of schools, training camps and indoctrination videos that slowly severed young men's bonds with their families.
The only relationship that mattered, recruits were told, was their relationship to God. The only cause that mattered, clerics preached, was stopping a vast - and nonexistent - Christian-Jewish-Hindu conspiracy to obliterate Islam from the face of the earth.
For six weeks, I lived with a suicide bomber who was convinced that American forces were forcibly converting Afghan Muslims to Christianity. Neckties, he insisted, were secret symbols of Christianity. Deeming them unclean, he burned newspapers with photographs of women without veils.
No matter how long I spent talking with him, I could not alter his attitudes. Radicalism gave him a cause, a community and an identity.
Louisville's Muslim leaders embrace an entirely different interpretation of Islam. Tolerant, worldly and passionately committed to education, they accuse Saudi Arabia of spreading an intolerant Wahhabist interpretation of Islam that distorts their faith and endangers their lives. The cardiologist, who asked not to be named, said he does not fear attacks in America. Rather, he fears for the safety of his family in Pakistan.
Last year, Sunni Wahhabist militants in Pakistan killed 400 Shias, who they consider heretics, particularly doctors. One victim was a close friend of the cardiologist and a fellow physician. Jihadists sprayed the man's car with bullets, killing him and his 11 year-old son.
"My brother is a doctor over there," the cardiologist said. "They target all the high-end professionals."
Mohammad Babar, the Pakistani-American geriatrician, was happy to be quoted by name. Only his grandmother remains in Pakistan. He said the United States was a "safe haven" where he can practice and spread a moderate form of Islam without fearing assassination. In the wake of the Boston attack, he vowed to redouble his efforts.
"We are doing a bad job of reaching out to young people," he said. "Extremists are doing a great job."
Tensions exist in Louisville. Residents of a neighboring county recently rejected an effort to create the area's first Muslim cemetery. And clearly not every member of the Muslim community here is as broadminded as Babar.
Since moving to Louisville in 1995, the peripatetic community activist has joined the local Rotary club, formed a close relationship with the mayor and set up meetings between Muslim, Christian and Jewish leaders. Next week, he is holding an interfaith "open house" at his mosque. Next month, he is helping coordinate a visit by the Dalai Lama.
"We need to let people know," Babar said. "We need to let our communities know what we think."
The problem, he argued, was radicalism.
"In the whole world," Babar said, "the far right is getting stronger."
He is right. The enemy is not Islam. It is extremism.
---
This post also appears at Reuters.com, an 
Atlantic
 partner site.