Farm-to-Table in Communities of Color
Yuppie-style food activism gets more complicated in communities where farming comes with historical baggage.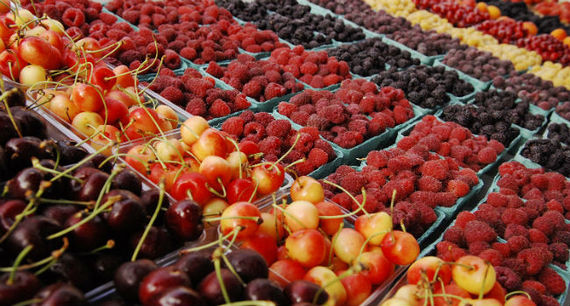 Jonathan Ernst/Reuters
"Why would I want to go back to picking cotton?" That's one response you get when you talk to young people of color about farming and food sovereignty, says D.C. farmer and food activist Natasha Bowens. Yet food sovereignty is of vital importance in the broader context of social justice. According to a report by The Applied Research Center, 10 percent of black and Latino families lack access to adequate food--"three times the rate for white households." And while about a third of whites live in an area with a supermarket, only 8 percent of blacks do.
Bowens, author of the blog Brown Girl Farming and founder of The Color of Food, a directory of farmers of color, didn't start out in agriculture. She had never set foot on a farm. But after working at a D.C. think tank on issues related to food, she says, "I was interested in knowing where my food came from." She quit her job to devote herself full-time to farming and food justice. Focusing on communities of color affected by "the broken food system," as she puts it, Bowens worked her way through Detroit, Chicago, and Brooklyn, founding The Color of Food after meeting and talking with Farms to Grow founder Gail Myers at the Black Farmers and Urban Gardeners Conference in 2010. Bowens wanted to go a step further than simply identifying and listing farmers of color across the country. So she hit the road for five months to speak in person with more than 60 farmers of African American, Native American, Asian, and Latino descent.
What she expected to see were "farmers waiting on support from the government." When it comes to funding, black farmers receive about one-third or less than what other farmers receive, which has resulted, Gail Myers points out, in black farmers losing their land. In fact, this asymmetry led a group of black farmers to sue the USDA for damages, claiming discriminatory treatment. The farmers agreed to a settlement, and in 1999, over 15,000 claimants received restitutions. Soon afterward, Native American, Latino, and female farmers stepped forward with their own civil rights lawsuits against the USDA. Discriminatory lending has cost the federal government billions in settlements.
But while the USDA continues to try to make amends for its institutional racism and sexism, Bowens says, "I was really inspired by folks not waiting around." Instead, they were "stepping outside of the obstacles and the structural racism" to create the organizations and mentorship programs that they needed. They were claiming ownership of their land and food, which is precisely what the modern term "food sovereignty" means.
She met Cynthia Hayes of Savannah, Georgia, who runs the Southeastern African-American Farmers Organic Network (SAAFON). This African American grassroots organization trains and mentors black farmers in organic growing, not only to promote sustainable farming, but also to help these farmers of color yield more crops and preserve their land. Bowens also met Sará Reynolds Green of Saint Helena Island, South Carolina. Green lives on a farm that has been in her family for over a century, where she teaches African-American youth the value of getting back to the land and growing their own food.
Through connecting younger farmers of color with their elders, Bowens is hoping she can reclaim the lost history of marginalized farmers and jump-start a more inclusive food justice movement. "If you're trying to farm," she says, "you need to go to the people who have been doing this already for years." Her upcoming Color of Food book contains the dozens of stories and photographs that she captured when speaking with veteran farmers of color. The project, as she sees it, is a way not only to preserve the tradition of black farmers, but also to build solidarity.
It's true that, for youth of color, heading back to the farm recalls a fraught history of slavery and exploitive migrant labor. She says that immigrant youth often say, "Why would I go back to the farm that my immigrant parents worked so hard to get us off of?" For young people of color, claiming direct access to food by picking up the pitchfork at a local urban farm can feel like a step backwards.
"My hope is that we can work past that," Bowens says. "Who's going to grow our food in the future?" Right now, black farmers are a dying breed. Fewer than 1 percent of America's farms are owned by blacks, down from 14 percent in 1920. Those who remain may not be around for much longer. "The average age of the farmer is about 60 years old," Bowens says, "and it's even higher for black farmers." Bowens, then, is part of a tenuous link between aging black farmers and, she hopes, a new wave of agrarians.
If fellow young food activists of color can't look past the stigma of farm labor, and the food justice movement doesn't prioritize communities of color, then the goal of food sovereignty will remain out of reach. Some food activists try to fix urban food systems by starting gardens and farmers markets, but they tend to come from outside the community, Bowens points out. "They were creating these solutions without even talking to the community or letting them be at the table." The food justice movement, for all its talk of eating local, often ignores the need to empower these local communities of color. That means racial and economic equity in the food system faces a number of obstacles, from discriminatory government lending to, now, top-down fixes that exclude those who are affected the most. It's more important than ever for farmer-activists of color to build their grassroots movement. "We don't have to wait around for the policy makers," Bowens says. "We can make our own solutions."