Cops Who Shoot Innocent People Should Have Their Guns Taken Away
That simple rule is the least bad way there is to protect residents from being wrongfully shot.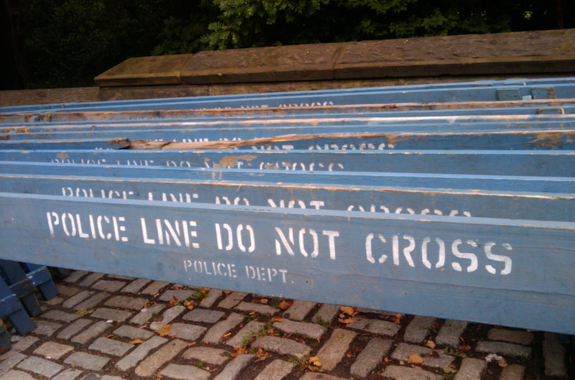 Flickr/lkrichter
On a Sunday afternoon, Douglas Zerby, 35, left a Long Beach bar feeling too drunk to drive home, walked to a nearby house, and sat on the stoop. While waiting for his friend to come home, he played with the nozzle from a nearby garden hose. A neighbor, mistaking it for a gun, called police. The officers who arrived on the scene did not announce their presence, identify themselves, or tell the seated man to drop what they believed to be a gun. They did shoot and kill him, later claiming that he pointed the hose nozzle at them. The Long Beach Police Department says they acted reasonably. The district attorney cleared them of criminal wrongdoing. And on Thursday, a federal jury awarded the dead man's family $6.5 million in a civil suit, concluding after brief deliberations that the officers acted negligently and violated Zerby's civil rights.
Would you want those officers patrolling your neighborhood? I wouldn't. I presume their mistake was an honest one. But making the right call in difficult, stressful situations is a crucial part of the job. And there's no mistake more serious than needlessly shooting and killing an innocent. I can't tell you exactly how often it happens -- or even how often police officers kill in general. "The nation's leading law enforcement agency collects vast amounts of information on crime nationwide, but missing from this clearinghouse are statistics on where, how often, and under what circumstances police use deadly force," Alan Maimon reports. "In fact, no one anywhere comprehensively tracks the most significant act police can do in the line of duty: take a life."
But it sure seems like Southern California's police officers are frequently using deadly force in situations where they shouldn't, and that efforts to prevent such mistakes are woefully insufficient. That perception is common now due to what transpired during the manhunt for Christopher Dorner, the ex-LAPD officer who targeted his former colleagues, killed three people, and caused a frantic manhunt across the region while he remained a fugitive from justice. During the ordeal I felt tremendous sympathy for all police officers and their families. But I worried about stressed out police accidentally killing people they mistook for their antagonist.
It seemed no one was safe. Chris Dorner was a 6 foot tall, 270 pound black man. Early one morning, LAPD officers in Torrance, California opened fire on a vehicle believing Dorner was inside. As it turned out, they were firing on two women delivering newspapers: Maggie Carranza, 47, and her 71-year-old mother, Emma Hernandez. They later said that there was no warning at all before police began riddling their vehicle with bullets. Thankfully they weren't killed.
David Perdue, a skinny white man, had a similar experience:
Perdue left his Redondo Beach home and was driving through Torrance to the beach for some early morning surfing on Thursday when he was stopped. Officers guarding the home of a law enforcement official targeted by Dorner questioned him because his Honda Ridgeline pickup truck resembled the vehicle investigators believed Dorner was driving.

Seconds after he drove away, Perdue's truck was broadsided by a Torrance police car at the corner of Flagler Land and Beryl Street, said his attorney Robert Sheahen. "These lunatics broadsided the side of his truck, spun him around and started shooting at him," Sheahen said. "Now they're attempting to say they couldn't tell if the guy they were shooting at was a white guy or a black guy because David's airbag went off."

Perdue suffered a concussion and a shoulder injury in the attack, which took place minutes after LAPD officers opened fire on another pickup truck nearby. In that instance, two women delivering newspapers were targeted. One woman was shot twice in the back and the other was injured by broken glass. Torrance Police Department released a statement explaining that Perdue's truck was "suddenly leaving the area" and seemingly veering into a patrol car when the two vehicles collided at 5:15 a.m. "In the split seconds available to them the action was appropriate to intervene and stop the actions of the driver of that vehicle," a Torrance police statement reads. The department also offered to pay Perdue's medical bills and rental car expenses.

Isn't that statement from the police incredible? "In the split seconds available to them the action was appropriate to intervene and stop the actions of the driver." Actually, no, it wasn't appropriate. Whether unfathomably or understandably, the officers actions were undeniably wrong and evidence for the proposition that they are unable to make the right call in mere seconds.
Here's the rule I'd like to see adopted: if you shoot at someone who turns out to be unarmed and innocent of any crime, you never get to work as an armed officer patrolling the streets again.
It's automatic.
I understand that even good officers can make mistakes. But the best evidence we have of someone's skill in these impossible-to-simulate situations is how they perform in the rare instances when they happen; it's important to disincentivized these sorts of errors more given their frequency; and police can't be trusted to adjudicate them on a case by case basis anyway.
Would my standard occasionally result in the unfair removal of an officer from armed patrol? Sure, but it would also likely reduce the incidence of innocents shot or killed by raising the cost to officers and signalling that there isn't ultimately anything that fully excuses the mistake. Officers tempted to object should think of it this way: The public isn't saying it's certain the officer is guilty, it is erring on the side of its own safety by taking preemptive action in self-defense.
Understandable, isn't it?