Can ROTC Solve Its Minority Problem?
As the training program returns to New York City colleges, the military has a chance to make officers' ranks more diverse.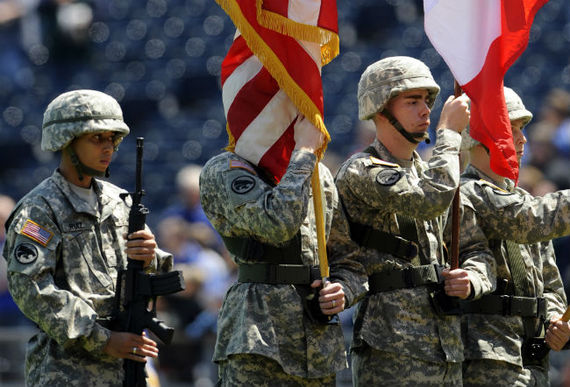 Luqman Stroud thought he'd be the last person who would end up in a college class that prepared students to become military officers. A Brooklyn native who got his GED and left John Dewey High School early because, he says, he was bored with school, Stroud was making good money in his family's construction business at age 20. And even when he was talked into giving college a shot, it was with the goal to become a policy lawyer, not an army officer. Besides, he had reason to be wary of armed authority: At age 13, he says, a New York police officer handcuffed him during an argument at his house, put a gun to his head and said, "I've killed three of your kind already."
Yet last fall, the 25-year-old Stroud found himself sitting in Military Science 1 at York College, part of the effort to re-establish Reserve Officers' Training Corps programs at the City University of New York for the first time since before the Vietnam War, and the larger effort by the military to put themselves back in urban areas throughout the country. Drawn by an interest in military history -- and the hope of an easy A -- he'd enrolled in the class during his senior year more as a test than anything else. After a lifetime of challenging police officers when they tried to search him without cause, Stroud wanted to see what it would be like to challenge the Establishment on its own turf. He knows soldiers aren't cops, but they have uniforms and guns and they work for "the man," and Stroud will tell you that the perception is the same. "I walked in there with a little bit of a chip on my shoulder," he recalled. "What can a guy in the Army teach me as a civilian?"
It's complicated interactions like these that promise to shade the military's return to New York City colleges after a four-decade absence from urban areas, an experiment that many both within and outside the U.S. armed forces hope will begin to address a persistent lack of diversity among officers. African Americans made up 12 percent of the U.S. population and 16 percent of enlisted personnel in 2008, the latest year such data is available, but comprised just eight percent of active-duty armed forces officers. Hispanics accounted for just five percent of military leaders that year, even though they represented 15 percent of the population, and 12 percent of enlisted personnel. For many in minority communities, the message behind those numbers is clear: The military would love to have them, just not in positions of much power, and some are skeptical of even the supposedly great career that lies at the end of four years of armed forces training. After all, officers and enlisted both see battle.
"Underserved: A Case Study of ROTC in New York City," a 2011 report authored by Cheryl Miller of the conservative American Enterprise Institute, worried that army officer recruitment had become restricted to the South and Midwest, which alienated the officer corps from much of American society. "By overlooking institutions like CUNY -- among the top producers of African American baccalaureates -- the military is not accessing minority officers fully reflective of the population," Miller wrote. "This absence might account, in part, for the lack of black officers in the top leadership ranks." The implied benefit in having minorities more a part of the military is the same for having more minority groups be a part of the political process. For blacks and Hispanics, if their numbers are larger, their voice is louder. For the armed forces, a louder minority voice means decisions will be more representative of what the nation wants.
Another part is that a lot of blacks and Hispanics don't trust the military. Stroud didn't. He had never gotten along with policemen, so why would he get along with other people with guns and uniforms?
"People in those communities perceive the military as an organization that will send their children off to war," said current York College ROTC chief Lt. Col. Juan Howie, himself an African American. "No one wants to have their children sent off to war."
The question now facing the military: How do they sell themselves to communities of color not as an organization that will put their children in danger, but as one that will open up career paths?
***
For Lieutenant Colonel Joe Pishock, the road to running the Reserve Officers' Training Corps programs at two New York city colleges began in 2007. He was an army communications officer sitting with his wife, an army physician's assistant, on a helipad in Diyala, Iraq, waiting to be picked up by a chopper. She looked at him and asked, "You ever think about doing something completely different?"
Pishock says he gazed past her at the orange blotches of rocket blasts lighting up the black horizon, looked at both of them dressed in pixilated green-gray camo, and heard bullets pop in the distance. He chuckled. "This isn't different enough for you?"
That was the beginning of the conversation that two years ago landed Pishock a job as commanding officer of the Reserve Officers' Training Corps at St. John's University in Queens. At the time, New York had only four ROTC programs throughout the five boroughs, despite its 80 colleges and 600,000 students. Of the 13 programs in place at city colleges in the 1960s, most were shuttered after protests during the Vietnam War, including the City College program that had graduated former Secretary of State Colin Powell.
When Pishock arrived at St. John's, he also reached out to York College, the City University of New York school just down the street, about developing a program there. Along with York dean William Dinello, Pishock pieced together a curriculum with a focus on communication and leadership that fit within the school's humanities department. Dinello, whose brother is a retired colonel, searched the school and found an ex-Air Force pilot, a former Navy nurse, and a professor who had been through military classes in the '50s, and instructed them to show other faculty that Reserve Officers' Training Corps was a class, not a way to put students in front of bullets. Last March, a vote of the school senate overwhelmingly approved the return of military classes; since then, Baruch College in Manhattan and Medgar Evers College in Brooklyn have also launched programs, and there are tentative plans to begin one at the College of Staten Island. Even City University of New York's flagship school, City College, passed an armed forces class curriculum on March 21. The effort hasn't gone unnoticed: Former four-star General David Petraeus recently announced that he will be a visiting professor for a year at the City University of New York's Macaulay Honors College.
People in communities of color "don't understand what ROTC is," insisted Howie, who works with Master Sergeant Roberto Alvarez, formerly of St. John's. "They sent a black and a [Hispanic] guy to do what only a black and a [Hispanic] guy could do," he said. "Their guard doesn't go up when we see them, because we look like them. They realize that our situation is no different from theirs."
Whether that's true or not, some believe that military instructors are too loyal to the armed forces, and not enough to the communities around these schools or the students who might join.
"We are against recruitment of college students altogether, regardless of the position they are being recruited for," said Julian Guerrero, a staff member at Youth Activists - Youth Allies in New York City. "We believe that often these recruiters give you a false idea or false information in regards to the benefits that they might receive out of their service or the conditions of their service."
Dennis Yanza, a York ROTC freshman from Brooklyn, said not everyone around him approves of the armed forces. "I didn't talk about it a lot because, the friends I was around with, they didn't see the military the way I saw it," he said.
Luqman Stroud doesn't quite know how he sees the military, either. He understands that being a part of a labyrinthine organization like the armed forces could help him understand how large companies work, which would help him be a better policy lawyer. And he knows that some time in the military would look great on his résumé.
But he is already 25, and though he only started ROTC seven months ago, he's a senior about to graduate. He's thinking about a master's degree and he's worried that the military might just put more time in between him and the day he stands in front of a judge to fight some of the perceived injustices he faced growing up. Maybe the armed forces would have been a good move when he was younger. Now, he's just not sure the time is right.
If it is, Howie's arranged to speed up the process for Stroud to become an officer by sending him to a summer leadership academy. If it's not, then the military missed out on Stroud, or maybe Stroud missed out on the military. Either way, his and his fellow students' time with "the man" might be the first steps needed to repair the relationship between minorities and the armed forces.