American Infrastructure Watch: Two China-Based Reports
Seeing ourselves as others see us, chapter 12,427
Over the years I've chronicled the activities of Liam Casey -- an entrepreneur originally from Cork, Ireland; then based in Southern California until he couldn't get a green card; then working since the late 1990s in Shenzhen, southern China, where he has been at the center of the Chinese outsourced-manufacturing boom. Here are two articles about him, from 2007 and last year.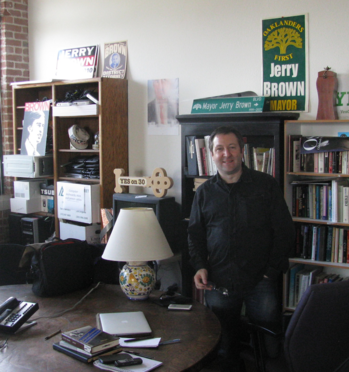 By chance I saw Liam Casey twice in the past few days -- first on Thursday afternoon, in Washington, and then 24 hours later when we both were in Oakland, California (as shown at right).
On his way into Washington, it had taken Liam one hour and 45 minutes simply to go through passport inspection at Dulles airport, even before baggage claim and the 40-minute trip into town. Of the 25 passport lanes at Dulles, on a weekday, only four were open and handling passengers. After our chance meeting in California, he was on his way back to China -- and to the Four Points Sheraton, in Shenzhen, where he has lived for years and where I have often stayed. Here was his report comparing the China-arrival experience, from Hong Kong airport and across the frontier to Shenzhen, with what happened at Dulles:
>>Good morning from the Four Points in Shenzhen!

The good thing for China is that the middle class market is growing [JF note: this had been the topic of the meeting we attended in Washington] and the bad thing for China is that the middle class market is growing. The middle class in China want access to better food, fashion, cars, holidays etc. That's going to be a real headache for the government. China Inc will struggle to meet the requirements this is an opportunity for USA Inc.



USA Inc needs needs to get working. It's as if it doesn't see the big picture. I just landed in HKG this morning and you cannot compare it to IAD. We landed at gate 64 one of the furthest away gates. From the plane to the Four Points in Shenzhen it was 1 hour and 15  mins. That's 30 less than just for immigration at IAD.

HK immigration [inbound], baggage (I checked a bag) customs, car to HK/SZ border, HK immigration [outbound] and walk through the SZ immigration control. Then a car ride to the Four Points. The experience at IAD is very telling. What most people were upset with was the attitude of the immigration officers. They were sitting in their booths chatting to each other ignoring the people in the queue. it's as if they don't have a purpose in their work.



If America gets its act together it will be a huge winner in these times.<<

That is what we call ending on an optimistic note. Now, from another American I know who has lived for years in China:
>>A good friend and academic colleague (prof at [a well-known West Coast university]), Chinese citizen with a green card, 28 year resident of the USA, is in the customs line at the Bradley Terminal [international-arrivals area at LAX.]

Asked if he had any cash, he answered 'none'. Then, realizing he had some pocket money, he said, "Oh, I forgot - I have a little. Poquito." (smiling)

"Please step over to that line, sir."

In 'the line you don't want to be in', he was searched carefully. He asked why.

"We have a lot of rich Chinese trying to bring lots of money into the USA these days."

"Do I look like a rich Chinese?"

"Could be, sir."

Upshot was that they confiscated both mobile devices and the laptop. He received the mobile devises several days later, they still have the laptop.

He thinks maybe it was the attempted Spanish that ticked off the Latino officer.<<

Again, for making a joke to a customs agent, a professor coming back to work lost control of the electronic devices through which many people manage their business and personal activities. You can choose how you would like to categorize these reports: under "the way we live now," or "seeing ourselves as others see us." Other possibilities: "life under the sequester." Or, "annals of the security state."