'What Is the Deal With Donald Trump?' Or With Buzz Bissinger?
Those ever-droll Scots strike again.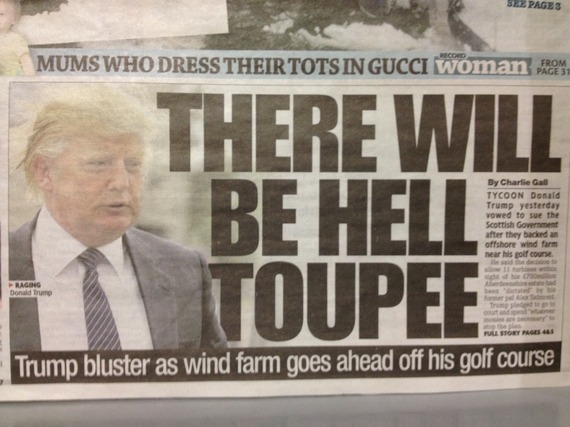 I mentioned
earlier today
that our new Atlantic issue has a lot of very strong stories. One of them, by William D. Cohan, is a delightful profile of America's favorite birth-certificate skeptic, under the title "
What Exactly Is Donald Trump's Deal?
"
A friend in Scotland sent a photo of this front page
from the Daily Record
, about Trump's latest dispute with the Scottish government. You'll appreciate it all the more after reading Cohan's article. I have seen this particular "hell toupee" news-headline pun popping up in different places over the years, but this rendition offers a nice words/picture combo.
Speaking of "What Exactly Is the Deal?", I have gone back and forth about Buzz Bissinger's extended "shopaholic"
confession in GQ
. This is either one of the most subtly skillful and elaborate April Fool's Day hoaxes anyone has ever pulled off ... or one of the most unintentionally embarrassing, you-have-to-turn-away-because-it's-cruel-to-keep-watching acts of unaware self-humiliation anyone has ever committed. Because I so greatly admire Bissinger's
A Prayer for the City
-- yes, even more than Friday Night Lights -- I am really hoping it's the former. And, 51-49, betting that way too.
Photo of Bissinger, after a (spoofed? this can't really be true?? can it???) leather-pants buying spree, from GQ below.