The Pot Industry's Most Politically Important Dispensary
In the eyes of the federal government, there is no such thing as "medical marijuana." But there's a dispensary just blocks from the Capitol.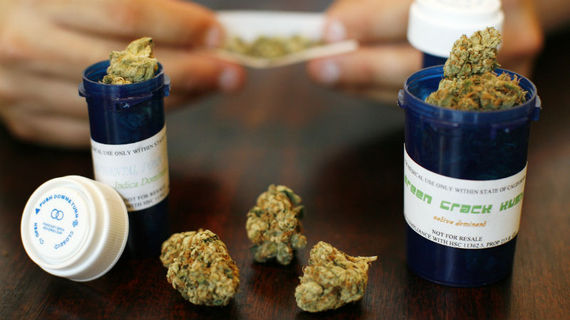 Earlier this week, Reps. Jared Polis and Earl Blumenauer visited a marijuana dispensary.
They were just blocks away from their congressional offices, and yet within months, certain D.C. residents will be able to come here to legally choose from more than a dozen strains of medical marijuana, from Master Kush to Blue Dream. The walls will be packed with vaporizers, water pipes, and pre-rolled joints. There will be THC lollipops, baked goods, and cookbooks. But for now, all the congressmen could see was an empty display case and a metal scale.
Until the Metropolitan Wellness Center opens -- supposedly within the next couple months -- the congressmen will have to use their imaginations.
"My campaign headquarters last summer we shared [a building] with a dispensary," Polis told Blumenauer in front of a half dozen Hill staffers, marijuana advocates, and center employees gathered in the almost completely-barren shop room. "You could see the sign, it was like: 'Marijuana, Jared Polis.' Marijuana outperformed me by 10 points, so it was a great association for me."
Polis of Colorado and Blumenauer of Oregon -- two lawmakers fighting to end the federal prohibition of pot -- hadn't come to this unmarked shop above the Eastern Market Popeye's to buy product. They had come to this dispensary because just blocks away from the Capitol, it may soon become one of the most politically important marijuana distribution centers in the country.
"I've talked to people all over the country about marijuana," said Corey Barnette, a principal at District Growers, the cultivation facility that will service the center. "Everyone is highly focused on what happens in Washington, D.C. We are a city on top of the feds, and with Congress right here. If we can make it work, it can work anywhere."
Last year, Polis's home state of Colorado, along with the state of Washington, became the first states to legalize marijuana for recreational use. Places around the country have been loosening their laws, and just this week Maryland voted to decriminalize small amounts of weed.
But, regardless of what individual states do, the use or cultivation of marijuana remains a federal crime under the Controlled Substance Act. This means that even if state law enforcement allows for use of the drug, federal officials do not. In the eyes of the federal government, there is no such thing as "medical marijuana."
This is where Polis and Blumenauer come in. The duo has dropped a series of bills to end the federal prohibition on the drug, impose federal tax on sale of legal pot, and protect the rights of patients using medical marijuana. At this point, especially in a Republican-run House of Representatives, these bills have an upward climb toward becoming law. But the way things have been shifting, that could change rapidly.
In this sense, the congressmen and the dispensary can help each other out. District pot sellers need the protection of a federal law, and the congressmen could use a place to show to their skeptical colleagues what it really looks like and its impact on a community.
While Congress may be filled with skeptics, marijuana has surged in popularity around the country. In the 1980s, only about 30 percent of Americans thought marijuana should be legal. By 2011, half of Americans thought it should be legalized. Today, 70 percent of Americans think doctors should be able to prescribe marijuana to alleviate pain and suffering. Advocates hope that a dispensary right in the nation's capital could be a watershed moment in the marijuana-reform movement.
"It's a very different discussion when you talk with members who have medical or legal sale of marijuana in their district versus those who don't," Polis told National Journal in an interview later at the Capitol. "It's extremely hypothetical for members who have never seen a dispensary. This can bring it a little closer to them by letting them know how it really works."
This responsibility is not lost on anyone. Perhaps that's why there are still no dispensaries operating in the District, even though it's been 14 years since the city voted to legalize medical marijuana. Most of the wait can be blamed on Congress, which blocked funding for the program until 2009. The rest of the time can be chalked up to a burdensome regulatory process that advocates say will make the District's one of the most restrictive programs in the country: You can't grow where you sell; there can only be five dispensaries and a maximum of 10 growing centers in the city; growers can only grow a maximum of 95 plants; and only D.C. residents are eligible to purchase. And yet, even those who adhere to these regulations have plenty of cause for concern.
"Every single day we have to worry: Will the feds come down on this program simply because they don't want to see it work?" Barnette said. "That could happen."
If the goal is to show lawmakers what a legitimate marijuana business can look like, this is the place.
For one thing, it looks boring. District rules state that there be no signs advertising the sale of marijuana. To get in, visitors will pass through an unmarked door, past a security guard, into a waiting room. The salesroom isn't much different. But if Polis and Blumenauer want their colleagues to see the inside, they need to act quickly. Once the Wellness Center is operational, it will only be open to those within the system. Mike Cuthriell, the center's president, says that even the building's landlord will not be allowed in once they start selling.
Though not yet able to dispense pot, the staff at MWC had plenty of information to give out to visitors. Blumenauer and Polis peppered the staff with questions about how quickly they could ramp up (the growers could be at full capacity with 75 days of starting to grow), how many pounds per week they could grow (between 25-40), whether they had sophisticated strains for different ailments (they are working on it), and what the cost would be like compared to the black market (should be cheaper).
"My only source for how cheap it is on the black market comes from Priceofweed.com," Cuthriell said.
"I wonder how much that domain cost," Blumenauer said, raising his eyebrows and chucking. Despite there not being any drugs on the premises, being here seemed to have given the congressmen something of a contact high by the end of the tour, as they started to loosen up and crack jokes.
"A lot of Hill staff live here, you'll probably even have some as patients," Polis said.
"Yeah, given the chronic pain we give them," Blumenauer chimed in. "Nausea maybe? The rules are probably too tight for them to qualify."