Sex Ed Without Condoms? Welcome to Mississippi
The state has America's highest rates of teen childbirth and young-adult HIV. But a new bill forbids contraception demonstrations in the classroom.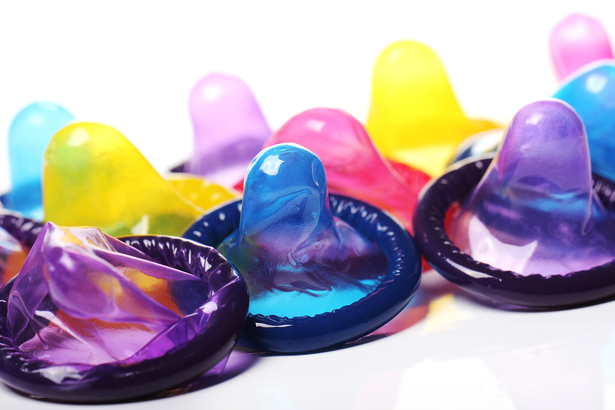 Yeko Photo Studio/Shutterstock
Last fall I sat at friend's dining table in Jackson, Mississippi, talking with people about sex, politics and religion. These subjects are rarely mentioned individually in polite Southern company -- the idea of discussing them all at the same time took on an air of scandal.
As it happens, these topics are my specialty as an investigative reporter, and Mississippi lured me by topping two national lists: the state is the most religious in the union and has the highest teen birth rate. So I was intrigued when House Bill 999 (HB999) -- which for the first time ever requires that sex education be taught in public schools -- passed the Mississippi legislature. Sex itself is a politically and religiously charged subject anywhere and in Mississippi you can take that to the power of 10.
Around my friend's table was an informal gathering of six experts who, combined, had close to 200 years experience working in child services, teen pregnancy reduction, reproductive health, and state funded programs like Medicaid. (I was the youngest person in the room by 20 years.) Some were reproductive rights advocates. Others were former state employees or members of the religious community, including one ordained minister. They had seen it all when it comes to sex education, public policy, and how the deeply held religiosity of Mississippi impacts both.
One of the experts, Betti Watters, was a 30-plus-year advocate for young women and head of Teen Pregnancy Mississippi Campaign. A tiny powerhouse of a lady in her 60s with perfect white platinum hair and pearls, Watters started her career in social work specifically in the area of adoption. Over the years, she turned her energy toward pregnancy prevention. Along with many others, she'd been pushing for sex ed in public schools for decades.
The passage of HB 999 should have been a fulfillment, at least in part, of Watters' life's work. But when the subject was mentioned, she laughed and rolled her eyes. Although she concedes that getting any sex education bill passed in Mississippi is a minor coup, Betti says the bill has changed beyond recognition since it first entered the political process. "I laugh even though it's not funny," she explained, "because if I didn't laugh, I wouldn't be able to keep fighting this fight." The group around the table shared a series of knowing looks that I'd come to recognize during my month reporting in Mississippi. The looks meant, For better or worse, this bill, as hobbled as it is, is progress.
Sex education is divided into two basic camps. The first is evidence-based, providing information about contraception and basic sexual health. On the other side, there is the abstinence-only-until-marriage form of sex education, which offers little information on contraception (except to cite often incorrect failure rates).
House Bill 999 mandates teaching abstinence-based sex education in all Mississippi public schools. A school district may decide to teach an "abstinence plus" curriculum -- encouraging abstinence while providing information about contraception -- but even in those cases, the bill bans demonstration of proper condom use.
Under HB 999, each school district is allowed to choose a curriculum from a pre-approved list selected by the State Board of Education. The law does not, however, require the Board of Education to consult with the Department of Health as it approves curricula. So non-health professionals have worked in a vacuum, approving abstinence-only programs like Choosing the Best and WAIT Training. Neither program has been deemed effective by the US Department of Health and Human Services. And both have come under fire over the years for teaching erroneous information about the transfer of HIV and relying on virginity pledges and in-school mock wedding ceremonies.
HB 999 also allows a school to teach that homosexuality is prohibited by a section of the state legal code titled Unnatural Intercourse, which lists "crime against nature, with mankind or beast" as a Class I felony punishable by up to 10 years in prison. (Because of the Supreme Court case Lawrence v. Texas, Mississippi probably wouldn't be able to enforce this provision, but it remains on the books.)
As Watters suggested, the original version of HB 999 was very different. I spoke to several people involved in crafting the first draft and shepherding it through the entire legislative process. Concessions had to be made. The deeply held religious belief that sex is only appropriate within the context of heterosexual marriage overshadowed the prevention of teen pregnancy and HIV -- the issues the bill had been intended to address.
"We top the best of the worst lists," says Sanford Johson, an advocate of comprehensive sex ed and the head of Mississippi First. Along with having one of the nation's highest teen pregnancy rates, Mississippi is currently first in the nation for child poverty and increases in HIV infections among young adults.
Johnson and his team have successfully implemented abstinence-plus programs called Draw the Line and Respect the Line in a majority of districts in the Delta -- including the largest school district, which encompasses Jackson. But, in order for these comprehensive programs to be approved by the state under HB 999, condom demonstrations had to be removed.
So Sanford made a video that quickly went viral, calling it "How to Put on a Sock." In the video, Sanford shows his viewers to choose the appropriate sock for the "shoe related activity." He instructs them in how to roll the sock completely onto the foot and calf -- not just halfway. Then and only then, he concludes, can the properly socked foot be placed in a shoe -- be it athletic or dress.
The video cannot, of course, be shown in class, nor is it a part of any official curriculum. But it demonstrates the lengths to which comprehensive sex ed advocates in Mississippi must go to make sure sexually active teens get the information they need.
Last November, I watched and listened from a corner of a room at the Jackson Convention Center as Mississippi Governor Phil Bryant recited lines from The Lord's Prayer to a crowd of teenagers: Our Father who art in heaven. A local chaplain from the Salvation Army led the invocation; a ballet troupe outfitted in floor-length gowns danced to a religious ballad.
Moments before the event began, there was hip hop music playing so loudly I heard it as I approached the hall from the upper level of the building and could feel it through my feet on the floor. I followed the stream of kids filing out of buses and into the convention center.Then I smelled the popcorn pouring out of the machine right next to the DJ's table along the far wall.
The atmosphere was that of a carnival or a church fundraiser. But it was the governor's "First Annual Teen Pregnancy Prevention Summit," advertised at the entryway by a full-color image of a stretch-mark-covered belly.
During a break in the proceedings, I milled around a line-up of literature tables at the back of the room. There were about 10 tables set up with red runners and chairs. Two of them held pamphlets from the state about teen pregnancy and government resources; another was sponsored by a state "family" organization. There, I found a pamphlet titled "Contraception: The Fine Print, Respect Life" by Susan E. Wills, Esq, which included this passage:
The best way to protect children from the damages of contraception and pre-marital sexual activity is by having two parents that make their values and expectations clear and who participate as a family in religious and leisure time activities... Contraception risks [young girls'] physical emotional and spiritual well being.... For their sakes reject the contraceptive based approach to reducing unintended pregnancies
This event was funded in part by taxpayer dollars. A representative of the Mississippi Department of Health told me his agency paid $1,500 for the space in response to a personal request from the governor.
"I didn't even know I had three holes!"A white woman in her mid-20s told me this last fall as we chatted over hors d'oeuvres and drinks one floor above the John Grisham Law Library at the University of Mississippi in Oxford. Along with about 30 others, we had just attended a symposium on reproductive health as social justice presented by the Center for Reproductive Rights (CRR). CRR had come to Oxford at the invitation of the first-ever chapter of Law Students for Reproductive Justice in a Mississippi college.
Scores of other women told me similar anecdotes about their sexual miseducation: I learned everything from my sorority sisters, I thought tampons were selectively absorbent, letting urine pass while holding on to my period blood, I thought if I had sex in a hot tub I couldn't get pregnant.
This anecdotal evidence alone would suggest that Mississippi kids need proper sex education, but the actual data bears this out. The U.S. Centers for Disease Control and Prevention released the 2011 Mississippi Youth Risk Behavior Survey in last June. The report revealed what Mississippians already know -- teens are having sex. 58% of high school aged students have had intercourse (and 75% of seniors) -- 12% before the age of 13 -- and 35% of highschoolers used no protection.
Despite the CDC's 2011 findings, Mississippi allocated more money to abstinence-only programs than to abstinence-plus. According to the US Department of Health and Human Services' federal grant-tracking search engine (TAGGS), Mississippi received $739,000 through the Affordable Care Act ACA to implement abstinence-only-until-marriage programs in public schools. The grant guidelines stipulate Mississippi must match the federal funds with state funds at a rate of $3 state dollars to every federal $1. This translates into Mississippians spending around $554,000 in 2012 to teach abstinence-only programs that have not been proven effective. And with the addition of the matching funds, abstinence-only in Mississippi stands to gain over $1.2 million in public support.
By comparison, Mississippi only received around $520,000 PREP (Personal Responsibility Education Program) funds to implement comprehensive sex-ed. And unlike Title V ab-only grants, the PREP guidelines do not require any state matching funds.
It will be some time before Mississippi is able to gather data from this first year of HB 999 implementation. However, existing studies on sexual education suggest that abstinence-plus, even with its diminished capacity, will ultimately prove more effective in reducing teen pregnancy and disease transmission than abstinence-only. (Tellingly, the state Board of Education chose to implement abstinence-plus programs in its four specialized state-run schools -- including The School for the Blind, The School for the Deaf, The School of Math and Sciences andThe School of the Arts.).
But under HB 999, could the possible good done by abstinence-plus programs be cancelled out by the possible damage done by the abstinence-only programs? According to the 2011 report from the American Congress of Obstetricians and Gynecologists, "A nine-year, $8-million evaluation of federally funded abstinence-only-until-marriage programs found that these programs have no beneficial impact on young people's sexual behavior."
The only way to address Mississippi's teen birth crisis will be a complete overhaul of HB 999. And that will only happen if the Mississippi electorate votes in legislators who are committed to ending the spread of teen pregnancy and sexually transmitted disease -- and place data, statistics and facts above their personal religious beliefs.

---
This report was supported in part by a 2012 Knight Grant for Reporting on Religion and American Public Life, a program of the University of Southern California's Knight Program in Religion and Media.