Rez Radio: Indian Tribes Gain Sovereignty Over the Airwaves
In remote stretches of the Midwest, native residents are broadcasting their own unique takes on music, culture, and the state of the world.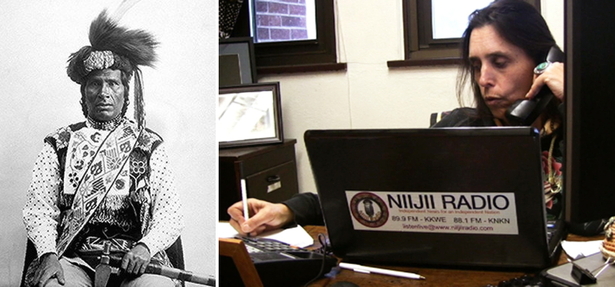 It's appropriately below freezing at 8 p.m. on a Thursday night in Northern Minnesota. The only lights still on in tiny Callaway, population 200, belong to the liquor store, which features slot machines and toaster oven pizza, and the gas station, which also has slots, and fried chicken, too.
Inside a local community center, a young man in his 20s slouches in a chair. His frame is wrapped in a black hoodie sweatshirt and black baggy jeans, and he's staring blankly at his cell phone. He says about a week ago he lost his girlfriend, the mother of his young son, to a heroin overdose.
The pain this young man and many on White Earth feel is textbook at Indian communities around the country. The 1,300 square mile reservation, just south of the Canadian border, encompasses the poorest county in Minnesota. Native residents have a per capita income below the poverty line. They also suffer disproportionate rates of diabetes, alcoholism, and suicide. In 2011, the local tribal government declared a state of emergency because of heroin and over-the-counter drug epidemics. There's also a dearth of basic resources, from nutritious food to housing to heating. (Some residents got winter heating assistance from late Venezuelan president Hugo Chavez.)
White Earth tribal member Winona LaDuke says all of this can be traced back to what happened more than a century ago -- "the fact that we lost all our land, our people were forced into poverty." A 1867 federal treaty sought to concentrate the Lakota and Ojibwe bands in White Earth, but many wanted more autonomy. Over time much of that allocated land was lost to tax forfeit, sales, and other means. LaDuke says this has left the real Natives of Minnesota reeling from "the shame of having lost everything, and now living with the consequences of that, after all those years -- the reality that, because of the dispossession of our people, we end up in a situation where we are the poorest of the poor."
Driving up Route 59, frozen cornfields and prairie are met by an endless horizon. It seems like a quintessential Midwestern scene. But at a certain line invisible to the eye, a border is crossed, and the region people on the coasts like to refer to as "flyover" is transcended. The signal from 89.9 FM, Niijii radio comes in, and a beating drum fills the car. Then, there are cries from a powwow song. Audibly, it is clear that this is no longer just Minnesota, the Midwest, or even the United States of America. This is the White Earth Reservation, a sovereign territory that belongs to the 20,000 enrolled tribal members of the White Earth Nation, descendants of the Anishinaabe (original people) of Minnesota.
LaDuke, the creator of Niijii radio, is one of the best-known native activists in the U.S., in part due to her consecutive bids as a vice presidential candidate to Ralph Nader in 2000 and 2004. She runs two non-profits based on White Earth. Those organizations, and the radio station, are all housed in the old public elementary school in Callaway.
LaDuke says the radio station promotes an assertion of identity that creates joy in an otherwise challenging environment. "The difference between us and other folks is we know who we are. We know the issues we want to talk about. We know how beautiful our music is, how amazing our stories are, how rich and deep our history of 7,000 years right here is."
KKWE Niijii radio -- "friend" in the Anishinaabe language -- is one of the newest of 69 tribal community stations in the U.S. In regions that are often remote, and complicated, these stations serve a purpose that goes far beyond entertainment. Tribal radio operators are developing the resource as a way to speak to their people, often in their traditional languages. And, LaDuke, the stations provide a way for Indians to talk to and educate the world outside reservation boundaries.
"The biggest thing that I want to see happen is self-sustainability," says the program director. "That's what I truly want to endorse."
"Non-Indian people stop me in the store and say, 'We like your radio station ,Winona.' They say, 'We like listening to your powwow music -- we never heard that before. We like that you have Anishinaabe Mowen, or your language, on there.' For me that's a good thing to have this pride, and for the non-Indian community that's our neighbors to get an opportunity in the safety of their own homes or cars to hear our people."
Niijii radio was able to get on the air thanks to an FCC ruling that gave "tribal priority" in the licensing process, and a grant that paid for the construction of the studio and necessary equipment. After surviving much of its first year with little to no budget, the station got an additional $115,000 "Legacy Grant" from the state of Minnesota, a taxpayer funded program that invests in projects related to the outdoors, clean water, and the arts. That grant will go towards creating new local programs, including a show about local tribal history and one that connects tribal youth and elders.
JoDan Rousu is the program director and the station's producer. He's also on the air every weekday from 6 to 10 a.m. doing his popular morning show, "Cup of Joe." Niijii's first signature program is a mix of tribal music, community news, a native history lesson, a Anishinaabe word of the day, and a song catalog pulled from MP3 players and CDs dropped off by community members that ranges from Elvis to Snoop Dogg.
"The first song we played was the Smoky Hill Boys," says Rousu. "They were in here live, and they did a grand entry song, and they did a veterans war song. We had a smudging ceremony, a prayer and blessing. It was a beautiful thing."
Indeed, the smell of burning sage in the studio is one of the first clues that Niijii isn't your average radio station. The next is a station bumper sticker that features a reference to "Commod Cheese," an inside joke about the federal food subsidies many Indians still rely on. (It refers to cheese in a can.)
Rousu, who has spent most of his 32 years on the White Earth Reservation, says the new station slogan is "Independent News for an Independent Nation." He has learned to live a traditional Ojibwe life, and he thinks the key to improving conditions in the community is to get more people out trapping, fishing, and gathering wild rice and harvesting maple syrup. He's been using the radio to get this message out to listeners as often as he can.
"The biggest thing that I want to see happen is self-sustainability. That's what I truly want to endorse -- the traditional ways of life -- because we have all the resources we need right here. It's just a matter of knowing how to harness them."
Rousu says he's been trying to change his format lately. He's invited community groups to speak to listeners about chemical abuse, gang violence, and other pressing issues. "We've had many, many people on the reservation actually contacting these programs seeking help. We get feedback from the people who come to talk about it. I do feel like we are helping."
But while Rousu uses his morning show as a mouthpiece to help his tribe move in the right direction, the nighttime programming reflects a different side of White Earth. Late on a Thursday the lights at the station are all on, Tom Petty's "American Girl" is playing, and a couple of members of the White Earth Veterans Association are about to get on the microphones. There are soft drinks, cookies, and potato chips lying around.
The on-air light flashes red and a crew of elders recount a story about an ill-fated bear hunt. It's hard to tell if it's a parable, a joke, or both. When they finish, the initial dead space implies that it's serious. But a moment later, the storytellers burst into raucous laughter. The message to the tens of thousands of potential listeners out there is clear: life on the rez is also fun.