Oberlin Should Deny Its Tormentor the Power to Disrupt Its Mission
When apparent hate crimes happen on campus, the trick is to provide targeted students all the support they need without empowering provocateurs.
When hate crimes happen on campus, the trick is to provide targeted students all the support they need without empowering provocateurs.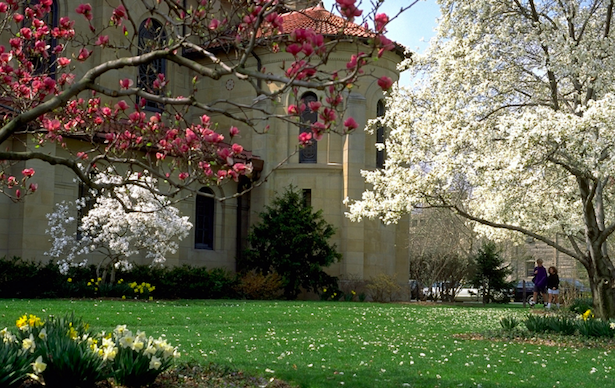 Oberlin.edu
What a shame that Oberlin College must suffer through this vile episode: "In the last month, racist, anti-Semitic and anti-gay messages have been left around campus," The New York Times reports. "The incidents included slurs written on Black History Month posters, drawings of swastikas and the message 'Whites Only' scrawled above a water fountain. After midnight on Sunday, someone reported seeing a person dressed in a white robe and hood near the Afrikan Heritage House." The Oberlin Review details the succession of slurs, which are as awful as it gets.
I've covered events like these several times, both as a college journalist and a professional newspaper reporter. What stays with me are the conversations I had with members of the targeted groups -- gays on one occasion, women on another, blacks and Jews on a third. Many of the black students I interviewed were living in a majority white community for the first time in their lives. For freshman especially, it could be an extremely unnerving, claustrophobic experience. Others weren't frightened, but felt righteous anger. Still others would dismiss the incidents as the work of some ignoramus or provocateur, resent any additional interruption to their lives imposed by the college, and bristle at the expectation of classmates that they would be traumatized.
In every incident I covered the perpetrator was eventually found out. One was a homophobic freshman student. The people who painted over a violence against women mural turned out to be two female students from an adjacent campus who acted for idiosyncratic reasons I never figured out.
The last incident I covered, as a professional journalist, began when a professor's car was vandalized in a campus parking lot, its windows smashed and "nigger lover" and "kike lover" scrawled across the body in spray paint. As it turned out, the professor, who was white, had vandalized her own car, purportedly to "raise awareness" for multicultural causes on campus. She was ultimately convicted of insurance fraud. When I think back on the students I spoke to who were afraid to walk around campus as a result of her act I can't understand how she did it. Faked hate crimes are far more rare than my experience would suggest. But faked and real hate crimes have a couple things in common: the perpetrators hope to provoke deep upset with their actions, and they inevitably succeed in frightening some members of the group they targeted.
When the perpetrator is unknown, as at Oberlin College, administrators face a very difficult situation. On one hand, they're stewards of a bunch of young adults of varying levels of maturity, some of them emotionally fragile and living far away from home for the first time. (Better that this happened in the spring than the fall, if only because freshmen have more support now.) If you're the dean of students, you make sure every student knows that the college is attending to their safety, that counselors are available if anyone wants to talk to one, that there's a venue to speak publicly for folks who are interested -- I presume they're doing all those things, plus putting the word out to professors and residential life staff to stay attuned to upset students.
The last step they took, cancelling classes on Monday for a "day of solidarity," seems mistaken to me: whether the perpetrator is a racist, or a cruel provocateur, or someone carrying out an ill-conceived hoax, this gives them what they sought: on a college campus, where everyone is gathered to advance their education, someone succeeded in disrupting the community's core function. Like an arsonist who lights a match and watches the show, they're likely enjoying the spectacle.
Of course, a college should care most about the effect on its students, not the effect on the perpetrator. But I fear, fully hoping I'm wrong, that maximal reactions of this kind are likely as not to inspire additional bad acts. Ideally, Oberlin could show unmistakable support for its students -- the ones who feel victimized and the ones who don't want to be made to feel like victims -- and at the same time, signal to racist provocateurs that no, they cannot cause a spectacle.
To signal that the perpetrator is marginal and weak -- that he or she isn't worth it.
Perhaps there's an irresolvable tension there. Perhaps it's as hard a line as there is to draw. But cancelling classes, the most extreme measure an academic community can take, crosses that line.
May Oberlin and its students flourish nonetheless.
---
For more on this story: Racist, Anti-Semitic, Anti-Gay Graffiti at Oberlin: A Cruel Political Stunt