'Man of Sorrows': The Minister Who Helped a Woman Kidnap a Child
Three years ago, Lisa Miller renounced her homosexuality, left her partner, and fled the country with their daughter. The author forms an unlikely friendship with the Mennonite leader who aided her escape.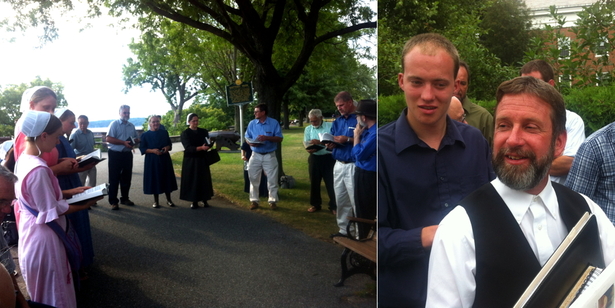 On my desk, I keep a small maroon book, hardcover and ringed by a single coffee mug stain. It was written by a Christian missionary who spread the Gospel throughout India in the early 20th century, and as with all evangelism, it promises salvation through surrender to God. Throughout the book's pages are small exclamation points and asterisks in black ballpoint pen, the epiphanies of its previous owner.
Inscribed on the yellowed title page is a note to the new owner, as it was passed to me in a federal courtroom during a criminal trial I attended last August. The handwriting appears to be that of a child who writes fast and small and without flourish.
To a most "unlikely friend,"

This book is one of my prize possessions. About 5 years ago a friend gave me a copy. It has led me much deeper into knowing Christ.

I will pray that Christ will lead you into that kind of surrender and into His abundant life.



There is an eternity to prepare for --

Ken Miller
Burlington VT
2012
Ken Miller is not a child. He is a 47-year-old Beachy Amish Mennonite minister from Virginia, convicted in one of today's most bizarre plots against the growing normalcy of homosexuality in American society, the civil rights that have followed, and the perceived threats to social order that they pose.
This afternoon, Miller is scheduled to be sentenced for his role in the parental kidnapping of a young girl who disappeared more than three years ago. Her name is Isabella Miller-Jenkins, known in court documents simply as "IMJ," and for most of her life, she's had the misfortune of being at the center of a custody fight that has played out on the national stage. Isabella is now 10 years old and believed to be hiding in Nicaragua with her biological mother, Lisa A. Miller, a woman who fled the United States penniless and arguably delusional, having renounced her former homosexual life and having blocked custody visits between Isabella and her other parent -- Miller's lesbian ex-partner of many years.
Though they share the same last name and faith, Ken is not related to Lisa. It's not entirely clear how she found her way to Ken's door in 2009. Ken won't discuss how they met, only what he felt when they did.

"I could see the peace of God in her life, an inner joy that radiated on her face and her being," he said in January, two days prior to being jailed on a civil contempt charge for refusing to testify before a grand jury on the continuing investigation. "No decision was a good decision at that time. She was in trouble, but she was also at rest. So I looked at that and made a rather quick judgment. I've been hoping ever since that I made the right one." He said he has not heard from Lisa since, and doesn't believe he will again, at least in this lifetime.
"He talked about our gay brothers and sisters," Ken said of President Obama. "That's how I feel toward you and anyone struggling with sexual sin."
When I last saw Ken, he wore a beige button-down shirt and wrinkled slacks with running shoes. We met in a school field trip-filled cafeteria at the Smithsonian National Museum of Natural History in Washington, D.C., where he had taken his wife, Linda, and five of his six children to see an IMAX film on the migration of monarch butterflies.

He is short, with the parted hair of a schoolboy and the ruddy face of a man long accustomed to outdoor labor. Ken's family owns a garden supply and greenhouse business in Stuarts Draft, Virginia, where he has paid himself a $10-an-hour salary since his return to the United States from missionary work in Ireland. His legal bills, thus far totaling $175,000, have been covered -- and then some -- by donations from Mennonites and evangelicals around the world. Ken lacks the charisma of Billy Graham, the creepy zeal of Warren Jeffs or the vitriol of Fred "God Hates Fags" Phelps. Instead, he is as he describes himself: a country bloke, a nice guy, and a lousy criminal.
He's also been compared to a historic martyr by some Mennonites, although Ken says he resists such veneration. Visit MillerCase.org, a support website created for him, and you'll see an etching from Thieleman J. van Braght's 17th-century work Martyrs' Mirror depicting two men. One has fallen through thin ice covering a frozen moat. The other comes to his aid with arms outstretched. This is Dirk Willems, an Anabaptist (of which Ken's sect is considered a descendent), who was jailed for his faith. Willems escaped from prison using a rope made of knotted rags and saved the prison guard in pursuit, yet was burned at the stake for heresy in 1569.
Ken greeted me warmly, his grin a jumble of gray teeth. But he hadn't slept the night before, and there was a lot on his mind. For one, Ken was certain he'd be going to jail and not returning to Virginia anytime soon. He thought of his family, and also of President Barack Obama's inaugural address the day before. "He talked about our gay brothers and sisters," Ken said of President Obama. "And I liked that -- I liked that very much, because that's how I feel. Toward you and anyone who is, you know, gay. I feel that way toward my human brothers and sisters who would be struggling with sexual sin, with any of the stuff I've struggled with" -- the "stuff" being pornography, in which he indulged as a young man.
We're probably all broken sexually, Ken believed. "By my actions, I'm saying that I don't have any hatred or any bias in my heart any more than I do toward my own sinful nature. But I'm saying that what's going on in our culture is wrong. And President Obama, just yesterday, applauded it." He became quiet as the din of schoolchildren rose in the background.
I asked him what he thought about the future of this country. "I expect it to decay and to disintegrate and to fragment and to decline," Ken replied, looking up and off to the right, as he did throughout much of his trial. "I appreciate our country very much. I appreciate the judicial system, even though I'm caught in it right now. But I don't expect too much out of this world anymore."
Ken and I first met last summer, a time when even eating a sandwich at Chick-fil-A was becoming a political statement on same-sex marriage. As a former reporter for a national LGBT publication, I had followed the longstanding custody dispute between Lisa Miller and her former partner, Janet Jenkins -- a litmus test on the rights of gay parents when relationships crumble and state laws are discordant.
In 2000, Miller and Jenkins entered into a civil union in Vermont and moved there from Virginia to start a family. They bought a four-bedroom Victorian house together in the small town of Fair Haven a few months after Lisa Miller gave birth to Isabella in April 2002. Lisa Miller filed to dissolve the civil union in November 2003 and moved with Isabella back to Virginia, a state that does not recognize civil unions or same-sex marriage. What followed has been excruciatingly pored over in legal briefs, media exposes and online bloviating on both sides of the divide.
On a Sunday morning in June, Ken met me in the entryway of Pilgrim Christian Fellowship on Twin Hill Road in Stuarts Draft, nestled in Virginia's Shenandoah Valley, a two-and-a-half hour's drive from Washington. I had stopped by unannounced a few days prior and met Jason, a young, sheepish schoolteacher in suspenders who was arranging library books in the adjacent school. He offered to pass along my phone number to Ken, who Googled my name and turned down a meeting request.
Then he reconsidered. "It was my own bigoted response," Ken explained, though I thought it a reasonable one, given that he had already been indicted on international kidnapping charges that could carry up to three years in prison.
When I met Ken that first morning, he was surrounded by his parents, Willis and Salina, who founded their nearby greenhouse business 40 years ago, as well as Jason and Jarry, a cheerful former Baptist who along with his wife had sought a simpler way of life and found it in plain Mennonite dress and custom. Jarry spoke openly of how the men arriving with their families in rusted minivans and Oldsmobiles liked to greet each other with a handshake and a welcome kiss on the cheek. "Now, you may see some of the elders will kiss on the mouth," he added, as though I might misinterpret the gesture.
The women and girls in long dresses of muted pink, eggshell blue, and burgundy sat on the left side of the unadorned sanctuary, the black-vested men and boys on the right. With the exception of a tuning whistle, musical instruments were absent. But the singing was four-part harmony, upbeat and exquisite. The children learned this art form at a young age, Willis told me. I sat in a front pew alongside Ken and Jason, who kept subtle time with his right hand while singing "My Faith Has Found a Resting Place" in a sonorous baritone. In front of us, the second hand of a wall clock on the fritz spun at a frantic pace above a sign in gold reflective paint reading, "God Is..."
For all its quiet separateness, Pilgrim Christian Fellowship was very much aware of Ken's criminal case and the visitor in attendance that Sunday. (Though I was treated with preternatural kindness, in an email group supporting Ken during his trial I would be referred to as a "reporter for the dark side" -- a label that led to a reprimand by Ken.) Much of the service appeared choreographed to address both of us. There is a great cosmic tension between the two kingdoms, the service's theme went. When the kingdoms clash, suffering exists. "And the Christian life we know can be restrictive," one young brother said in his meditation, "but God does not shine upon all things on this earth."
Midway through, the congregation split into separate bible study groups. One group of elders filled a room the size of a walk-in closet to reflect on Luke 4, where Jesus is thrice tempted by Satan during 40 days of fasting in the desert. Sitting round-robin, they talked about the verses as they stared at Ken, who fidgeted with his cuticles and gazed back beatifically. "It's up to us to choose the right path and enjoy the fruits," a portly elderly man with thick lenses said. "And there's never been a storm that hadn't passed."
After the service, Ken and I drove to Willis and Salina's modest home overlooking purple martin birdhouses suspended from a metal tower, wheat fields, and the hazy Blue Ridge Mountains beyond them. "People around here know where to come for the good cookin'," Ken said of the lunch invitation. The land around us had been in his family for quite some time, ever since the community first settled here in the 1940s. Salina had moved to the area from Pennsylvania, Willis from Oklahoma. Ken can trace his Anabaptist roots eight generations back to Switzerland.
Standing in the yard, the early afternoon air already sweltering, we traded small talk about traditional Amish Mennonite dress, the perennials in bloom down at the greenhouse. Then his eyes welled during a pause in the chatter. "You know, I'm sorry," he said. "If there's one thing I'd like to say, it's that I'm very sorry for how many times the church has scorned and abused people with whom they may have profound differences. Our people, we don't want to be that way. We simply want to extend hospitality, friendship and a lot of blessing." The martins darted fearlessly into the plastic gourd nests overhead, their chirps and cackles a shrill accompaniment.
True evangelical faith cannot lie sleeping. So goes the Mennonite hymn. In the courtroom, there would be no fire-and-brimstone moments. The case was not about same-sex marriage, or "homosexual rights," or "homosexual adoption," said Ken's attorney, a boyish young man named Joshua M. Autry. He would argue a tissue-thin defense -- that Lisa had had full custody rights at the time she left the country, and that Ken hadn't believed her foreign travel with Isabella was illegal.
But MillerCase.org broadcasted the real defense. Conscience did not allow Ken and his co-conspirators to ignore a fellow Christian in need, a woman who had disavowed her sinful lifestyle and was trying to protect her daughter from someone who had not. MillerCase.org declared the events of September 2009 an act of mercy for all involved, and this was something Ken and his supporters tried to convey at trial.
What we do know is this: Lisa came to Ken looking for a way out, and Ken helped her hatch a plan.
The government saw things differently, as Assistant United States Attorney Eugenia Cowles told a jury of nine women and three men -- the majority of whom had expressed little concern during voir dire about same-sex marriage or gay couples raising children. Ken and Lisa believed that "they, not the court, should decide which parent should have access to the child," Cowles said. "After six years of scheduled visits that didn't happen, Lisa Miller and her supporters decided to act outside the law."
The observer benches in Judge William K. Sessions III's fifth-floor courtroom during the trial appeared as though they were pews transplanted from Pilgrim Christian Fellowship, with the added presence of Mennonite supporters from southeastern Pennsylvania, Ohio, Brooklyn, and upstate New York. The children played with blocks next to a courtroom security officer in the hallway outside, or sat quietly with their parents, reading books like Henry's Red Sea and Stories for Boys: Tales of Mystery, Suspense, and Adventure.

Sessions, whose felicitous demeanor on the bench reminded me of Judge Vaughn R. Walker's during the Proposition 8 trial in 2010, joked that he'd never seen such well-behaved kids apart from his own. Ken and his brethren included Judge Sessions's name in their daily prayers, along with those of Jenkins, her family attorney, and the assistant U.S. attorneys trying the case. "Well, I've got that going for me," one lawyer muttered during a break.
Over the past several months, Ken, a man with the self-described "brains of a farmer" had become modestly savvy in the art of PR. He admonished a number of supporters for trumpeting an op-ed about the case by Bryan Fischer, a spokesman for the American Family Association who endorsed Ken's crime as a new Underground Railroad against America's enslavement by the gay rights agenda. "The world is watching right now," Ken wrote in an email. "Do we as Kingdom-minded people who are seeking to live in the meekness and humility of Christ want to associate with a man who speaks so critically (to say it mildly) of those in the judicial system?"
When walking past the University of Vermont undergraduates on his way up Church Street to the federal courthouse, Ken would tuck his Bible between a spiral notebook and a black portfolio because he "didn't want to make some sort of a statement." A New York Times front-page story on the case published over the summer was about what he expected, fairly even-handed, though "the bit about the hamsters gives some folks reasons to scream" -- a reference to Isabella's pets, found dead weeks after she and her mother had left their Lynchburg-area house.
He also says he instructed his attorneys not to mention the allegations so often brandished by Lisa Miller sympathizers that Jenkins was an unfit mother -- or worse, that she was preying and abusive, and that Isabella's infrequent visits with her had driven the young girl to bedwetting and threats of suicide. A Vermont family court had rejected Lisa's allegations against Jenkins, calling them not credible. The Vermont Supreme Court agreed in 2010 when it affirmed a lower court ruling ordering transfer of custody to Jenkins. By then, Isabella and Lisa had disappeared for more than a year.
Ken insists that Lisa isn't a fabulist. "I think she believed it happened," he said of the alleged abuse. "But I've been a pastor long enough to know that I've got to see things firsthand. Especially if things come through children. I know this thing between her and Janet -- I'm understanding that it was not one-sided. Lisa made her share of mistakes, there's no question. A lot of my people really got on the bandwagon with [the allegations], and that bothered me."
But these overtures aside, the very premise of the charge Ken faced -- aiding and abetting the removal of a child from the United States with the intent to obstruct the exercise of lawful parental rights -- was judicial absurdity to him and to those who agreed with MillerCase.org. Jenkins had no parental rights in the eyes of God. Isabella had "only one mommy," as Rena M. Lindevaldsen, Lisa Miller's custody attorney, titled her hagiography of Miller and the custody case. ("This Important New Book Will Equip You to Help Those Struggling with Same-Sex Attractions as it Exposes the Disturbing Truth about the Pro-Homosexual Agenda!" advertises the website of Lindevaldsen's legal group, Liberty Counsel.)
Lindevaldsen, who is an associate dean at Liberty University School of Law in Lynchburg, denies knowledge of Lisa's plan and asserts she doesn't know where Lisa and Isabella are today. So does her colleague in the custody case, Mathew D. Staver, founder of Liberty Counsel and dean of Liberty's law school. Staver told the Associated Press in 2011 that Lisa "just dropped off the face of the earth."
It seemed to me that Lindevaldsen, Staver, and the constituency they represent were driving the bandwagon that Ken so abhorred. But even if they, or others, did have knowledge of the plot, he was taking the fall and would not betray them. "I might have read their website," Ken said of Liberty Counsel. "But it's true that Lisa made her own decisions. There was a point in time where there was a clean break with her past. The government wants you to think that there was something different than that, that there was some grand enterprise being orchestrated."
What we do know is this: Lisa came to Ken looking for a way out, and Ken helped her hatch a plan. He contacted missionaries to provide Lisa and Isabella shelter in Nicaragua, where "there have been no extraditions to the United States in the recent past," according to the website for the U.S. Embassy in Managua. He helped facilitate travel plans outside the United States. Lisa drove to a Lynchburg Wal-Mart and abandoned her green, 4-door Saturn in the parking lot.
On September 21, 2009, court records indicate she and Isabella, then 7 years old, met Philip Zodhiates, the proprietor of a Christian direct mail marketing company located five miles east of Pilgrim Christian Fellowship. His name was mentioned so often at Ken's trial as to make even a casual observer question why he hadn't also been indicted. Zodhiates' father, the late Spiros Zodhiates, was a well-known Greek-American bible scholar whom Ken admired. "I can't comment on my relationship with [Philip Zodhiates] in any way. But -- it's amazing what they dug up on him," Ken said of federal investigators, on whom he was always heaping praise. "Why haven't they arrested him? Poor guy."
The government's case suggests Zodhiates drove mother and daughter, dressed in Mennonite garb, from Virginia to the U.S.-Canada border, where, just after midnight the two took a taxi across the Rainbow Bridge at Niagara Falls. Ken recruited a Mennonite pastor in Ontario to take Lisa and Isabella to Toronto early the next morning, where they boarded a Mexicana Airlines flight to Mexico City, changing planes before arriving in El Salvador, and then finally at Augusto C. Sandino International Airport in Managua to begin their new life.
All of this was executed to keep Isabella from ever again seeing the mother who entered Judge Sessions' courtroom on a Friday, not dressed for the occasion. She wore a lavender polo shirt with the collar popped and pastel patchwork shorts. Jenkins appeared nervous, or simply over it -- having to testify again and again for years about a child whom she loves and who has grown up out of her reach. Her testimony was brief. Jenkins spoke of her last visit with Isabella during a weekend in January 2009, choking on the word "no" when asked if she had seen her daughter since.
There was singing after the guilty verdict four days later. Ken's brethren gathered across the street from the federal courthouse an hour or so after the jury left. They'd been singing throughout town following most trial days -- first a few blocks west at Battery Park overlooking Lake Champlain, then in front of Burlington City Hall.
Not all Mennonites thought the outcome was cause for any hymns. "Ken Miller helped break up a family, even if he didn't approve of the court's family definition," an editor for the Mennonite World Review wrote. "It is far from obvious that Lisa Miller is a fit mother and Jenkins is not, and it seems presumptuous for Ken Miller to claim to know who deserves custody." Even Ken had wondered whether it was cavalier to perform in such a way. "Are we making their journey to hell a little more pleasant by singing for them as they walk by?" he preached in a 2012 sermon to the faithful at Pilgrim Christian Fellowship.
But that afternoon, Ken was proud of the spectacle. Here was abundant life in action, and he beamed alongside his wife as a young man with receding hair gently kneaded his knuckles into Ken's back.
Man of sorrows, what a name, they sang.
For the past several weeks, Ken has been held at Northwest State Correctional Facility, 30 miles north of Burlington, where he has awaited sentencing. MillerCase.org reports that a prison guard shushed his exuberant singing in the shower one day, and then, in a moment of apparent remorse, rewarded Ken with extra telephone time. The website urges supporters to write him. Books, letters from children, and colorful postcards are encouraged, while cards with ribbon, letters in foreign languages, or anything written with "direct references to the parties involved" are not.
I've thought of writing to my unlikely friend. Though it's hard for me to recall our numerous conversations with any real nostalgia, here was a man who broke federal law for his beliefs about what defines a family, spending one of his last afternoons of freedom with someone who did not have his best interests in mind. Then I wonder if I've misjudged his sophistication --whether his hospitality, friendship, and blessings for a dark side reporter were merely efforts to convince the world he's not what they assume him to be. I think he's wrong in believing he'll one day be vindicated for his actions. But I've enjoyed the book and plan to keep it on my desk.
Ken always refused to discuss with me anything directly about Isabella. He made one exception the last time I saw him, at the Smithsonian, surrounded by kids Isabella's age.
I asked him what she was like. Again, he looked up and off to the right. "Sweet little girl. Sweet little girl. I suppose that factored into my decision. I have children of my own."