Happy 75th Birthday, CBS World News Roundup
Edward Murrow, William Shirer, and Bob Trout created modern broadcast journalism on March 13, 1938 -- the day the network reported from across Europe on the Nazi Anschluss.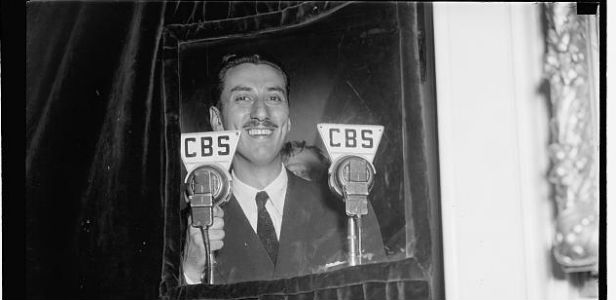 On March 13, 1938, CBS Radio News broadcast its first World News Roundup. Exactly 75 years later, the Roundup is still going strong, still heard by tens of millions of listeners each week, still the crowning jewel of the most successful radio news network in history. Yes, I am biased. Sixteen years after I began my career at CBS Radio News, it is still always a special day when my voice makes it onto the Roundup. And I suspect that is true for every journalist who has ever worked for the network. The Roundup is extraordinary. And it always has been.
And not just because it began with such drama -- with the fabled report of the German Anschluss of Austria -- or because it has lasted so long. The first Roundup also marked the first time Edward R. Murrow broadcast the news on CBS Radio, which means that the report itself was the H-Hour of the D-Day of a brand-new age of broadcast journalism. If you have 35 minutes or so, listen to portions of the first Roundup, close your eyes if you want, and just imagine what radio listeners must have felt when they heard these dramatic reports in the dark days before the World War II.
How It All Began
The World News Roundup happened when it did, and how it did, for the same eternal reason that all things (good and bad) happen in journalism: because of competitive pressure. It was Max Jordan, of NBC -- "Ubiquitous Max," as he was known -- who first broadcast news of Hitler's takeover of Austria. And that scoop from a rival had transformed Bill Paley's mind about the ethics and efficacy of allowing his correspondents to report from Europe. When Paley had been told first that a 30-minute broadcast from Europe was impossible, his first reaction had been to say: "Unacceptable." Here was a true executive.
Here's how Stanley Cloud and Lynne Olson described what happened next, on Sunday, March 13, 1938, in their book, "The Murrow Boys:"
NBC was trouncing CBS! Paley got on the phone to [his chief deputy] Ed Klauber, Klauber called [CBS's first news director] Paul White, and White called [European correspondent] William Shirer, who was still in London. "We want a European roundup tonight," White said; a thirty-minute broadcast on European reaction to the Anchluss, with Shirer and a member of Parliament in London, Murrow in Vienna, and American newspaper correspondents in Paris, Berlin and Rome. Nothing like this had ever been put together before. Shirer and Murrow had eight hours to do it. ...

And they went to work. Murrow persuaded the Germans to give him a phone line from Vienna to Berlin, which could relay his broadcast by shortwave to New York. Special lines were arranged for Paris, which didn't have an adequate transmitter. Newspaper correspondents were tracked down, two of whom had to get permission from their home offices, which they hoped would come in time. In London the phones jangled constantly; calls in four languages streamed in for Shirer. It was getting tight: with little more than two hours to go, he still hadn't located a member of Parliament ...
In Murrow: His Life and Times, A.M. Sperber focused on the man who would become the voice of a generation:
Sunday morning, March 13. Murrow arrived in Vienna. Hard as it was to get out of the city, it had been almost impossible to get in. In Warsaw, all Vienna-bound flights were cancelled. Finally, he, too, had hopped a plane to Berlin, chartered another to Vienna, and at Aspern, with no taxis available, made the last lap into town by trolley car...Murrow had always carried his office in his head, and now the year of roaming the Continent paid off unexpected dividends. ...

As the hours went by, chief engineers in five countries were mobilized, newspaper colleagues lined up; Ed Mowrer in Paris, Pierre Huss of INS in Berlin, and Frank Gervasi in Rome, covering the question: What would Austria's traditional protector do? The newsmen guessed it would be nothing -- no Italian tanks in the Brenner Pass this time, meaning a free hand for Hitler ...
That night on the broadcast it wasn't Murrow who was the star. It was Trout. And it was Shirer. Here, from Shirer's incomparable "Berlin Diary" is how he viewed the historic day:
At one a.m. this morning (eight p.m. yesterday, New York time) we did our first European radio round-up. It came off like this. About five o'clock yesterday afternoon my telephone rang. Paul W. White, Columbia's director of public affairs, was calling from New York. He said: "We want a European round-up tonight. One a.m. your time... A half-hour show and I'll telephone you the exact time for each capital in about an hour. Can you and Murrow do it?" I said yes, and we hung up.

The truth is I didn't have the faintest idea how to do it -- in eight hours, anyway. We had done one or two of these, but there had been months of fussing over technical arrangements before each one... Time was getting short. I remembered that I must also write out a talk for the London end of the show. What was Britain going to do about Hitler's invasion of Austria. I telephoned around town for material. Britain wasn't going to do anything.
Britain wasn't going to do anything. The first Roundup was in every conceivable way the first draft of monumental world history that has altered each of our lives. On March 13, 1938, when Murrow first took air, the world was exactly one year away from the German march into Czechoslovakia. It was almost exactly 18 months away from the German invasion of Poland and the start of the war. Everyone knew something bad was coming -- the Roundup that night mentioned anti-Semitism and Nazi thuggery. But no one knew how bad it would be.
The First World News Roundup
On the CBS network, if you were tuning in that Sunday night, Bob Trout's familiar voice was the one you heard first. Imagine hearing these somber words as you crowded around the radio in your home, or in a store, or at a bar. "Tonight the world trembles," Trout said in a stern tone, "torn by conflicting forces. Throughout this day event has crowded upon event in tumultuous Austria. Meanwhile, the outside world, gravely shaken by the Austrian crisis, moves cautiously through a maze of diplomatic perils." He continued:
As German troops swarm across frontiers in their first offensive since 1914, momentous decisions are being reached in the capitals outside Germany. And so the world spotlight, for three days fastened upon Austria, is shared tonight by London's tiny Downing Street, by the Quai d'Orsay, whose buildings of state line the Seine River in Paris, by other chancellories throughout the world. To bring you the picture of Europe tonight, Columbia now presents a special broadcast, which will include pickups direct from London, from Paris, and such other European capitals as this late hour abroad have communication channels available...
Then Trout, reading from wire copy, offered the grim details of the Nazi push, which are simply heartbreaking in retrospect:
Jews, Catholic leaders and former Austrian government officials are being jailed. Hitler, protected by a bodyguard of nearly 4,000 troops and police, is preparing tonight to go from Linz to Salzberg and from there to Vienna on a roundabout triumphal tour of the land of his birth... Italy has apparently given Germany an okay and Hitler has almost fervently thanked Mussolini.

In Berlin, Field Marshal Herman Goering has served notice that Germany intends to go after the Germans in Czechoslovakia, already ringed on several sides by German troops. Czechoslovakia has protested to Germany. It claims that German planes have flown over Czech boundaries and so Germany promises an investigation. Czechoslovakian diplomatic circles argue that Czechoslovakia is going to be a much tougher nut to crack than Austria was, their attitude, of course, reinforced by the very strong position France is taking tonight.
Can you imagine? On and on Trout went with facts which today seem so patently ominous. Later, Murrow then gave his report from the Austrian capital. This is how he began:
This is Edward Murrow speaking from Vienna. It's now nearly 2:30 in the morning and Herr Hitler has not yet arrived. No one seems to know just when he will get here, but most people expect him sometime after 10 o'clock tomorrow morning. It's, of course, obvious after one glance at Vienna that a tremendous reception is being prepared.
This is what he said in the middle of it:
From the air, Vienna didn't look much different than it has before, but, nevertheless, it's changed. The crowds are courteous as they've always been, but many people are in holiday mood; they lift the right arm a little higher here than in Berlin and the "Heil Hitler" is said a little more loudly. There isn't a great deal of hilarity, but at the same time there doesn't seem to be much feeling of tension.
And this is how Murrow finished:
There are still huge crowds along the Ringstrasse and people still stand outside the principal hotels, just waiting and watching for some famous man to come in or out. As I said, everything is quiet in Vienna tonight. There's a certain air of expectancy about the city, everyone waiting and wondering where and at what time Herr Hitler will arrive.
It was, as they put it, a big news day. And as far as broadcast news goes, it was also the first day of the rest of everyone's lives. I am thankful to be a small part of the World News Roundup. I am thankful for all the men and women who have worked on it through the years. But, more important, I am thankful the Roundup is still around, when there is big news and when there isn't, reminding us all that most things become tradition by earning the distinction.