Enough Is Enough—Time for the Feds to Investigate Prison Abuse
The Bureau of Prisons has been accused of the systematic mistreatment of mentally ill inmates. DOJ's Office of the Inspector General should look into the matter.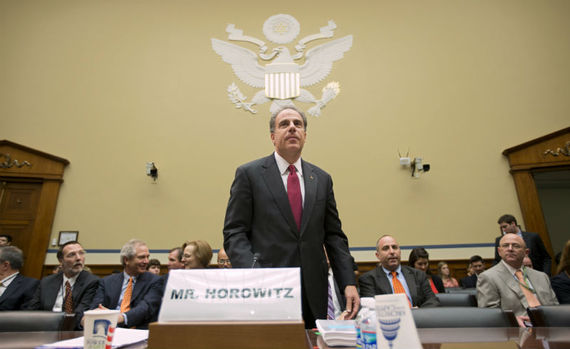 J. Scott Applewhite/AP
"The department is much more than just a federal agency," declared Michael Horowitz, the Inspector General of the Justice Department, in his opening statement Thursday at an oversight hearing before a House Appropriations subcommittee. "It is the guardian of our system of justice, and is responsible for enforcing our laws fairly without bias and above all with the utmost of integrity."
As if to prove his point, Horowitz had come to Capitol Hill to update lawmakers on the various good works the Office of the Inspector General (OIG) has performed since last September, when he came to talk with them about the "Fast and Furious" gun program. Last December, for example, the OIG issued a trenchant report on Clarence Aaron's clemency petition. And, last week, there was a detailed report criticizing the Justice Department for continued partisan rancor within its Voting Rights section (but exonerating Labor nominee Thomas Perez of more serious misconduct).
It was a polite hearing on Thursday. There were several jokes. And questions about the Voting Rights Act that no one expected Horowitz to answer. There was talk about gun violence and background checks. But not a single lawmaker asked Horowitz why the OIG isn't investigating the Bureau of Prison over policies and practices that have resulted in two new pending federal lawsuits in Colorado alleging shocking patterns of abuse and neglect of the nation's prisoners. (The Atlantic's ongoing coverage of these cases can be found here.)
"How is it possible that a human-rights crisis of this magnitude can carry on year after year with impunity?" asked James Ridgeway, a veteran journalist and co-founder of Solitary Watch, in a recent piece in the Columbia Journalism Review. The answer, sadly, is simple: Congress doesn't care. The Obama Administration won't spend political capital to protect prisoners. The federal courts have contorted the Eighth Amendment to avoid the topic. And the OIG, that self-described "guardian" of justice and integrity, has refused to shine a light on the darkness.
The Office of the Inspector General has been asked repeatedly to look into the claims of these mentally ill prisoners and to provide some measure of meaningful oversight and transparency to a federal institution, the BOP, which by its very nature operates in near-total secrecy. In January, for example, lawyers for one federal prisoner asked the OIG to look into:
[a] series of acts of misconduct by ADX staff, including the mishandling of a mental health crisis that resulted in a suicide attempt and assault while he was in an observation cell, and another assault during his transport to an outside medical facility for a procedure.
To date, there has been no direct response from the OIG to this specific request or to previous requests made by prisoners or their attorneys. (In January, Craig Trautner, an OIG employee, evidently traveled to prison to meet Mikeal Stine, the inmate who made the above allegation, but there is no word yet on the results of that visit.) Unsurprisingly, an OIG spokesman told me late Tuesday that he could neither confirm nor deny the existence of any such investigation(s) into the BOP's mental health practices and policies.
A review of the OIG's recent reports on the Bureau of Prisons does not offer any material information that is directly on point. In February 2008, the OIG audited the BOP's health care costs and identified several weaknesses in the BOP's monitoring of health care providers. In November 2005, the OIG reviewed and reported on the BOP's "pharmacy services." But these were tangential to the questions I raise here: are federal prisoners being deprived of medicine they need, and are they being abused and mistreated, and are the officials responsible for such conduct being held accountable by someone, anyone, anywhere?  

Finding answers to these questions is consistent with the grand vision Horowitz laid out last Thursday. The OIG has jurisdiction over the BOP, and the mandate of Horowitz's office is broad enough to undertake a thorough review of these serious allegations. So what's stopping him from doing so? The treatment of these prisoners surely is worse than the treatment Clarence Aaron has received from the administration's clemency officials. It surely is worse than the petty partisanship expressed in emails by members of the Voting Rights section.
There ought to be an investigation. A thorough and meaningful one into the allegations raised by these prisoners, their lawyers, witnesses and human rights officials. If the Bureau of Prisons doesn't want to be held accountable in court, or on Capitol Hill, or in the court of public opinion, it ought to at least be held accountable to the OIG. To get the ball rolling, here's my contribution to the effort -- the first five questions the Inspector General ought to force the BOP to answer:
Question 1: Jose Martin Vega
On May 1, 2010, a federal prisoner named Jose Martin Vega hanged himself with a bed sheet in the cell of the ADX-Florence "Supermax" prison in Colorado. At the time, the coroner was told by prison officials that Vega "had a long psychiatric history." Yet, despite this, Vega was placed in the "Control Unit" at ADX-Florence despite federal policy which precludes mentally ill prisoners from being placed in that unit. Moreover, because Vega was placed in that unit, another federal policy denied him psychotropic medicine helpful in the treatment his mental illness. Was the Bureau of Prisons treatment of this prisoner consistent with federal law, policy, and regulation? And is that policy consistent with the Constitution?
Question 2: Mental Health Counseling
Federal law and regulation requires the provision of medical treatment for mentally ill prisoners. This includes mental health counseling. Yet a detailed lawsuit filed last June in federal court in Colorado against the Bureau of Prisons alleges that such treatment at ADX-Florence is rendered ineffective or meaningless. For example, the complaint alleges that there are only two mental health professionals, both psychologists, who are responsible for approximately 450 inmates. Moreover, from the complaint:
Members of ADX mental health staff occasionally talk to prisoners, but even those occasional counseling sessions are almost invariably conducted through the bars of the prisoner's cell, in the immediate presence of a correctional officer and within earshot of other prisoners housed in the same range. This process turns psychological counseling into a farce. ... Although a safe, secure and private room for psychology counseling is available within steps of the cell of virtually every cell at ADX, staff members routinely ignore prisoner requests to discuss serious psychological problems in private.
In its response to the complaint, the Justice Department wrote: "[N]one of the Plaintiffs alleges facts showing that it is constitutional deprivation for an inmate to receive a psychological counseling session in the doorway to his cell, in the presence of correctional officers. Indeed, no Plaintiff suggests that he has asked for any other kind of visit." Is the treatment of these mentally ill prisoners consistent with federal law, including the rules and regulations of the Bureau of Prisons itself? Is it constitutional to have 2 psychologists to treat 450 prisoners?
Question 3: When Is a Prisoner Mentally Ill and Who Decides?
The Code of Federal Regulations states that the "warden may not refer an inmate for placement in a control unit ... if the inmate shows evidence of significant mental disorder or major physical disabilities as documented in a mental health evaluation or a physical examination." Is schizophrenia a "significant mental disorder"? How about "delusional ideation" or post-traumatic stress disorder? Is it "significant" when a prisoner mutilates himself or tries to commit suicide? Who oversees Bureau of Prison choices and policies with respect to these medical diagnoses?
Question 4: Torture and Abuse
The pending lawsuit in Colorado, which is now the subject of a pending governmental motion to dismiss, alleges that prison staff at ADX-Florence engage in a systematic pattern of abuse and torture of mentally ill prisoners there. An example from the complaint:
In some cases, ADX staff turn the simple (although cruel and unusual) refusal to feed a prisoner into a deceptive hoax. ADX prisoners, including those in four point restraints, sometimes are put on a disciplinary "sack lunch" nutrition program in which they are fed not standard prison trays but a paper bag containing a sandwich or two and a piece of fruit.

Many mentally ill prisoners at ADX who are placed on sack lunch restriction have received sacks (suitably videotaped) being delivered to their cells. But when they open the bags (off camera) they sometimes are empty. Through this ruse ADX staff produce false video evidence of feeding, raising (if only for a minute) the prisoner's hope for basic nutrition, then smash the often-chained and always hungry prisoner's hopes with a bag of air. ...

As a result of this type of abuse, other prisoners in nearby cells and ranges are often subject to the shrieking and suffering of prisoners undergoing such abuse.
Is such treatment, if true, ever justifiable under any federal law, rule or regulation? Is such conduct by prison staff consistent with Bureau of Prison policy? Putting aside the issue of liability and immunity, is such conduct consistent with the language of the Eighth Amendment, which prohibits the use of "cruel and unusual" punishment?
Question 5: OIG Oversight
In responding to the lawsuits identified above, the Obama Administration has aggressively asserted that the federal courts have no role to play in evaluating the merits of allegations of abuse by mentally ill prisoners at ADX-Florence. The Justice Department has argued that the government is immune from liability. If that's true, what role can the OIG play in investigating the allegations made by these prisoners? If the claims of these men are barred from being heard on their merits in federal court, and if the OIG is unwilling to independently investigate them, who will protect (or at least monitor) the constitutional rights of these prisoners?