Don't Forget the Two Republican Judges Who Helped Save Same-Sex Marriage
One struck down California's Proposition 8; the other challenged the Defense of Marriage Act. The road to next week's landmark Supreme Court arguments began with these two rulings in 2010.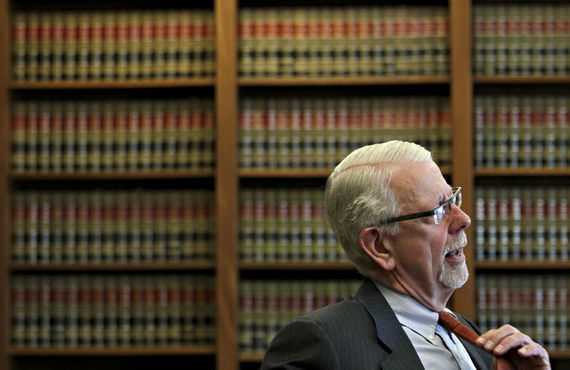 I don't know about you, but for me, the run-up to next week's Supreme Court same-sex marriage arguments now has the feel of an endless Super Bowl pregame show. The analysis, the speculation, the sidebars, the color, the posturing, the winks and nods to insiders, the profiles -- it just goes on and on, when all anyone really wants is for the arguments to occur, and to be done with, and for the justices to render their decisions the last week of June. That, and for Beyonce to sing the anthem when the justices enter the chamber Tuesday at 10 a.m.
Supporters of same-sex marriage have virtually all the legal, political and cultural momentum going into the arguments over California's Proposition 8 (Tuesday) and the federal Defense of Marriage Act (Wednesday). Justice Anthony Kennedy, who will almost certainly determine the outcome of both cases, therefore has plenty of cover to do what many suspect he wants to do, which is to protect same-sex couples in whole or in part from the discrimination inherent in both the state initiative and the federal statute. It would be very surprising if he did not so rule.
So on the eve of the start of what promises to be a dramatic week in the history of the Court, and also in the history of the gay rights movement in America, and because I cannot think of anything else to mention that someone smarter than me hasn't already covered, I just want to remind everyone waiting for the sanctification to begin that it was two Republican-appointed federal trial judges, at opposite ends of the country, who got all of this rolling three years ago with rulings that vitiated both the legal and factual rationales behind these dubious measures.
Judge Joseph Tauro
On the East Coast, it was U.S. District Judge Joseph Tauro, the Nixon appointee, the revered son of a revered Massachusetts Supreme Court justice, who declared in July 2010 that "no fairly conceivable set of facts" could justify the classification of marriage contained in Section 3 of the Defense of Marriage Act. If this section of the statute really is doomed, it was this ruling, from a judge who now has served 41 years on the bench, that marked the beginning of the end of the heart of the law.
In his 39-page order, Judge Tauro wrote:
This court simply "cannot say that [DOMA] is directed to any identifiable legitimate purpose or discrete objective. It is a status-based enactment divorced from any factual context from which [this court] could discern a relationship to legitimate [government] interests." Indeed, Congress undertook this classification for the one purpose that lies entirely outside of legislative bounds, to disadvantage a group of which it disapproves. And such a classification, the Constitution clearly will not permit.

In the wake of DOMA, it is only sexual orientation that differentiates a married couple entitled to federal marriage-based benefits from one not so entitled. And this court can conceive of no way in which such a difference might be relevant to the provision of the benefits at issue. By premising eligibility for these benefits on marital status in the first instance, the federal government signals to this court that the relevant distinction to be drawn is between married individuals and unmarried individuals. To further divide the class of married individuals into those with spouses of the same sex and those with spouses of the opposite sex is to create a distinction without meaning.

And where, as here, "there is no reason to believe that the disadvantaged class is different, in relevant respects" from a similarly situated class, this court may conclude that it is only irrational prejudice that motivates the challenged classification.149 As irrational prejudice plainly never constitutes a legitimate government interest, this court must hold that Section 3 of DOMA as applied to Plaintiffs violates the equal protection principles embodied in the Fifth Amendment to the United States Constitution.
Last May, Judge Tauro's ruling in Gill v. Office of Personnel Management was largely affirmed by the 1st U.S. Circuit Court of Appeals. The case was not selected for review by the justices in Washington -- who instead took Edith Windsor's case out of New York. But Gill came first; and it was only after Judge Tauro handed down his ruling, and before the federal courts in New York even began to address the Windsor case, that the Obama Administration changed its position on the constitutionality of Section 3. Judge Tauro, you could say, led the way.
Judge Vaughn Walker
On the West Coast, it was the now-retired U.S. District Judge Vaughn Walker, an appointee of George H.W. Bush, who first struck down Proposition 8 -- and also exposed the paucity of the arguments once made on its behalf. At one point during the Proposition 8 trial, without a trace of irony, Judge Walker asked Charles Cooper, the lead attorney opposed to same-sex marriage: "Seven million Californians, 70 judges, and this long history that you described. Why did you present but one witness on the subject?" Cooper had no good answer. He still doesn't.
In his 138-page ruling in August 2010 declaring California's same-sex marriage ban unconstitutional, Judge Walker focused on the lack of evidence supporting the initiative. For example, he wrote:
At oral argument on proponents' motion for summary judgment, the court posed to proponents' counsel the assumption that "the state's interest in marriage is procreative" and inquired how permitting same-sex marriage impairs or adversely affects that interest. Counsel replied that the inquiry was "not the legally relevant question," but when pressed for an answer, counsel replied: "Your honor, my answer is: I don't know. I don't know." Despite this response, proponents in their trial brief promised to "demonstrate that redefining marriage to encompass same-sex relationships" would effect some twenty-three specific harmful consequences.

At trial, however, proponents presented only one witness, David Blankenhorn, to address the government interest in marriage. Blankenhorn's testimony is addressed at length hereafter; suffice it to say that he provided no credible evidence to support any of the claimed adverse effects proponents promised to demonstrate. During closing arguments, proponents again focused on the contention that "responsible procreation is really at the heart of society's interest in regulating marriage." When asked to identify the evidence at trial that supported this contention, proponents' counsel replied, "you don't have to have evidence of this point." (citations omitted by me).

And then Judge Walker went to the core of the matter:
Proposition 8 targets gays and lesbians in a manner specific to their sexual orientation and, because of their relationship to one another, Proposition 8 targets them specifically due to sex. Having considered the evidence, the relationship between sex and sexual orientation and the fact that Proposition 8 eliminates a right only a gay man or a lesbian would exercise, the court determines that plaintiffs' equal protection claim is based on sexual orientation, but this claim is equivalent to a claim of discrimination based on sex.
After he issued his ruling, as if confirming the points he had made about discrimination toward gays, Judge Walker himself was the subject of a despicable motion (which promptly failed) accusing him of judicial bias because he is gay and did not disclose to the parties the fact that he has had a longtime partner. Last February, the 9th U.S. Circuit Court of Appeals affirmed-- but significantly narrowed-- the scope of Judge Walker's ruling. In so doing, the federal appeals court adopted many of the factual findings Judge Walker noted in his opinion.
Postscript
Although both men have played an enormous role in shaping the legal and political history of these two cases, and thus the history of same-sex marriage itself, it is unlikely that the work of either will be identified (much less discussed) during oral arguments next week. Unfortunately, there is only one former trial judge on the current Court -- Justice Sonia Sotomayor, who presided in New York. The rest of the justices rarely express interest in the trial record, especially where, as here, the core questions are ones of constitutional law.
But before we all move on to whatever comes next for same-sex marriage in America, we ought to pause to remember what has come before. Two Republican judges, two senior-status members of the federal judiciary, directly confronted one of the most divisive social issues of our time. They issued clear and direct rulings that swept away one myth after another about same-sex marriage and the legislative and societal rationales against it. And, in doing so, they gave constitutional cover to the executive branch to alter its course.

The Supreme Court may disagree with the assessments of Judge Tauro and Judge Walker -- at least three justices in Washington almost certainly will -- but that won't change what we already have seen with our own eyes. Judge Tauro explained why the DOMA is indefensible. Judge Walker explained why Proposition 8 is unjust and unequal. Each in his own way did, in other words, precisely what we hope and expect our life-tenured federal judges to do when the whims and caprices of the majority are turned loose upon a distinct and vulnerable minority.