College Journalists Need Free Speech More Than Ever
As the traditional media comes apart, student reporters are filling a crucial gap. They should be allowed to do their job without restrictions.
As the traditional media comes apart, student reporters are filling a crucial gap. They should be allowed to do their job without restrictions.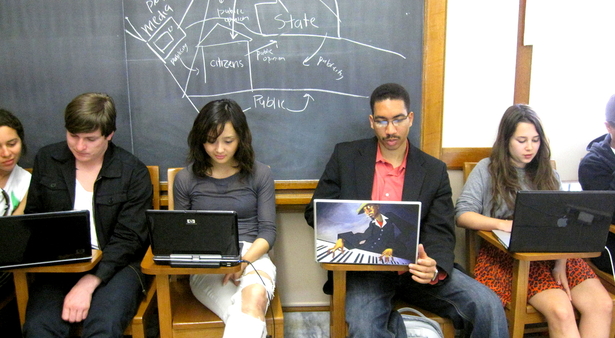 This is not your father's journalism industry.
NBC News has a Storify page, the New York Times has a Tumblr, and PBS has a Pinterest board. The Associated Press has built a partnership with dozens of news companies to collect royalties from aggregators. The Wall Street Journal has produced original videos for YouTube, and the people formerly known as the audience can submit photos to CNN through its iPhone app.
This is a journalism industry in which the production of news is widely dispersed and the traditional media are reinventing themselves to survive in the digital world. The ongoing challenge, as clearly expressed in 2009 in the Columbia Journalism Review, is to preserve independent reporting while the economic foundation of newspapers, the chief source of such reporting, continues to erode.
While the traditional media adapt to their changing circumstances, student journalists are playing a more vital role than ever before. Campus-based publications, and student collaborations with professional news outlets, are filling in gaps created by the traditional media's decline. They're informing the public, covering the states and towns where the schools are located (and beyond). These reporting enterprises come in all shapes and sizes.
Arizona State University operates the Cronkite News Service, which allows students to cover public affairs in Washington, D.C., and Phoenix. Ohio University operates the Statehouse News Bureau, which offers students a paid internship to cover public affairs in Ohio's capital city. Boston University operates the New England Center for Investigative Reporting, which teams up professional journalists with student researchers to produce long-form stories. And nearly every school in the nation is home to a student newspaper that covers local and campus affairs, many of which have an impact far beyond campus borders.
For years, there's been a growing consensus that journalism programs need to transform themselves into teaching hospitals for news production. Consider these conclusions and recommendations:
* In a 2010 report on sustaining democracy in the digital age, the Knight Commission on the Information Needs of Communities in a Democracy concluded that colleges and universities needed to enhance their roles as "hubs of journalistic activity."
* In a 2011 report on twenty-first century journalism, the New America Foundation challenged journalism programs to become "anchor institutions involved in the production of community-relevant news."
* In a 2011 report on the changing media landscape, the FCC Working Group on the Information Needs of Communities recommended that foundations fund "journalism-school residencies" for recent grads to manage "efforts to produce significant journalism for the community, using journalism school students."
* In a 2012 letter to university presidents, leaders of six of the nation's largest foundations argued that journalism programs must "recreate themselves if they are to succeed in playing their vital roles as news creators" and that "universities must become forceful partners in revitalizing an industry at the very core of democracy."
We applaud the schools that already have taken steps to produce journalism that accurately reflects society, monitors power, holds people responsible, and generates a public conversation about the issues of the day. That kind of reporting serves democracy, and we hope more schools take the first steps in that direction.
But we have concerns.
Even as college students and journalism programs are making more important contributions to independent reporting, the federal courts are curtailing First Amendment freedoms for students at public institutions. A major collision is not far away, and one of the drivers is the case Hazelwood v. Kuhlmeier, decided 25 years ago by the U.S. Supreme Court.
The legal standard at the heart of that case is that "educators" may regulate school-sponsored speech "so long as their actions are reasonably related to legitimate pedagogical concerns." That applies to all student news media that are not independent from a school. Although the Hazelwood case involved and focused on the speech of high school students, recently it has been applied to the speech of college and graduate students.
Four federal courts of appeals, covering 16 states, have extended Hazelwood to the college setting, and only one has rejected such an extension. In the case Ward v. Polite, decided in January 2012, the U.S. Court of Appeals for the Sixth Circuit held that Hazelwood applied to the claims of an Eastern Michigan University graduate student who said the university kicked her out of a degree program for school counselors because she expressed religious opposition to homosexuality. (The facts of the case were unrelated to journalism, but the opinion included a general analysis of the First Amendment rights of college students. It concluded that Hazelwood is suitable for the college level--and nothing in the opinion excluded student journalists.)
Meanwhile, the Supreme Court has avoided the issue altogether. Justice Byron White, writing for the majority in Hazelwood, remarked in a footnote that the Court did not need to decide at that time whether the case's standard or reasoning applied to colleges. And since then, the Court has not clarified one way or the other, carefully sidestepping the issue in the cases that have presented it.
Whatever the (debatable) merits of Hazelwood's application at the K-12 level, it is unwise and even dangerous to apply the case at the college level. Putting aside the fact that the majority opinion was framed in terms of protecting children from "sensitive topics," we cannot afford to live in a society where free speech on college campuses can be limited so easily--not when college students and faculty members are playing an increasing role in meeting the news needs of their communities.
At times, fulfilling those needs means candidly covering a range of public issues that might draw the ire of university administrators or benefactors. And unlike news produced by a professional outlet or an independently financed campus outlet, news produced by a school-sponsored outlet is vulnerable to Hazelwood censorship. Among other things, the case says that schools may censor news articles that "associate the school with any position other than neutrality on matters of political controversy." That is plainly irreconcilable with watchdog journalism, a necessary ingredient of an informed community.
In addition, students learn the most when they make their own editorial decisions, away from the school's long shadow. They have to decide for themselves what to include in their stories, how to edit for clarity, how to resolve ethical conflicts--and they have to take responsibility for each decision. That journalistic process can be challenging for students, but it engages them with the corresponding challenge of self-government, and with journalism's role in preserving democracy.
If we want college students and journalism programs to be engaged and to continue making significant contributions, then the federal courts must stop curtailing their First Amendment freedoms. And state legislatures must step in to repair the damage done by the courts that already have extended Hazelwood to the college setting.
First, in cases at the college level, courts should adopt the standard from the 1969 case Tinker v. Des Moines Independent Community School District. It held that student speech could not be punished or restrained unless "students' activities would materially and substantially disrupt the work and discipline of the school." That standard is more protective of expression, even as it recognizes that schools are obligated to create an environment conducive to learning.
Second, states can go beyond the First Amendment to provide extra speech protections for their own citizens by enacting statutes or regulations, which can effectively nullify inconsistent court decisions. With that in mind, state legislatures should act to protect college journalists and the educators who advise them from institutional censorship and retaliation. California, Illinois, and Oregon already have done so (their statutes could be models), and in none of those states have students run amok with their freedom.
Ann Richards is famously credited with the witticism that Ginger Rogers did everything that Fred Astaire did, only backwards and in high heels. That observation could apply to today's college journalists, who are being asked to fulfill community needs for professional-caliber news without the assurances that keep professionals safe when fearless journalism provokes a backlash.