Young, Married, and Incarcerated: Prisoners Find Romance Behind Bars
After her Valentine's Day wedding today, Brie Morris will have to wait at least seven years for her husband's release. But that isn't stopping the couple from building a future.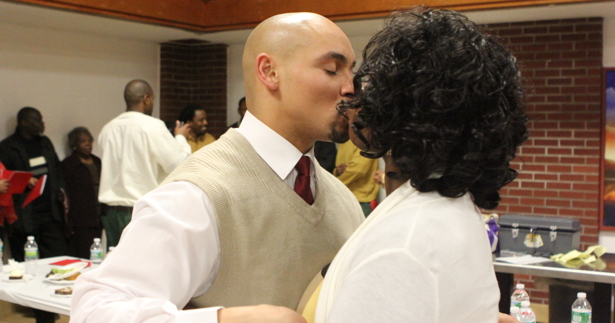 It's called "ceiling time" at Eastern Correctional facility in New York's Hudson Valley—those minutes between heading back to one's cell and falling asleep. "Ceiling time is when you lay down and you're reflecting on things, looking up at the ceiling," says 28 year-old inmate José Pérez, "thinking about the day, what I did right, what I did wrong." Pérez has already had a lot of time to think: He was given a 20 years to life sentence for second-degree murder when he was only 16 years old.
Pérez's ceiling time will be a little different this Valentine's Day: He'll be staring up for the first time as a married man. Today, 23 year-old Brie Morris and Pérez will exchange vows in a small room just off the visitor space at the Eastern Correctional facility. "It's not very spectacular," according to 77 year-old retired Reverend Edwin Muller, who will officiate the wedding. "I don't recall flowers. I think they're allowed basically just a witness each."
Muller's been involved with the New York state corrections system for more than 50 years. He helps out with weddings when asked by inmates like Pérez, who participates in a prison support group he still oversees. Muller says for a long time, "lifers" — a term he uses for people serving 15 years to life — were not allowed by the state to get married. Now they can, and he says some look for opportunities, despite the complications of being incarcerated, "They reconnect with women they grew up with. Or in some cases they remarry."
It makes sense that some young singles might find a match in jail, in part because the pool of minority males is so tied to the prison population.
Brie Morris and José Pérez originally met the more modern way, online, about three years ago, on the website prisontalk.com, a kind of digital forum between prisoners and the outside world. Pérez says that virtual meeting developed into letter writing and a real connection. "We were writing each other books — we were writing each other like 20 or 25 page letters." Finally, in early 2011, after a year as Pérez's pen pal, and having never even seen a photo of him, Morris made the trip to Eastern, about two hours north of New York City.
"The first time I met him was a week after Valentine's Day," she said last night, over pre-wedding margaritas with her mother at a Times Square Mexican restaurant, after preparing for her wedding at a New York spa. "He kissed me, it just felt natural. I was like, wow." She admits that dating an inmate was difficult at first. But now, she says, "I really love him, and I don't want to miss out on something I know I want because of the circumstances."
Last September, after about a year and a half of dating, Pérez got down on one knee in the prison waiting room and proposed. Reverend Muller says relationships between inmates and loved ones on the outside can be especially passionate. "The visiting room visits are intense. The letter writing, the phone calls — it can be an intense relationship that's affected deeply by the separation, because of the separation that incarceration creates."
According to Muller it also makes sense that some young singles like Brie Morris might find a match in jail, in part because the pool of young minority males is so tied to the prison population. The national nonprofit The Sentencing Project cites statistics that 60 percent of the more than 2 million inmates in the United States are ethnic minorities. That includes 1 in 10 black males in their 30s.
And Muller says it makes sense that Pérez would be a good catch, despite his situation. "I think someone like José, definitely, at a very young phase in life, has gone deep. I've watched him over the years really become a transformed person. He's gotten in touch with his intellectual ability. He's become quite a poet."
These days, in fact, Pérez spends much of his ceiling time "thinking about some arguments I want to make on an essay, thinking about writing." He's a member of the Bard Prison Initiative (BPI), an academic program offered by Bard College for men and women incarcerated in the New York state prison system. Pérez was awarded an associates degree in January, as part of BPIs 10th graduation.
The founder and executive director of BPI, Max Kenner, says it took Pérez four tries just to get into the rigorous program. Now he'll go for his BA, maybe even a Masters. But most importantly says Kenner, when he gets out, he's more likely to be "a middle class tax paying person, who is a neighbor, and a family member, and perhaps in time a father, and a full civic citizen who is living as fulfilling a life as possible."
Although Pérez will soon have a wife as well as a college degree, he can't entirely escape the reality of being in prison. He still spends a lot of time in the prison weight room, but he says his inevitable arguments with other inmates have taken on a different tone. One even started recently over disagreements about a German American political theorist. "We were talking about Hannah Arendt, working out one day, and it was a very, very vicious, violent argument. It was a spew of words. We were just attacking each other on what it means to be a human being and stuff like that. It was just crazy."
Still, his exposure to marriage and other normal societal outlets should make a difference when he leaves prison, says University of Maryland Professor John Laub, who teaches courses in criminology and criminal justice. In 2009, for instance, the Department of Health and Human Services reported that for ex-inmates, being married was associated with a 12 percent decrease in new crimes.
"If we are committed to successful re-entry, we should offer as many opportunities as possible for offenders to re-connect — or connect in the first place — to conventional institutions like education, family, and the like," Laub says. "In this way, the criminal justice system can facilitate turning points away from crime."
That doesn't mean the transition to family life on the outside is an easy one. Forty-three year old Chris (who declined to give his last name) is an ex-convict living in New York who was incarcerated for a total of 14-and-a-half years. During that time he met a woman, and eventually married her. When you're in jail, he says, relationships do make a difference. "It definitely drops violence. It definitely brings peace to somebody who is doing long time."
But when Chris was finally released, the foundations of his relationship were shaky. "The reason she was married to me was because she wanted to know where her husband was, Monday through Friday, until she was ready to see him every 31 days. That doesn't work in the real world when you're out. That's why my relationship went sour quick.
Chris also admits one of the reasons he was eager to get married was to get access to the state of New York's Family Reunion Program, where loved ones can spend part of a weekend on prison grounds in a trailer. He thinks most prison relationships are, by nature, imbalanced — , especially if the couple did not know each other before incarceration.
But he says there are always exceptions to the rule. The key is for an inmate to go in "with an open heart" and true commitment — not just a desire to have conjugal visits and make the time pass more easily. "Then maybe that's the relationship that will work on the street," he says.
José Pérez and Brie Morris believe they are that exception. Morris says she misses getting hugs and holding hands once in awhile, but she plans to be productive while Pérez waits for his first parole hearing, which won't be for another seven years. During that time, she wants to go to medical school, and Pérez wants to get a Masters degree and eventually become a social worker.
For now, Morris says she tries to stay focused on a snapshot of the future she has in her mind. "José's at home, taking care of the baby. I'm working, I'm on call. He's doing his social work during the day, running his group home. I think it'll be really good. I think we're going to be one of those success stories because we're so different. This is really genuine."