There's a reason the Constitution checks executive power. Here's why -- and how -- to rein in targeted killing.
Effrain Lopez/U.S. Air Force/Reuters
In the 1964 film Fail-Safe, an American president, played by Henry Fonda, orders a nuclear strike on New York.
Because of a computer error, an American bomber has mistakenly destroyed Moscow. To prevent a full-scale nuclear war, the United States must atone by destroying one of its own cities.
Afterwards, the president tells his Soviet counterpart, "We let our machines get out of hand. ... Do we learn from it, or do we go on the way we have?"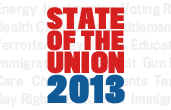 President Obama lays out his second-term vision for America.
See full coverage
The president of the United States may, at any moment, decide that cities -- or for that matter all life on earth -- must perish in flames. We have lived in this world so long that it seems normal, even safe. But our technological situation is in fundamental tension with the rule of law.
That same tension -- technology versus legality -- surfaced again this week. NBC News revealed a Justice Department "white paper" summarizing the Obama Administration's legal position about the president's right to order another sort of lethal force: Predator drone strikes against individuals abroad -- including American citizens -- whom Obama finds to represent an "imminent threat of violent attack against the United States."